Do you need the best vegan supplement?
If you are not getting enough of this mineral in your diet, then a supplement will do you good. After all, you need calcium to support bone strength while achieving good nutrition.
It is not always easy to find the best calcium supplement for vegans. You need to make sure that the capsules do not contain gelatin or animal products, not to mention the other ingredients used to make that supplement.
Lucky for you, we've done our homework to give you this exhaustive list of vegan calcium supplements for you and your family. We've got a lot of grounds to cover, so let's get started!
What Is The Best Vegan Calcium Supplement? Your 11 Best Options Right Here!
Calcium is not always very easy to get from a strictly plant-based diet. Fortunately, vegans can count on the best vegan calcium supplement to cover their needs for this mineral. Here are our top picks for you.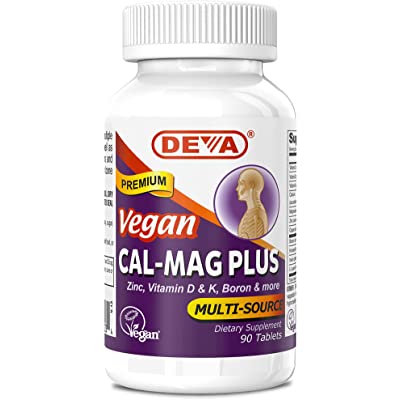 First of all, not only does this supplement offer as much as 1000 milligrams of calcium. It also contains 400 milligrams of magnesium, 11 milligrams of zinc, and 60 milligrams of vitamin C. Talk about impressive!
These come in a tablet form, so it is easy to swallow. Most importantly, Deva calcium supplements are certified by the Vegan Society. You can rest assured that no animals were harmed during the research and production of these supplements.
If what you look for is a calcium supplement that is not a massive pill to swallow, contains an excellent amount of calcium, and includes other essential nutrients, then this product is for you.
Do keep in mind that you need to take the recommended 3 tablets a day to receive the stated percentage of nutrients it contains. But it is not an issue at all because of its reasonable price and reliability to give you the calcium requirement you need each day.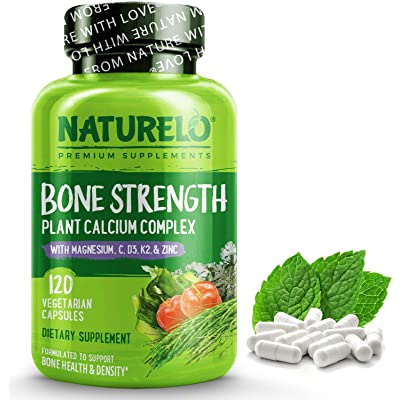 Folks in need of the best vegan calcium supplement, listen up – Naturelo got you covered. This plant based supplement is a great source of calcium, along with vitamin D3, potassium, magnesium, K2 and C. It is gluten-free, soy-free and nothing but whole foods in every vegetarian capsule.
It boasts of plant-based ingredients for every nutrient it provides such as calcium from marine algae, vitamin C from acerola cherries, and vitamin D3 from lichen.
Naturelo Bone Strength is a complete formula offering your body with as much as 10 minerals and vitamins to ensure bone density and strength. There are also vitamins added to enhance calcium absorption such as vitamin K2, magnesium, and D3.
There are strictly no GMOs, yeast, soy, dairy, yeast, nuts, and artificial flavoring to this supplement. So, you are guaranteed of its purity and efficacy. And as a bonus, the price point is amazing, too!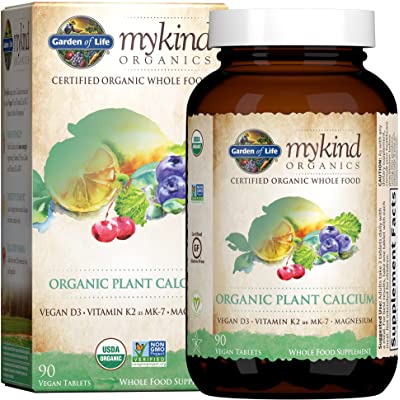 Another one of the best calcium supplements for vegans is Garden Of Life organic plant calcium. It is a wholesome supplement that contains nothing but plant-based ingredients to provide your body with its recommended calcium intake.
Garden Of Life offers 800 milligrams of calcium sourced from organic algae, which is one of the best sources of calcium for vegans. Additionally, the company is known for its non GMO-verified and organic ingredients. This means that there are zero nasty chemicals in every capsule.
Among the benefits you can get from this supplement are its high calcium content, easy-to-swallow capsules, and gluten-free.
The price point is a bit too steep compared to the others, yet it is worth the cost if you prefer a completely organic calcium supplement. You also need to take 3 capsules a day to get the most of the nutrients in it.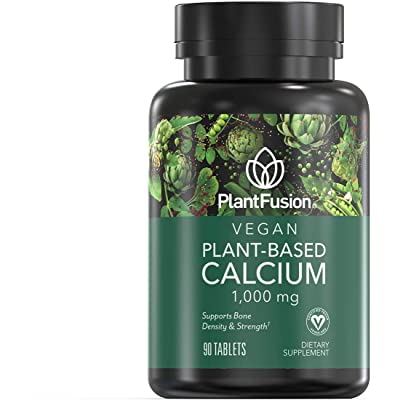 Just the name itself sheds some light on the source of nutrients in this supplement, which are all plant-based. PlantFusion contains 1000 milligrams of calcium, as well as 72 trace minerals your body needs.
There are 90 tablets in every bottle, and it should last for 1 month as you are recommended to take 3 tablets a day.
The company prides itself in using only plant-based ingredients to this supplement. As a bonus, there are no eggs, soy, wheat, peanuts, shellfish, gluten, and dairy included. Instead, it contains nothing but aquamin mineralized red algae to offer your body with the calcium it needs. This ingredient is sourced from Iceland's pristine's waters known for its purity.
Overall, we highly recommend this as among the best vegan calcium supplement brands you can find in the market today.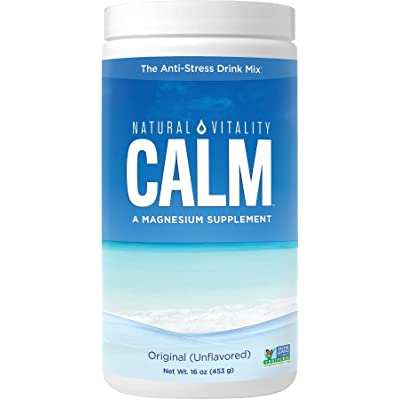 It may not be a calcium supplement that you take in a capsule or tablet form, yet it is a good source of this nutrient nonetheless.
Natural Vitality is a nutritious calcium drink that contains calcium and magnesium to support bone health and strength. It also aims to promote stress relief and reduce instances of muscle cramps.
With 230 milligrams of calcium in every serving, as well as 290 milligrams of vitamin C, 350 milligrams of magnesium, and 150 IU of vitamin D3, it is a powerhouse of essential nutrients without a doubt.
You can take it with or without food since it contains a balanced pH formula to prevent stomach pains due to acidity. The drink also minimizes lactic acid that reduces instances of weakness and fatigue.
The best way to take this drink is by mixing a spoonful of the powder with a cup of hot water. Sip it slowly and experience a sense of calm and stress reduction.
While it may not be the most exciting taste, there is no doubt that it works – especially for vegans who are not getting enough of the nutrients that this supplement offers.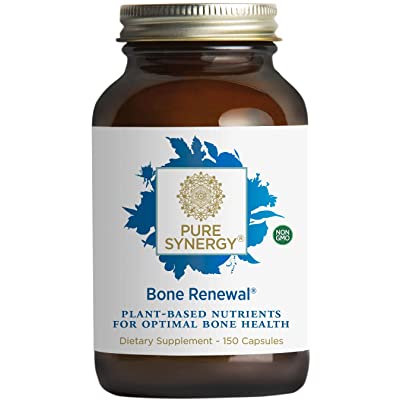 We have heard a lot of great reviews about the Pure Synergy Bone Renewal capsules, and so we tried it ourselves… And we were impressed!
It is one of the purest vegan supplements out there that also produces other vitamins, superfood, and multivitamins. But this particular product contains Icelandic red algae, which is known for its high calcium content.
Moreover, the company states that their calcium also gets the supplement from white sesame seeds, which are also good sources of other nutrients including vitamin D3, magnesium, K2, protein, and other minerals.
As if those things were not enough, they added herbal extracts to support the proper and efficient absorption of these minerals into the body. These extracts include Tabasheer, Wasabi, Saragassum, and Cissus.
This is hands down the best vegan calcium supplement if you want nothing but pure and reliable ingredients. However, it is a bit pricey, not to mention the fact that you need to take 5 capsules a day. Yet for the amazing benefits you get, it is truly worth it.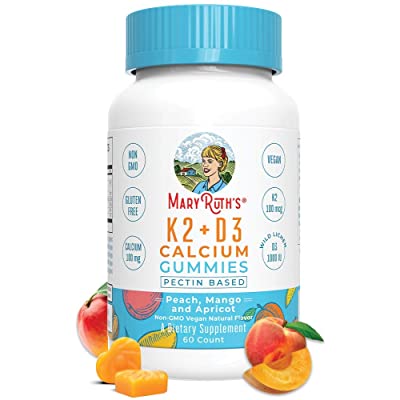 Vegans who have a restricted diet may consider taking these plant-based calcium gummies by Mary Ruth's.
These are soft and chewy gummies made with non-GMO, wheat-free, and organic ingredients. There are 60 gummies in a bottle, so it should last for 2 months since you only take 1 gummy per day.
The gummies come in tasty flavors such as apricot, mango and peach. There are also natural ingredients to this supplement such as natto for K2 and lichen for D3. As for the calcium, it comes from natto, as well, which is a fermented soybean product common in Japan.
With the synergistic action of K2 and D3, this supports a more efficient absorption of calcium. Thus, it guarantees stronger bones and blockage-free arteries.
We like the fact that the gummies taste great. There is no need to deal with huge pills that are a pain to swallow. But there is some sugar content to these gummies such as organic cane sugar and organic tapioca syrup. So, if you prefer a sugar-free vegan calcium supplement, you might have to keep looking.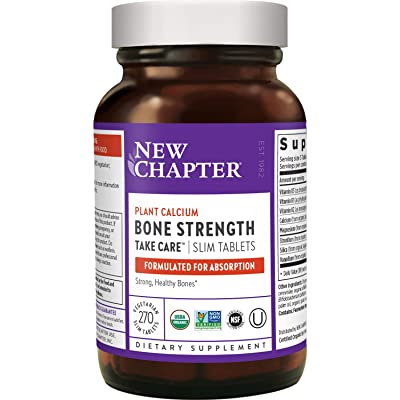 Plant-based diet does not mean compromising the nutrients you would have gotten from a non vegan lifestyle.
In fact, you can still get your calcium by taking vegan supplements such as this one from New Chapter.
It is a holistic product that not only contains 770 milligrams of calcium per serving, but also 1000 IU of vitamin D3, 45 micrograms of K2 and 58 milligrams of magnesium.
This supplement offers a high calcium content designed to protect your body from osteoporosis. You can also reap the benefits for your cardiovascular health as it reduces your risk of a heart disease.
With all of the nutrients included in this supplement, this facilitates an efficient absorption of calcium by the body.
One thing to note about this product is that it contains fermented soy as its calcium source. While it is completely vegan, this ingredient is not suitable for those who suffer from soy allergies.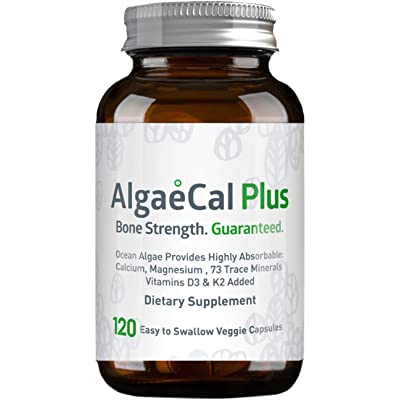 Women who are in the prime of their life can benefit greatly from a calcium supplement to boost bone density. If you follow a plant-based diet, don't fret; you can still get the calcium your body needs from the best vegan calcium supplement such as this one from AlgaeCal Plus.
As the name implies, it gets its calcium from algae, specifically a pure source for your peace of mind. It contains up to 360 milligrams of calcium, 50 micrograms of vitamin K2, 175 milligrams of magnesium, and 800 IU of vitamin D3.
Furthermore, it is 100 percent vegan and the pills are easy to swallow. A bottle also comes with a decent cost, so with all of the benefits you can get from it, it is worth the price you pay.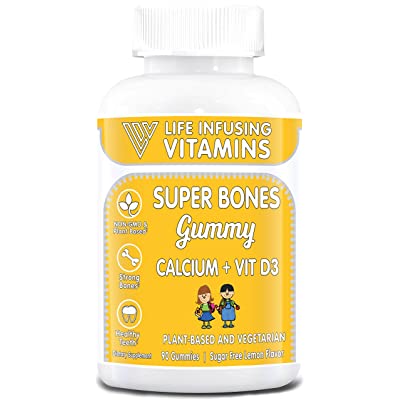 This supplement's name may be a mouthful but it's definitely one of the finest in the market today. If you prefer a vegan calcium supplement that does not only contain this mineral but also other nutrients such as vitamin D3, then this product is for you.
It has a whopping 2000 IU of vegan vitamin D3, as well as 250 milligrams of calcium. Plus, the gummies are from non-GMO origin and purely plant-based. There is no gelatin used to the gummies; instead these are from pectin.
If you have kids that need a vegan calcium supplement, this one is perfect for them. The flavor is amazing and there are no artificial sweeteners or colors added.
For adults, however, the calcium content may not be enough. So it may be worth checking other vegan calcium supplements with a higher calcium content in them.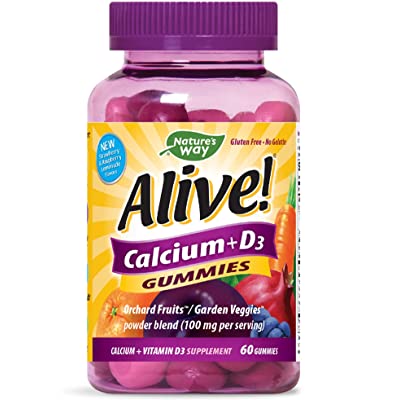 And our final vegan calcium supplement – and definitely not the least – in our list is this one from Nature's Way.
This product is a great source of calcium – a whopping 1300 milligrams – along with 2000 IU of vitamin D3 to ensure calcium absorption.
The calcium in this supplement is sourced from kale, collard greens, lithothamnion, and spinach. It also has a decent amount of magnesium, K2 and other minerals in every tablet.
Since there is no wheat, gluten, soy, or dairy in this product, there are no known allergens in it to worry about. Price-wise, it's pretty good, too.
Conclusion
The best vegan calcium supplement can easily fill in your need for this essential mineral. Fortunately, there is a lot to choose from, so you will never run out of options for your needs.
The different brands of plant based calcium supplements we included on our list are not only the best when it comes to purity of ingredients. Additionally, they contain other minerals that help your body to absorb calcium better and faster.
We hope that we were able to help you take your pick by presenting this extensive list of the best vegan calcium supplement brands in the market today. Now, you can go ahead and purchase the right one that truly meets your needs and expectations.