Disclosure: This post contains affiliate links, indicated by a *.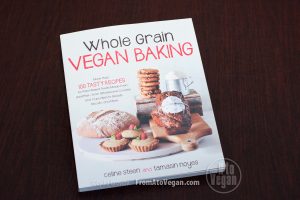 I was so delighted to receive a copy of Whole Grain Vegan Baking* to review. Ever since I took Fran Costigan's Chocolate Dessert class (almost three years ago!), I feel much more confident baking and making baked goods more healthful. I'm even more delighted to be doing the giveaway below. So please stick around, read the post (there will be a test at the end 🙂 ), and comment for a chance to win a copy
.
I've always loved whole grain foods, multi-grain breads and pastries, chewy oatmeal, etc. I'm just fond of rich tasting, hearty foods that please the taste buds as much as the belly. Whole grain have a complex and somewhat nutty flavor that trumps white flour any day. Not to mention that they have more fiber, protein and other nutrients, which are stripped away in the process of making white flours.
So, if you're going to have baked goods, you might as well have something more healthful. That's where Whole Grain Vegan Baking cookbook come in.
The book has a brief intro on different types of whole grain and flours, baking techniques and sweeteners, and then they jump right into the whole purpose of the book—the recipes.
Whole Wheat Lemon Tart
Spelt & Barley Lemon Cookie Bites
Putanesca Scones w/Spelt & Barley
Baked Speculoos Doughnuts
Since I'm a whole grain fanatic, I used the general rule anyone should use when trying to decide what to make—when in doubt, always start with dessert. The one recipe that really got me excited when I first opened the book was the Baked Speculoos Doughnuts! Mauro got several jars of Biscoff Spread from a friend and it was a perfect fit to use them up. I also made the Whole Wheat Lemon Tart, Putanesca Scones with Spelt & Barley, and Spelt & Barley Lemon Cookie Bites.
I don't actually own doughnut pans, so I had to "rent" some from Chris'—the best thing about being a foodie and having foodie friends is that amongst us we probably have every kitchen gadget out there. The payment was, of course, a certain percentage of final production 🙂
The doughnut came out delicious. They tasted kind of like cinnamon/spice cakes with some extra pizzazz. The perfectionist in me thinks they came out too crumbly. No one else had any complaints about it, though. I don't think the problem was with the recipe, but probably with the ingredients themselves. Whole grain flours can be a bit finicky, especially small batch, locally milled grains, which is what I buy. If you're looking for consistent results, I recommend sticking with brand like King Arthur and Bob's Red Mill. For the topping, I didn't actually have Speculoos cookies, as suggested in the recipe, so I used some Dang! toasted coconut chips, unsweetened coconut flakes, chocolate Sprinkelz, and cacao nibs. I personally like the ones with Dang! best.
A made the lemon tart for a vegan baby shower I was hosting. The guests and the mother-to-be were all vegetarians and they just could not get over the fact that this tart, and everything else I made, was vegan. It was creamy and lemony, and had a firm yet crumbly crust. I didn't get a chance to snap a shot of the tart before it was served. The slice above was all that was left.
The Putanesca scones were the third in the line-up. I'm a big fan of savory pastries and these bad boys didn't disappoint. Packed with rich, savory, Mediterranean flavors and a biscuit-like crumb. The recipe made 6 huge scones that taste best if eaten within a couple of days of baking.
The last, but not least, recipe I tried were the lemon cookie bites. I loved their flavor, but I wasn't too keen on the cake texture mine came out with. I like cookies that are either flaky, crunchy or chewy. Maybe I just didn't flatten them out enough. I'll have to try them again to see if I can get the right texture. Or you can try them out and report back to me, if you win the giveaway below.
Whole Grain Vegan Baking Cookbook Giveaway
We're giving one lucky reader a chance to make these delicious recipes in their own home. To enter for a chance to win, leave a comment below telling us which recipe you'd like to try from Whole Grain Vegan Baking Cookbook. US residents only, please.
I'll randomly select one of the comments on Thursday, November 14th, 2013 at 8:00 pm EST.
Happy commenting and good luck!
I really liked this book and will definitely be baking many more recipes from it.
The winner of Whole Grain Vegan Baking is: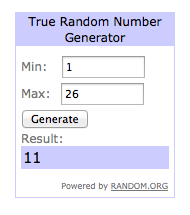 Comment number 11, BankruptVegan. Congrats!