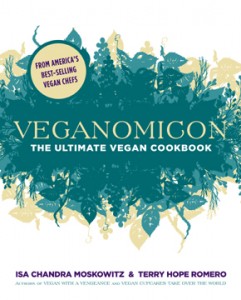 If you can only afford one vegan cookbook, then buy Veganomicon: The Ultimate Vegan Cookbook
 by Isa Chandra Moskowitz and Terry Hope Romero. All of the recipes have been kitchen tested, so you know the recipes will be easy to make and delicious. This is a great book if you want to learn to cook vegan food or improve your skills.
We started using Menus for the Masses on page 266 for ideas for the Bucks County Vegan Supper Club. This is an easy way to get started on planning a meal.
Veganomicon's recipes include icons that let you know if the recipe is soy free, low or reduced fat, gluten free, can be cooked in under 45 minutes, and supermarket friendly. The book contains a list items you should always have on hand in your pantry (p. 3), and a list of kitchen equipment and basic tools (p. 11). Sometimes there is terminology that you just don't understand and they have that covered too (p. 18). In addition, they have included a quick guide on how to cook vegetables (p. 24), grains (p. 37), and beans (p. 42). There are only 16 pages of color photographs in the center of the book. Recipes are easy to find in the appendix by recipe icons (p. 273), and an extensive index (p. 283).
Veganomicon is broken up into:
Snacks, appetizers, little meals, dips, and spreads (p. 46)
Brunch (p. 70)
Salads and Dressing (p. 80)
Dressing (p. 92)
Sammiches (p. 95)
Vegetables (p. 105)
Grains (p. 114)
Beans (p. 120)
Tofu, Tempeh, and Seitan (p. 125)
Soups (p. 134)
Cassaroles (p. 150)
One Pot Meals (p. 169)
Past, Noodles, and Rissotto (p. 188)
Sauces and Fillings (p. 203)
Breads, Muffins, and Scones (p. 217)
Cookies and Bars (p. 232)
Desserts (p. 245)
As you can see from this list it will take you a long time to make everything from this book.
Some of our favorite recipes are:
Mac Daddy (p. 195)
Herb-Scalloped Potatoes (p. 108)
Smoky Grilled Tempeh (p. 130)
You can also try:
We also use Veganomicon when a recipe is missing some flavors we are looking to add to a recipe. This is my favorite cookbook.
What is your favorite cookbook?
---
From A to Vegan has an affiliate relationship with a person, company, product, or service mentioned in that message and may receive a commission on referrals or sales generated by that message.