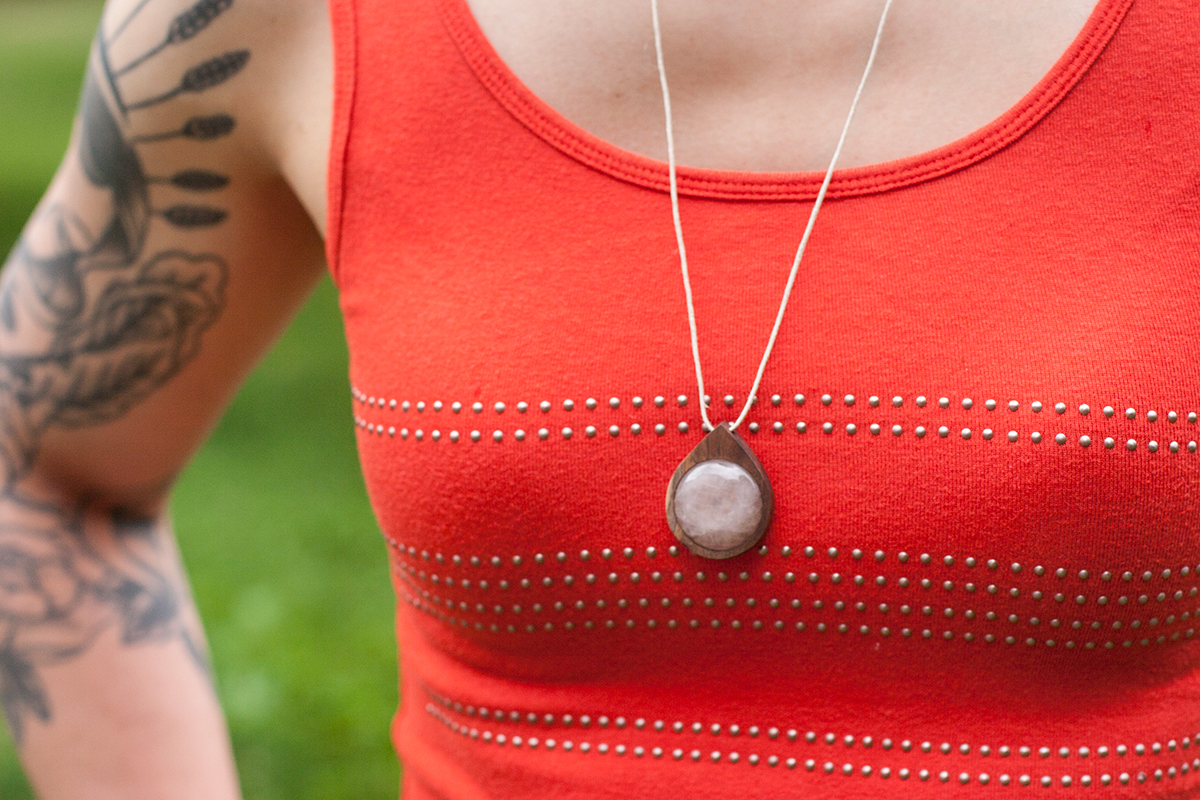 When Dave from Mystical Makings contacted me a few weeks ago about reviewing his new line of Vegan Rose Quartz Necklaces, I had to stop and admire these beauties for a while before I responded to him. I thought these necklaces were absolutely stunning.
I love accessories with simple lines and chunky stones. And these pieces were "made for me". How could he have possibly known? 😛
These beauties come in three lovely teardrop-shaped wood bases with a rose quartz domed center: Black Walnut, Red Cedar and Oak. The Rose Quartz pairs oh so elegantly with the three different bases, giving them each a distinct look. The craftsmanship on these pieces is also top quality. The back of the wooden base is smooth and rounded and transitions to harder angles at the very top of the teardrop. The dome shaped stone center goes with the flow of the rest of the piece. It all comes together harmoniously. As a designer, I think this is what has me so in love with these necklaces. There was thought put into this design. There was thought put into the pairing of the colors, too.
They're elegant statement pieces that can be dressed up or dressed down, depending on the outfit you wear (wait, isn't it usually the other way around?). I wore two casual tops for our photo shoot, but they would look stunning with a little back dress or even a business look.
Do you know someone who would love these?
Go get'em at Mystical Makings and use coupon code VEGAN10 for 10% off your order.
Product Description:
Vegan Rose Quartz Necklaces – Made with reclaimed cedar, walnut, and oak, finished with grape seed oil, and hung on hemp chord. 100% Vegan & Cruelty Free, made by a vegan in the USA.
All of the jewelry made by Mystical Makings is 100% vegan. No exceptions.

About Mystical Makings:
We are a vegan crafting couple out of mid Michigan. Spreading love and knowledge for the compassion towards all animals and humans. We make gemstone jewelry with hemp and reclaimed wood to showcase the beauty of our natural world and why it needs to be protected along with it's inhabitants.