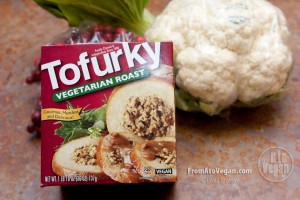 The holiday season is a merry time of the year to spend time with loved ones and friends, catching up, reminiscing and enjoying a delicious holiday meal together, but it can be a lonely time for some vegetarians and vegans.
For years, people who chose not to eat meat have been left out of the holiday meal celebration (or had to bring their own separate meal), but that all changed with the introduction of products like the Tofurky Roast. Now, everyone can share a special meal minus the cruelty — vegan food isn't just for vegans, it's for everyone. Best of all, most major supermarkets carry some sort of vegan roast for the holiday season.
The Tofurky Roast was first introduced in 1995! To celebrate the 20th Anniversary of their iconic roast, they contacted me to collaborate on a blog post featuring an all vegan, plant-based holiday meal.
Tofurky is a proud supporter of the Compassionate Holidays movement.
The Tofurky Holiday Roast Challenge
This holiday meal post came with a twist. Tofurky sent me a box with the roast and a list of mystery ingredients that I had to use in the meal. Those ingredients were:
The Tofurky Roast
Fresh Veggies: small pumpkin, fresh kale and one white onion
Fresh Fruit: one valencia orange (or similar)
Tree Nut: a handful of roasted almonds
And optional ingredients:
Grains/Starch: hemp, corn grits or chia seeds
Fresh Herb: rosemary, thyme or sage
Liquid Base: veggie broth/stock or white wine —I drank the latter while making dinner, I guess that counts 😉
Follow along and see what I made.
 The Meal
Since I'm an overachiever and love lots of fresh fruit and veggies, I tossed a few extras in the mix. I also challenged myself to make a hearty, lower calorie version of traditional Thanksgiving dishes, so I could stuff myself without the guilt or heavy feeling while all of it digests.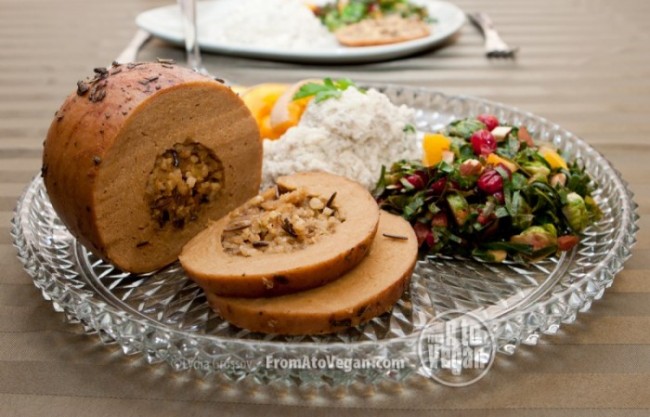 On the platter above (clockwise, starting with the roast):
Tofurky Roast prepared per instructions on the box —so simple— I also used the baste recipe from the box or on the Tofurky site
Roasted Pumpkin – sliced into half moons and seeded, seasoned with salt, cracked black pepper and olive oil, then roasted (at the same time as the roast) until tender (about 20 minutes)
Cauliflower Grits with chia seeds (recipe below)
Brussels sprouts, kale, cranberry and orange salad (recipe below)
Roast and other ingredients used for the dinner
Roast removed from plastic casing, basted and ready to roast
Tofurky roast after 1 hour and 15 minutes in the oven
Completed meal

Recipes
PAN-SEARED BRUSSELS SPROUT AND KALE WITH CRANBERRIES, ORANGE AND ALMONDS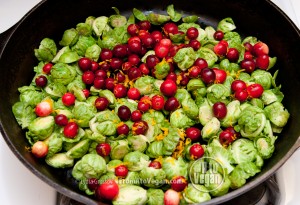 Adapted from this recipe by Rachel Schulz
Serves 4
Ingredients:
Olive oil
1 pound Brussels sprouts, stemmed and halved
1 small bundle of kale, washed and stemmed and roughly chopped
1 cup fresh cranberries
Zest of one orange (below)
Salt & pepper
1 tbsp maple syrup
1 tbsp balsamic vinegar
1/4 cup roasted almonds, roughly chopped
1 orange, zested, then peeled and cut into small chunks
Directions:
Heat Brussels sprouts, cranberries, orange zest and olive oil in a skillet over medium heat. Season with salt & pepper. Cook for 10-15 minutes, until Brussels sprouts are almost cooked through. They will have a golden, braised appearance.
Add kale and cook for a few more minutes, until it begins to wilt.
Add balsamic vinegar and maple syrup. Stir to coat and remove from heat.
Toss sprouts, kale, cranberries, oranges and almonds in a large bowl. They're ready to serve.
CAULIFLOWER "GRITS"
Adapted from this recipe by Susan from RealKidsEatSpinach.com
Serve 8 very hearty portions
Ingredients:
2 tbsp vegan butter or coconut oil
1 small onion, diced
1 large head cauliflower, cut into florets
2 cups organic vegetable broth
1/2 cup almond meal or flour (I used coconut flour)
2 tbsp of chia seeds
salt, pepper, & garlic powder to taste
Directions:
Run cauliflower florets through a food processor until they are rice-like in consistency. You can also use a grater, but the food processor is quicker.
Melt butter or coconut oil in a large sauce pot over medium heat. Add onion and cook for a couple of minutes or until soft. Add riced cauliflower, broth, chia seeds and almond meal or flour. Bring to a boil then lower heat and cover.
Allow to simmer for 20 minutes or until liquid is absorbed to your liking. Season to taste with salt, pepper and garlic powder.
This can be made more lusty by adding cashew cream and vegan melty cheese, if desired.
Our Thoughts on the Meal
My Thoughts
The roast is called "Tofurky Vegetarian Roast", but it is in fact 100% vegan (it even says so in the lower right-hand corner of the box). It's also come a long way in these 20 years, with much improved taste and texture (see Mauro's commentary below). Vegans rejoice!
I really liked how the meal turned out. The roast was easy to make and no fuss. We opted on not making a gravy and we didn't really need it. None of the items required extra moisture. The basted roast was very tasty, with a crispier outside and good firm inside (not dry and not too moist).
The sides I selected turned out hearty, bold and refreshing. The sprouts added a bright and tangy punch to the meal and the "grits" were garlicky (I always opt for more garlic) and filling. Were both piled on a hefty plate of food which clocked in at only 480 calories on My Fitness Pal. We were full for hours later.
If you're looking for a light yet filling and satisfying holiday meal, try this meal combination. For more recipes and holiday meal ideas follow Tofurky on Pinterest, Twitter or like them on Facebook.
Mauro's Thoughts
I don't have much to add to Lydia's comments, except that the next day I took part of the leftovers from our dinner with me to work, so I could have them for lunch. The roast held up very well, I just heated it up in the microwave with the grits and greens. Many years ago, that wasn't the case. When we first had the Tofurky roast, it was ok the day it was made, but then the texture would get weird and it wasn't that good after being reheated. Because of that, we didn't buy it again for a long while, maybe until a few years ago.
I imagine that other people might have had the same experience, so I wanted to point out that they fixed that issue quite a while ago now, so if you're avoiding the Tofurky roast for that reason, I'd recommend that you gave it another chance.
Turkeys Are Just Like Us – Let's Not Eat Them

Useful Information and Links (provided by Tofurky)
The Talking Tofurky Blog
Tofurky Website
Tofurky Store Locator
About Turtle Island Foods and Tofurky
Tofurky is an independent, family -owned business.
Tofurky's number one goal is to develop the best tasting and textured product possible. Sometimes that means doing things the "hard way" but we're ok with that. For example, we use real wood chips and an actual smokehouse to smoke our Tofurky jurky and deli slices instead of adding liquid smoke.
We believe in ingredient transparency and will answer all ingredient questions promptly. We encourage you to read our labels and contact us if you have questions.
The Tofurky Roast is a pre -cooked vegetarian feast designed to be the delicious centerpiece of your holiday or everyday meal. Made from a revolutionary tofu -wheat protein blend, our famous Tofurky® Roast is known for its incredible, turkey -like texture and flavor. Stuffed with wild rice and whole wheat bread crumb stuffing, this roast carves and cuts just like turkey but without the bones.
Since it was first marketed in 1995, Tofurky Roasts have been America's original and best selling alternative to turkey.
Turtle Island Foods has been a long time opponent of the use of genetically engineered foods (aka "foods produced using biotechnology.) We vigorously source certified non -genetically engineered ingredients from all of our suppliers.
We make Tofurky Products using only certified organic tofu, and we use other organic ingredients wherever supply and costs make it feasible. Our manufacturing facility in Hood River, OR is certified by Oregon Tilth as an organic food processor.
Unlike most of our larger competitors, we do not use hexane-extracted soy isolates, concentrates or other ingredients manufactured using the eco-toxin, hexane.