March 27, 2011
I start feeling it in February. The itchy eyes and throat–and then the sneezing. Spring—I'm always looking forward to the change from winter; but in this part of the country, you really don't know what to expect as the seasons turn. Sometimes it gets warm (it was 78 degrees on Jim's birthday, less than 2 weeks ago), and then just days later, it snows. The signals are conflicting, but one thing is clear—change is in the air, and I'm ready for it. I like to say that I hibernate for the winter, since I'm not a fan of much outdoor activity that time of year. I know it's spring when the birds outside start warbling at the crack of dawn. If they're ready to start a new season, I'm ready to join them in celebrating the new life that spring gives us.
This means it's also time to clean up from the long and dreary winter–one that saw way, way too much snow as far as I'm concerned. I know a lot of people look forward to this because it gives them a chance to finally get outside after a few months; but with my allergies, it's usually a struggle to get started. Once I'm finally motivated to get out there, I've got all my gardening tools with me and I'm ready to tackle a project, I either start to sneeze or get something in my eye. I don't consider myself a princess, but I do get easily sidetracked by these pesky obstacles.
Jim and I were smart enough to purchase a house with a small yard. The front yard is a work in progress (I'll talk more about that in later posts); but our back yard is larger and where we spend more time, so that's usually where we start the cleanup. Yesterday, we spent about an hour working in 40 degree weather. I didn't care that it was freezing out there; my calendar says last week of March and I was bound and determined to start this project. My goal for us was to 1. get as many leaves as possible into a composting bag, to give the plants some more sun, and clear them out of the yard, and 2. to fix the broken garden box.
Jim built two above ground gardens about 6 years ago when we moved into this house. The weight from this year's massive snowstorms broke one apart to where all the corners fell off, leaving a mound of dirt balanced on top of the ground. This is the first time he's had to reinforce these boxes despite all the snow over the years. The soil still looks good, and we haven't even put compost down yet.
My job was to pick up leaves. We don't have a mulching lawnmower, but we did purchase two large compost bags–one of which will be filled with leaves and used to feed our compost tumbler, and another bag which we will use for kitchen scraps. It took me nearly an hour to dig through the mound of leaves winter left in our yard, and I'm not finished.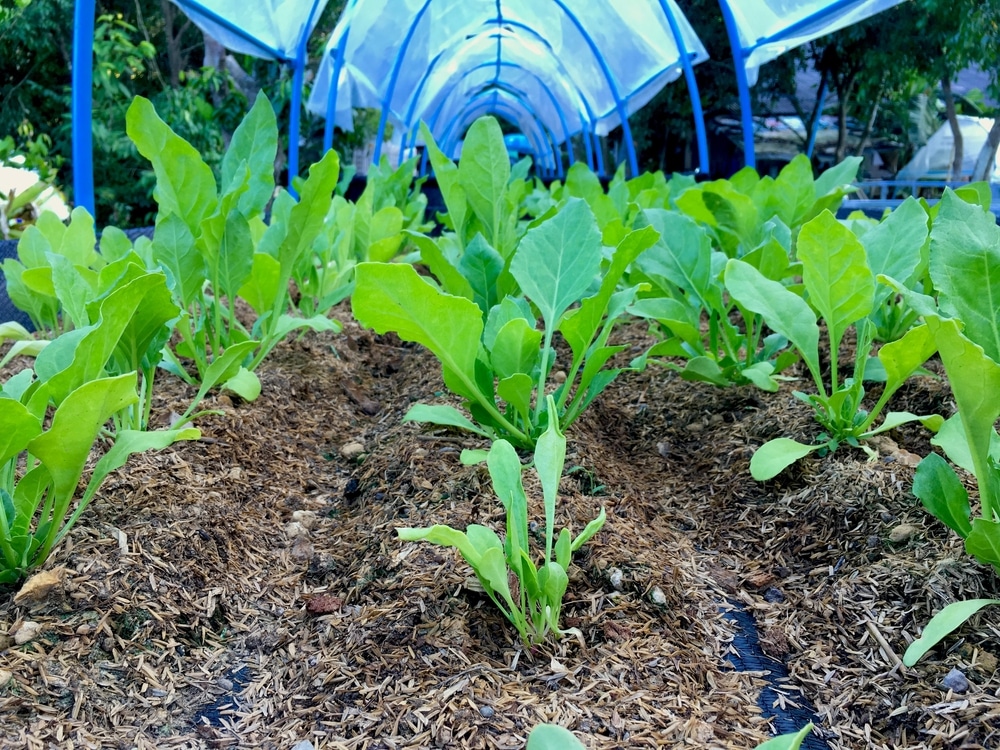 There is still a lot of work to be done—pulling out compost for the gardens; planting spinach, peas, and asparagus bulbs (which will take a few years to generate plants); installing new weed barriers around the fence; cutting back the butterfly bush, finding another plant or two to fill the side flower bed, and pulling up the weeds that are already emerging through the rock garden. Progress comes in stages, and taking it slowly is the best way for me to get motivated for the next step.  I'm hoping as we move into April, we can look forward to warm and dry days, which are pivotal to reaching our goal of a lush and inviting backyard.