Disclosure: I received a copy of the book form the publisher to review.
This post contains affiliate links, indicated by a *.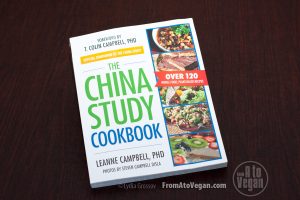 We're truly living in exciting times. There are sooo many vegan cookbooks on the market nowadays, it's almost impossible to own them all. Just when you think you have all the ones you really need want, there's another one coming out. Case in point The China Study Cookbook,* by Leanne Campbell, PhD, launched earlier this year. Yes, it can be a companion to The China Study* book by T. Colin Campbell, her father.
The book starts off with a basic introduction to a vegan diet, information about nutrition and nutrients found in different types of foods, and a comparison to the Standard American Diet (SAD). The recipes in the book are on the healthier end of the food spectrum with less fat, sugar and salt. The more decadent recipes come with a warning to eat sparingly (like the No-Bake Peanut Butter Bar, below). Although the book can be enjoyed by new and seasoned vegans alike, I feel it's more geared toward new vegans, or people looking for healthier recipes.
I chose six recipes I wanted to try but ended up only having time to test three of them so far: the Fiesta Potato Salad, Coconut Oatmeal Cookies, No-Bake Peanut Butter Bars. The recipes are easy to make, but I must note that I felt there could be a little more direction in some of them, especially for less experienced cooks. One example is the Fiesta Potato Salad, the recipes says to cook the potatoes, carrots and beets together. Being a beet lover, I immediately knew this was a no no. ALWAYS cook beets separately, unless you're going to blend everything together (which was not the case here), otherwise everything will have a nice hue of beet coloring. The salad turned out delicious and pretty similar to a Russian salad a good friend of ours makes. I made one substitution, though, I used Nayo-Whipped instead of making the mayo recipe from the book. The ingredients in both were similar and I already had the Nayo-Whipped on hand, so why not.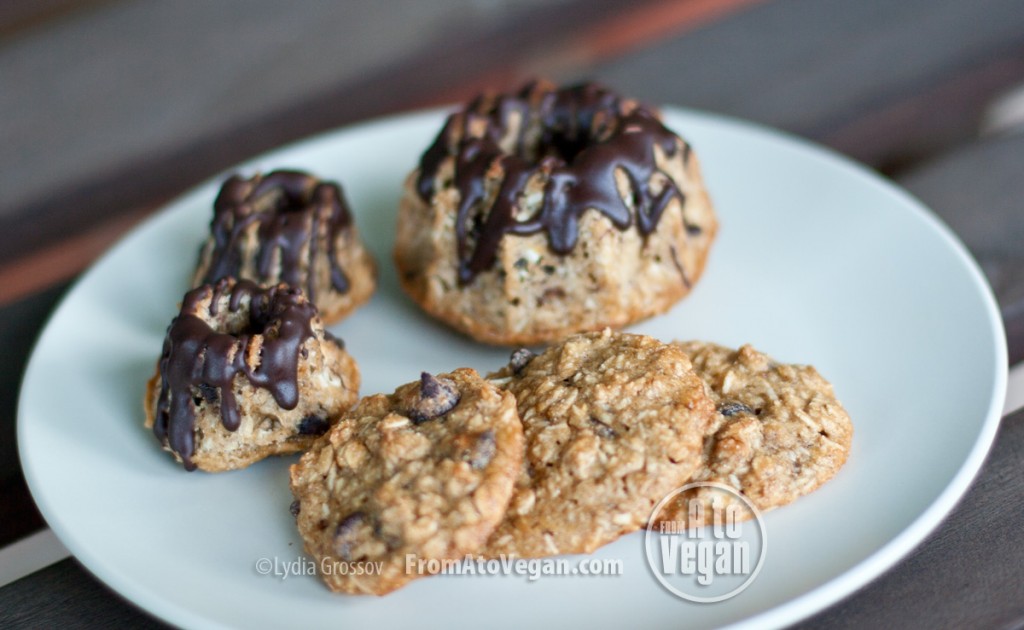 The No-Bake Peanut Butter Bars and the Coconut Oatmeal Cookies were a huge hit with guests at two different functions we hosted. I managed to save on lone sliver of the PB bar to snap a shot the next day. I gave the cookies, and cakelette versions of them, away as favors for a baby shower I hosted and had a few people inquiring about the recipe. I will say that they were a bit too chewy as a cookie, for my taste, and I liked them more in cakelette form.
I'm still planning to try Pecan Ball Subs (sounds dirty and delicious), Ocean Chickpea Sandwiches and Coconut Corn Chowder. So many recipes, so little time. Hopefully you'll have time to try them all, if you win our drawing below.
Fiesta Potato Salad
Fiesta Potato Salad
Coconut Oatmeal Cookies and Cakelettes
The China Study Cookbook Giveaway
We're giving one lucky reader a chance to make these delicious recipes in their own home. To enter for a chance to win, leave a comment below telling us which recipe you'd like to try from The China Study Cookbook. US residents only, please.
I'll randomly select one of the comments on Wednesday, October 23rd, 2013 at 8:00 pm EDT.
Happy commenting and good luck!
And the winner of The China Study Cookbook is: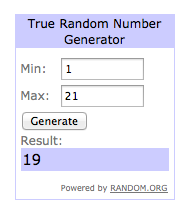 Comment number 19 – Jennifer K. Congrats!