Disclosure: This post contains affiliate links, indicated by an *
The From A to Vegan crew met new cookbook author Allyson Kramer by chance this past March when we met Christy Morgan, aka the Blissful Chef, on her east coast cookbook tour. Christy was staying with Allyson and they both came out to meet us for brunch and an interview. I was delighted to find out that Allyson was the author of one of my favorite blogs, Manifest Vegan and that she would be coming out with her own cookbook.
Well, here it is: Great Gluten-Free Vegan Eats
!*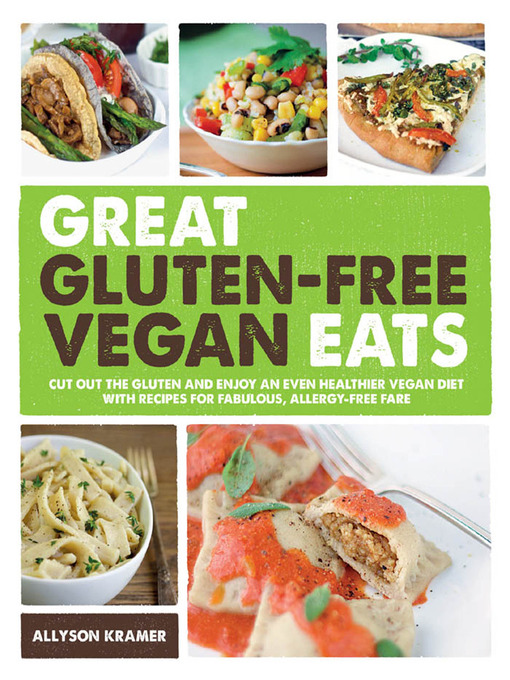 Allyson's recipes are scrumptious to look at and even better to eat. She really demystifies gluten-free vegan cooking —yes, gluten-free is flavorful and satisfying— with recipes that are easy to make.
A few things I love about the book:
The book is a nice size that's easy to handle and has beautiful photography. This is key for cookbooks. You want to entice people to make the recipes and enjoy them.
There's a nutritional analysis at the bottom of each recipe page, listing calories, fat, protein, etc. You don't see that in many cookbooks. It's a great feature to make smart eating decisions.
It starts off with some basic recipes for base items that will be used in other recipes throughout the book; e.g. Bizquix, vegetable broth, cashew cream, pasta and white chocolate (this last one just won me over). Do you know how hard it is to find vegan white chocolate? And now I can make my own? This rocks!
Recipes range from basic pasta dishes and salads to some ethnic dishes, desserts and smoothies. From all the recipes  I tested out two, the Spinach Artichoke Dip and the Chocolate Peanut Butter (Green) Smoothie. I had a lot of spinach that needed to be used up that week and these two recipes were a perfect fit.
The Spinach Artichoke Dip was absolutely fabulous and decadent. It tasted so cheesy without using any processed, store-bought vegan cheese. Mauro, my husband, is usually doesn't like dishes with vegan cheese flavor, but he loved this dish. Two thumbs up! The smoothie was also delicious and good for you with one cup of spinach. This is a great way to sneak in some unnoticed greens for those family members that just don't like them.
Next up on my list of recipes to try is the Walnut Ravioli with Vodka Sauce, Chocolate Marzipan Tart, and the White Chocolate Baking Bar. I'll post updates once I make them.
I found that Great Gluten-Free Vegan Eats is really a great book to start transitioning to a gluten-free diet or simply to mix things up a bit.
Spinach Artichoke Dip
Chocolate Peanut Butter (Green) Smoothie