Disclosure: I received a copy of Plant Power from the publisher to review.
I'm a big fan of Nava Atlas' cookbooks. I had a few in my bookcase already and love how straight-forward and easy to make her recipes are. I had the immense pleasure of meeting Nava in person last year, and again this year, and found that we have the same style of cooking. Her books are so intuitive to me, but I also found that they're intuitive, period.
When I received my copy of Plant Power: Transform Your Kitchen, Plate, and Life with More Than 150 Fresh and Flavorful Vegan Recipes, I was completely wowed. To begin with, the cover is vibrant with beautiful, succulent and colorful vegetables, with a vibrant title and warm and welcoming undertones that just say "eat me", in the good sense of the phrase, of course. It's also a nice and hefty hardcover book that has some weight to it. It means business!
Pantry staples
Pinto Bean & Quinoa Sloppy Joes
Quinoa Burger
Curried Chickpea & Escarole
What I liked about Plant Power
As I flipped through the pages I found that it really did mean business. There's a considerably large section in the front of the book, called Part One: Plant-Powered Living, dedicated to breaking down what a plant-powered diet is all about, outlining advantages, dispelling myths, her own personal journey, nutrition, how to set up a plant-powered/vegan pantry and strategies for meal planning. There's so much information it's an excellent resource for the newly-vegan, vegan-curious and veteran vegans alike. I found it a great refresher.
The bulk of the book is Part Two: Plant-Powered Recipes and Menus. The recipes are all easy-to-follow and quick to make. The recipes are also grouped by type of foods, which makes them easy to choose from if you're in the mood for pasta, burgers or a soup or stew. Most recipes have a "Variation" section giving you options for ingredient substitutions (this section saved me a trip to the market, by reminding me to use what I already had in the fridge) and a "Complete the Meal" section that lists which other recipes form the book to pair them with,so you can make a complete meal.
I chose to make the Curried Chickpeas or Lentils with Spinach—which turned out being Curried Chickpeas and Peas with Escarole, per one of the variations listed—, the Pinto Bean & Quinoa Sloppy Joes (recipe below) and the Quinoa and Red Lentil Burgers. I loved making all of these hearty and fresh, legume-based recipes. The mix of spices and flavors , in each of them, mingle so well together. They were all both filling and satisfying to our taste buds.
If you're looking for a good cookbook for yourself or to gift during the holidays, I think you'll find this a great new addition to your cookbook library.
Recipe: Pinto Bean and Quinoa Sloppy Joes
Seriously—who needs fake meat when you can make hearty, beautifully textured dishes using grains and beans? This serves up deliciously on rolls, but if you're not a bread person, you can serve the mixture in a lettuce-leaf cup or atop a corn tortilla. Serve with baked potatoes or sweet potatoes and any slaw-style salad. Fresh corn on the cob, when in season, is a great addition as well.
Serves: 4 to 6
1/2 cup uncooked quinoa, rinsed in a fine sieve
1 tablespoon extra-virgin olive oil or 3 tablespoons broth or water
1 medium onion, finely chopped
1/2 medium green bell pepper, finely diced
1 1/2 cups cooked or one15- to 16-ounce can (drained and rinsed)?pinto or red beans, coarsely mashed (or 1 1/2 cups cooked)
15- to 16-ounce can tomato sauce or crushed tomatoes
1 medium tomato, finely diced
1 tablespoon reduced-sodium natural soy sauce or tamari, or to taste
1 teaspoon agave nectar or maple syrup, or to taste
2 teaspoons good-quality chili powder, or more, to taste
1 teaspoon paprika
1/2 teaspoon dried oregano
6 whole grain rolls, English muffins, or mini-pitas
Combine the quinoa with 1 cup water in a small saucepan. Bring to a slow boil, then lower the heat, cover, and simmer until the water is absorbed, about 15 minutes.
Meanwhile, heat the oil, broth, or water in a medium skillet. Add the onion and sauté until translucent. Add the bell pepper and sauté until both are golden.
Add the remaining ingredients except the bread of choice, and bring to a gentle simmer. Cook over medium-low heat, loosely covered, for 5 to 7 minutes, stirring occasionally. Let the skillet stand off the heat for 5 minutes to allow the flavors to mingle further and for the quinoa to absorb the tomato flavors.
Evenly spoon the filling over the bottoms of whole-grain rolls, cover with the tops, or serve open-faced.
---
Nutritional Information:
Per serving: 252 calories with oil, 223 without oil; 5g fat with oil, 2 g fat without oil; 400 mg sodium; 44g carbs; 9g fiber; 4.2g sugar; 11g protein
Recipe from Plant Power: Transform Your Kitchen, Plate, and Life with More Than 150 Fresh and Flavorful Vegan Recipes by Nava Atlas. ©2014, published by HarperOne, reprinted by permission. Photos by Hannah Kaminsky.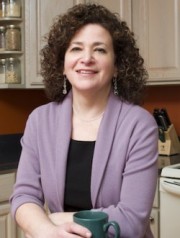 ABOUT NAVA ATLAS
Nava Atlas is the author and illustrator of many books on vegan and vegetarian cooking, most recently Wild About Greens and Vegan Holiday Kitchen. Her backlist includes Vegan Express, Vegan Soups and Hearty Stews for All Seasons, The Vegetarian Family Cookbook, and The Vegetarian 5-Ingredient Gourmet. Her first book, Vegetariana, published in 1984, is considered a classic in its field.
Nava also has written scores of articles on healthful cooking with natural foods, which have appeared in Vegetarian Times, VegNews, Cooking Light, and numerous other publications.
Keep up with Nava on her website Veg Kitchen, on Facebook, and Twitter