Disclosure: The publisher sent me a copy of the book to review. This post contains affiliate links, indicated by a *.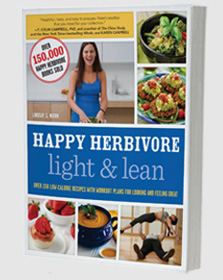 The holidays are just around the corner and so are those New Year's resolutions. Do a goggle search and you'll find "Eat Healthy" and "Exercise More" as the most popular resolution. If those two are at the top of your list for 2014, I've got just the book for you—HappyHerbivore Light & Lean by Lindsay S. Nixon.
It's a hefty book with 319 pages, chock-full of features to get you on the right track. Flipping through it you'll find: grocery lists; basics on eating leaner; a section describing caloric density of foods; tons mouth-watering, 100% plant-based recipes from breakfast to scrumptious desserts; and an exercise section with workouts you can do at home.
I really like how this book flows and that it's a whole package deal—recipes, nutrition and exercise all in one spot—it's a no brainer to kick start a new routine. The recipes all look hearty and filling and the desserts are a light at the end of the tunnel for anyone taking the road to healthier habits. You don't have to deprive yourself of delicious foods to lose weight. And, to be cliché, you can have your cake and it!
What I like best about the book is that at the top of each recipe there's a banner indicating how many calories per serving. This makes it extremely easy to pick a meal based on how many calories you want to consume. The calorie counts range from under 100 to 350. That's it. Each recipe also has the breakdown of the exact number of calories, fat, carbs, fiber, sugars protein and number of WW points. There are also icons at the top of pages indicating soy-free, fat-free, gluten-free, quick, budget (inexpensive), pantry (can be made with basic kitchen staple ingredients), and single serving (great if you're single or just making tomorrow's lunch).
I have a bunch of goodies for you, if you scroll down. We got to ask Lindsay some questions, there's a yummy Meatloaf Bites recipe from the book, and we're giving away one copy of the book to one lucky reader. So stick around and leave us a comment for a chance to win.
Meatloaf Bites with Homemade Ketchup
Microwave Peach Cobbler
Q&A with Lindsay Nixon
FA2V: Was becoming vegan a hard transition for you?
LN: I don't identify as a vegan, but no, transitioning to a plant-based diet wasn't hard for me. Once I understood the implications of eating meat and dairy, I never really wanted them again.
FA2V: Were you a healthful vegan from the beginning or was it a slow process?
LN: I was primarily motivated by my health to adopt a plant-based diet, so that guided me to making great choices. Of course, 7 years later I eat a much healthier diet than I did then…. or even last year. It's a journey!
FA2V: Do you have any advice for people trying to transition to a more healthful lifestyle?
LN: Just do it. Take it a meal at a time. Make sure the next thing you put in your mouth is a health food.
Meatloaf Bites Recipe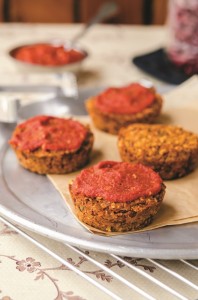 Makes 8
Gluten-free, Quick, Budget
One afternoon I grabbed what I thought was corn from the freezer but later realized it was mixed vegetables. Once they thawed on the counter I knew they weren't going back in, so I looked for a new, inventive way to use them. A can of kidney beans started calling, and before I knew it I had a vegetable-filled meatloaf in the oven. Since this meatloaf is baked in a muffin tin (great for serving sizes and portion control), I call it meatloaf "bites" and, yes, leftovers are great as a burger!
1 15-oz can kidney beans, drained and rinsed
1 tbsp onion powder
1 tbsp garlic powder
1 tbsp Italian seasoning
1 tbsp chili powder (add another 1 tsp if you like it spicy)
3 tbsp ketchup
2 tbsp mustard
1 tbsp Vegan Worcestershire Sauce (recipe in full cookbook)
1 c frozen mixed vegetables, thawed
6 tbsp instant oats
Preheat oven to 350°F. Line a muffin tin with paper liners or use nonstick. Mash beans in a bowl with fork or potato masher until well mashed. Add remaining ingredients, except oats, and stir to combine.
Stir in oats. Spoon into muffin tin and pack down. Bake for 20 minutes until crisp on the outside and fairly firm to the touch (firms a bit as it cools). Serve with ketchup, Quick Gravy (pg. 188), etc.
Per Bite
Calories . . . . . . . . . . . . . . 101
Fat. . . . . . . . . . . . . . . . . . . 1.7g
Carbs . . . . . . . . . . . . . . . 16.9g
Fiber. . . . . . . . . . . . . . . . .6.5g
Sugars. . . . . . . . . . . . . . . . . 3g
Protein. . . . . . . . . . . . . . .5.8g
WW Points. . . . . . . . . . . . . . 2
From Happy Herbivore Light & Lean by Lindsay S. Nixon. Photos by Jackie Sobon. Used by permission from BenBella Books, Inc.
Happy Herbivore Light & Lean Giveaway – Closed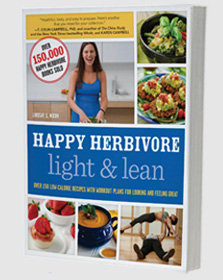 We're giving one lucky reader a chance to win Lindsay S. Nixon's Happy Herbivore Light & Lean Cookbook. To enter for a chance to win, leave a comment below telling us which recipe you'd like to try healthier recipes. US and Canada residents only, please.
I'll randomly select one of the comments on Monday, December 23rd, 2013 at 8:00 pm EST.
Happy commenting and good luck!
The lucky winner for this giveaway is…
That's Melissa's comment. Congrats!