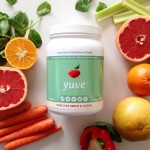 Yuve is a new vegan nutritional shake with raw chia seeds created by a former Russian dancer. It's formulated using over 25 all natural ingredients, no artificial colors, sweeteners or flavors. It contains antioxidants, four core nutrients (folic acid, iron, calcium and Vitamin D3), and maintains an ideal ratio between macro and micronutrients, according to Yuve's website.
I'm always a little skeptical when trying protein and nutritional shakes, because in the past I've tried a few that weren't very appetizing or had a chalky or grainy texture. I was pleasantly surprised with Yuve. Their site claims that the shake is delicious and I actually found that it was indeed.
I got three packets of the chocolate flavor to try out. I blended one with a frozen banana and soy milk—which is how I usually have my protein—, I blended the other two packets, one with just soy milk and the other with water in a shaker cup. I found that in all three situations the powder dissolved and blended well, had a thick texture and had a great taste. No chalky or gritty texture. It was also pretty filling and kept me going for a while.
Although this shake is promoted for women, men can enjoy it too. There's nothing in it that would prohibit men from having it, according to owner Lola Sherunkova. Mauro enjoyed the flavor and texture, as well, and gave it a thumbs up.
Note: we're not nutritionists or doctors so we can't vouch for the nutritional aspect of the shake, we're only reviewing it for taste and texture.