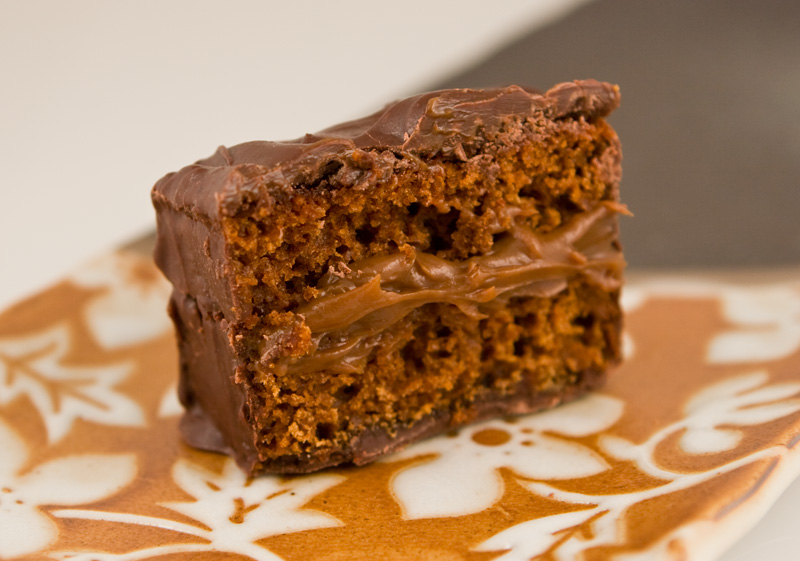 Pão de mel is a Brazilian treat that makes my mouth water just from hearing the words being uttered. They were one of my biggest downfalls when I lived in Brazil and every time I went back to visit.
They are mildly spiced with cinnamon, ground cloves, nutmeg and the sweet gooeyness of honey, baked into a scrumptious cake, cut into squares, then cut in half and filled with doce de leite, and finally dipped into a vat of melted chocolate. The combination of crispy chocolate crust, soft spiced cake and creamy doce de leite on the inside are out of this world.
I must confess that since I became vegan I dared not even attempt making these with agave or maple syrup for fear of not turning out quite right and ruining the grand memories. But when I got my hands on a sample of Bee-Free Honee (read our product review), I instantly knew it was going to be the perfect substitution and that I could successfully veganize my grandmother's recipe.
Ingredients
Cake
3 cups organic unbleached all-purpose flour
1 cup Bee-Free Honee (12 oz. bottle)
1 cup sugar (I use organic, fair trade, Wholesome brand
1 cup unsweetened, unflavored non-dairy milk
2 Tbsp vegan butter (Earth Balance) – at room temperature
3 tsp egg replacer (plus 4 Tbsp of warm water to whisk it with)
1 Tbsp baking soda
1 Tbsp cinnamon
1 tsp ground cloves
1 tsp fresh grated nutmeg
Vegan butter and flour to grease and dust the baking pan(s)
Filling (optional)

I used this vegan doce de soja (doce de leite made from soy) I found on Amazon a couple months ago but is no longer available. This product is readily available in Brazil, if you live there or know someone going there that is one option. Here are a few other options that will work just as well:
Bryanna Clark-Grogan has an easy, no-cook dulce de leche how-to in this video
Chocolate hazelnut cream, also commonly used with this recipe, makes for a tasty filling too
Chocolate Coating
2 lb of organic and fair trade vegan melting chocolate
Directions
Cake
Grease and dust a 9 x 13 baking pan or 2 square muffin pans.
Preheat oven to 350° F.
Mix egg replacer with warm water and whisk until frothy.
Combine sugar, honee, vegan butter and egg replacer mix in a large bowl (I do this by hand but a mixer can also be used).
In a separate bowl, combine all of the dry ingredients and spices with a whisk.
Gently fold dry ingredients and milk into the liquid blend, adding 1/2 of each at a time.
Pour batter into prepared cake pan or muffin tins.
Bake muffins for 15-18 minutes and cake pan for 40 minutes. Test by inserting a toothpick in the center, they're ready when it comes out clean.
Let cake/muffins cool completely before removing them from pan(s).
Filling
Once cakes have cooled completely, cut into even sized squares (if you baked them in a cake pan) and then in half (horizontally).
Spread filling of your choice generously on the bottom half and place the top back on.
Chocolate Coating

Melt chocolate in a double-boiler over simmering water, or in the microwave in increments of 30 seconds, until chocolate is completely melted and smooth. Always use lower temperatures when melting chocolate so it won't get scorched.
Stick two long toothpicks on either side of cakes and dip them into the melted chocolate, one at a time, coating them on all sides.
Place chocolate-covered cakes on a parchment lined cooling rack or cake pan, remove toothpicks and let set. If you need them to set quickly, place them in the refrigerator for 10 to 15 minutes.
Enjoy!