If you're a big fan of Nayonaise, you may have already noticed Nasoya's recipe changed a bit earlier this year. They also changed the label design on the jar and added another item to the product line, Nayowhipped.
The packaging says Nayonaise is now creamier. The texture is definitely different. The jar I got seemed more whipped, similar to Nayowhipped's texture. I don't think it's noticeable in sandwiches, but perhaps it makes a difference in salads. We didn't have a jar of the previous version to do a head-to-head, so we'll have to take their word for it. As far as I can remember/tell, Nayonaise's flavor didn't change, I think it's pretty much the same. Any big fans out there who can confirm?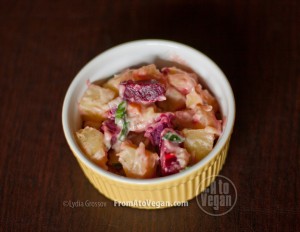 Taken from Nasoya's website: both contain only 35 calories and 3.5 grams of fat compared to traditional mayonnaise which contains about 90 calories and 10g of fat. The two products are: non-GMO soy-based, vegan, cholesterol-free, a good source of vitamin B12.Now, the Nayowhipped has a slight tangier, more mustardy flavor (because it has mustard in it), which I thought worked really well in potato salad. We tried it in The China Study cookbook's Fiesta Salad (review coming soon). We used it instead of the mayo recipe they had in the book, because it seemed similar, we had on hand and we were in a rush. It added a nice, light, non-greasy, creamy texture to the salad and the tangy flavor complemented it well. It would probably work well in coleslaw, too.
Nayonaise & Nayowhipped Giveaway – Closed
We're giving away one jar of each of Nayonaise and Nayowhipped to one lucky reader. To enter for a chance to win, leave a comment below telling us why you'd like to try them, like Nasoya's Facebook page and follow them on twitter. US residents only, please.
I'll randomly select one of the comments on Friday, September 27 th, 2013 at 8:00 pm EDT.
Happy commenting and good luck!
And the winner of the Nayonaise & Nayowhipped giveaway is…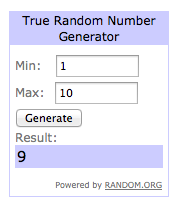 Comment number 9, Georgiana. Congrats!