Green peas are all the rage nowadays, from protein powder for your post-workout shake to vegan chicken strips and cookies. Cookies? Yes, cookies. The lovely folks at Green Pea Cookie got their inspiration from a trip to Singapore (see story below). These delectable green goodies are a popular snack there, so they decided to bring them to the US. Lucky for us!
The green, quarter-sized, dome shaped goodies are a little sweet, a little salty and have a mild green pea flavor. They have a shortbread crispy and crumbly texture and are rich, buttery flavor. I was surprised at how rich they are when I first tried them. The best part is that 6 of them clock in at only 100 calories. Best of all, they're 100% vegan and have a gluten-free option.
They come in two flavors: the original Green Pea Cookie is called Peater, the Christmas edition Cranberry Green Pea Cookie is called Penelopea, and the new Chocolate Dipped Green Pea Cookie — making her debut on Kickstarter — is called Dimpea. Yummy!
Green Pea Cookie is only in its infancy, though. They've just been funded on their Kickstarter campaign (funded in 7 hours!) and should be cranking out cookies for all soon. Go ahead and make them happea by visiting their site and buying their cookies.
UPDATE: it has been brought to our attention that their claim of using only five simple ingredients (on their original cookie) is misleading. In fact, there are several more, listed on the nutrition facts label. We felt that it might bother some people (ourselves included), so we're mentioning it here.
More About Green Pea Cookie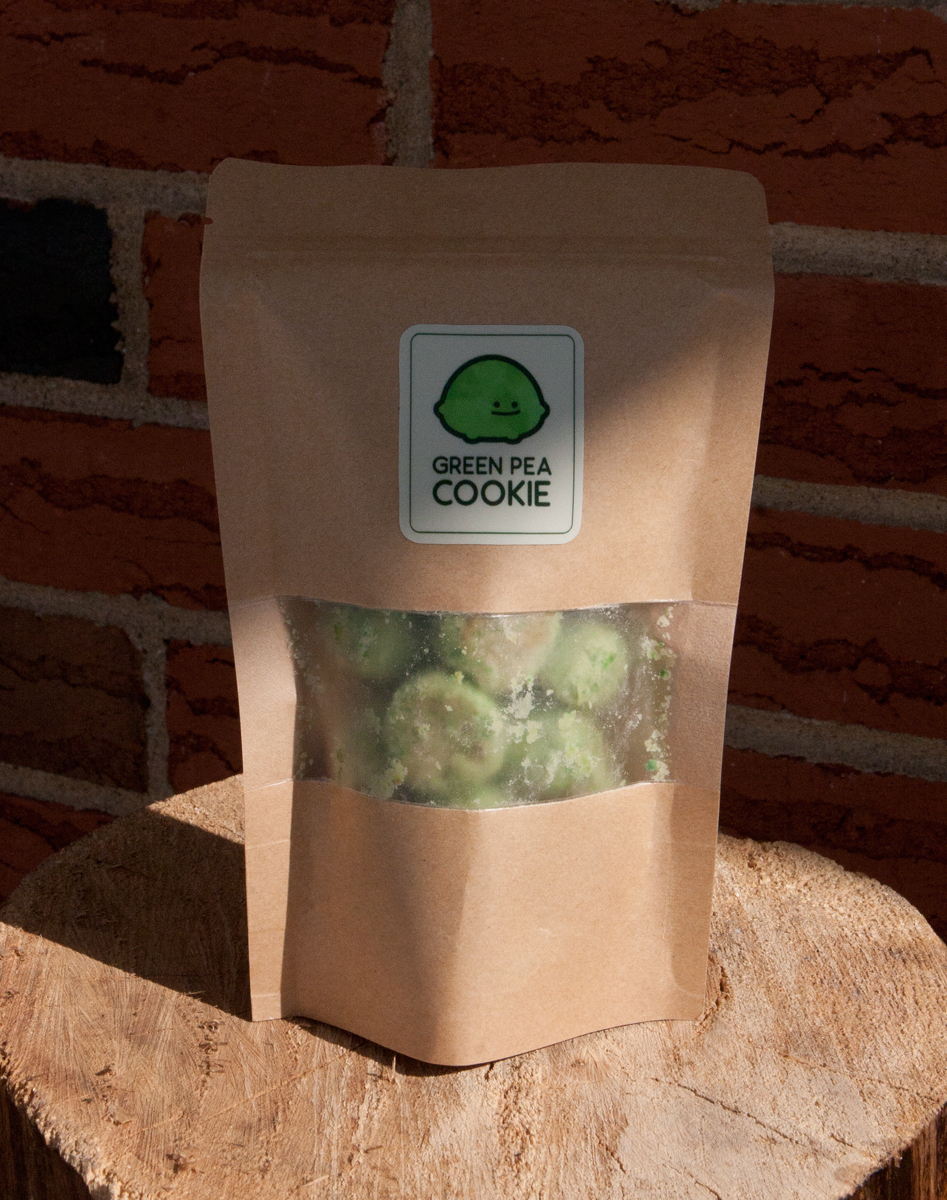 Their story began back in the summer when one of my co-founders, Sean, brought some green pea cookies over from Singapore while doing an internship where we both worked at a tech-startup in San Francisco. He watched with delight as their co-workers devoured the box of cookies in just one afternoon and he decided to sell them in the US. Together with Fiona, their other co-founder, they have since been developing their business, perfecting the recipe and preparing for their launch. People from San Francisco, Seattle, New York, Boston, Philadelphia and many other small towns have tried the cookies since then and they have received great feedback!