Disclosure: I received samples from the manufacturer to review.
Mauro and I love all types of beans and we cook them from scratch for the most part. We always keep some prepared beans (canned, frozen, etc.) on hand, though, for those days when we're tight on time and need to prep a quick dinner.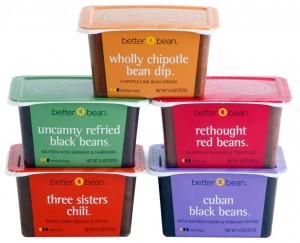 Better Bean is now one of our favorites to keep on hand. They have 5 types of prepared and well seasoned beans that are ready to heat and eat. Of course all of their flavor are vegan. Each flavor can be used in a variety of ways and recipes (check out their website for ideas). They can be found in the refrigerated aisle at Wegman's supermarket, by the organic and vegan items.
Mauro and I really liked all of them. We tend to buy the Three Sisters Chili and the Cuban Black Beans more regularly for dinner, as part of an entree or side. They both have a little bit of a kick to them and add a lot of flavor and spunk to our meals.
We also buy the three other flavors—Wholly Chipotle Bean Dip, Uncanny Refried Back Beans and Rethought Red Beans— for parties or when we want to make wraps or burritos.
We liked them so much, we got a little creative and used the Rethought Red Beans to make the lovely canapés below for cocktail/pot luck party we had with our supper club. They're so easy to make and delicious to eat. Recipe/assembly instructions below.
Southwestern Bean Canapé Recipe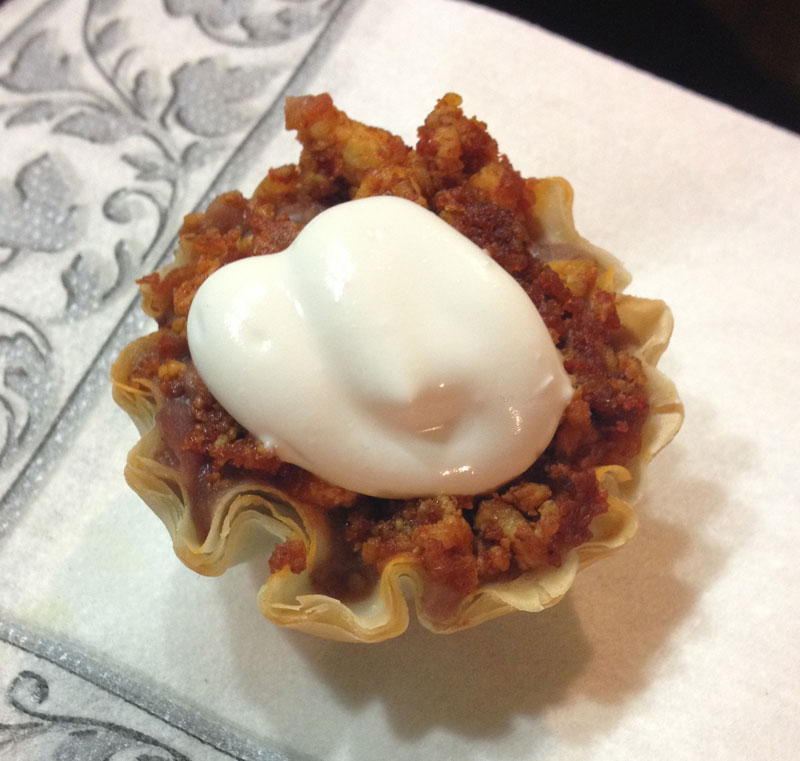 Ingredients
2 boxes of mini Phyllo shells (found in the frozen food isle in any supermarket, by pie crusts – check ingredients to make sure it is vegan, most brand are)
1 container Better Bean Rethought Red Beans
1 package of vegan soyrizo or salsa
1 container vegan sour cream
Instructions
Thaw Phyllo shells. This should take only 10 minutes
Heat the Rethought Beans in the microwave, in a microwave-safe bowl, for a few minutes until it's heated through. You may have to stir it midway through.
Heat the soyrizo, if you're using it.
Place a teaspoon of beans in the shell first, followed by the soyrizo or salsa (whichever you're using), and then the sour cream.
Eat and enjoy.