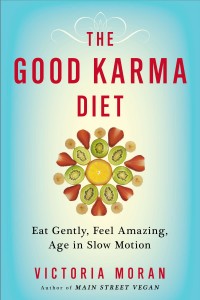 The first time I saw Victoria Moran was at Vegetarian Summerfest in Johnstown, PA back in 2011. My family and I were there for the 3 day program and I saw Victoria every day; whether she was the master of ceremonies on the main stage or leading her own class, I could tell this woman had an abundance of energy. In the years since, Victoria has been incredibly busy—most notably as the founder and director of Main Street Vegan Academy, training and certifying vegan lifestyle coaches. Upon reading Victoria's 12th book, The Good Karma Diet, I can see now how she does it. Her high-raw diet creates explosive energy, and is one of the reasons she has remained a great presence in the vegan community.
The concept behind the book is straightforward: eating simple, highly-nutritious vegetables, nuts, fruits, and legumes helps to promote "good karma." This approach to eating promotes the health of the individual, the health of the planet, and of course the health of the animals who won't be slaughtered for food.
This book is filled with practical tips for anyone to start eating a plant-based diet. Included in the book are stories from people who have changed their lives by adopting plant-based diets. There are also a number of delicious-looking recipes in the book, including this one for a green power smoothie.
Green Power Smoothie
Ingredients:
1 large celery stalk, chopped
1 frozen banana, or 1/2 cup other frozen fruit (peaches, pineapple, berries, etc.)
1 tablespoon freshly squeezed lemon juice
1 to 1 1/2 cups water
About 1 cup kale, spinach, or romaine lettuce, tightly packed
Optional:
For a greener smoothie:1 to 2 teaspoons spirulena or barley grass powder, and/or a handful of fresh cilantro or parsley
For a sweeter smoothie: 1 teaspoon maple syrup or 3-4 drops stevia
For a heftier smoothie: 1/2 small avocado, and/or 1 scoop vegan protein powder
For a spicy smoothie: 1/2-inch knob of fresh ginger, or 1/8 teaspoon cayenne pepper
For a super-duper smoothie: 1 to 2 teaspoons maca powder and/or ground flaxseeds
Loving Preparation:
In a blender, blend celery, banana (or other fruit), lemon juice, greens, water, and any optional ingredients, until liquefied.
Add greens of your choice and blend until completely liquified. Taste and adjust if necessary. (Go easy on the greens at first. The time will come when you'll fill the blender with them.)
Serve immediately.
Makes 1 to 2 servings
Excerpted from THE GOOD KARMA DIET: Eat Gently, Feel Amazing, Age in Slow Motion by Victoria Moran, with the permission of Tarcher/Penguin, a division of Penguin Random House. Copyright © 2015.
Photo and recipe by Doris Fin, CCHP, AADP.