News for September 30, 2011
News Today includes stories about arachidonic acid, Milk, cows, listeria, ranchers, Famine, Russell Simmons, Conservatives, Whales, Turtles, Endangered Species, Cantaloupes, Strip Club, Listeria, Farming, Gardens, Vegan Meals, Vegucated, Fruit, Fregula, T-shirt, Personal Care Product, foodies, prairies, Don't Eat Me, health, Walnuts, fatty foods, obesity, Vegetables, chickens, charity, vegan, and recipes.
Inflammatory remarks about arachidonic acid
From nutritionfacts.org
Arachidonic acid may play a role in cancer, asthma, inflammatory bowel disease, rheumatoid arthritis, and other autoimmune disorders.
---
COK Uncovers $9.5 Billion Price-Fixing Scheme: National Milk Producers Federation and Other Dairy Industry Groups Accused of Antitrust Violations
On Monday, Sept. 26, 2011 several dairy consumers, including members of Compassion Over Killing (COK), filed a class action lawsuit (download PDF) on behalf of consumers alleging that various dairy companies and trade groups—including the National Milk Producers Federation, Dairy Farmers of America, and Land O'Lakes—combined to form Cooperatives Working Together (CWT) in order to engage in a price fixing scheme that inflated the price of milk.
---
Suit: Dairy cows systematically slaughtered to drive up price of milk
From Komo News
Animal rights group Compassion Over Killing was the first to uncover the alleged systematic slaughter of healthy dairy cows in California. The group turned to Seattle attorney Steve Berman, who filed the suit claiming more than half a million U.S. dairy cows were slaughtered over seven years to artificially reduce the supply of milk and drive up prices.
---
Farm recalls lettuce amid listeria concerns
From Komo News
A California farm said Thursday it was voluntarily recalling bags of chopped romaine lettuce because of possible contamination with listeria, though no illnesses have been reported.
---
The Brown Revolution: Increasing Agricultural Productivity Naturally
From The Atlantic
A team of ranchers in South Dakota are using holistic management techniques to regenerate our ailing grasslands and fight climate change
---
Exclusive Report: Food Crisis in East Africa: Fighting Famine in Africa
From Huffington Post
In the Turkana region of Northern Kenya, there is some sign of hope. The area is home to herders and most communities are devastated by the loss of their livestock (goats, sheep, cattle) which once provided a source of food and income. However, some of these people have weathered the crisis, due to Oxfam's hunger safety network, which provides grants for land, tools and support for agricultural development. As a result, former pastoralists have developed small plots of gardens, enabling mothers and fathers to both feed their families and sell off the remainder of the crop. In Kenya's poorest communities, small initiatives like these kitchen gardens allow some a sense of dignity and pride that they are once again able to work.
---
Russell Simmons: 'Every Single One' Of My Employees Pays More Taxes Than Me
From Huffington Post
Famed investor Warren Buffett and Def Jam co-founder Russell Simmons have at least one thing in common: They both want the U.S. government to raise their taxes.
---
From Huffington Post
Remember when George W. Bush ran as a "Compassionate Conservative?" Nice slogan, probably coined by presidential historian and Republican advisor Doug Wead in the late 70's. The problem was that "Compassionate Conservatives" never actually seemed compassionate (and you could argue that in their budget-busting expansion of executive power, they weren't conservative either). Given Bush's pathetic performance during Hurricane Katrina and flim-flam-man prosecution of the Iraq War, which wasted thousands of American lives for a purpose we'll never quite know, it was hard to conclude after his eight years that the Bush administration had compassion for anything beyond the value of Dick Cheney's stock options held in escrow.
---
White Humpback Whale Calf Surfaces Near Australia, Relation To Migaloo Considered
From Huffington Post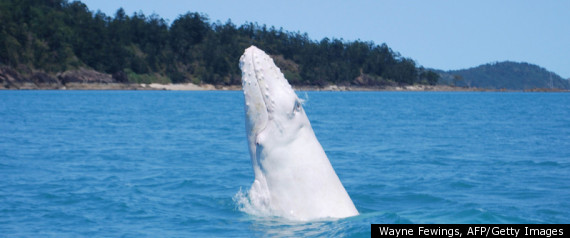 Photo from Company
A white humpback whale calf is getting a lot of attention after making a brief appearance off the coast of North Queensland in Australia, near the Great Barrier Reef.
---
Sea Turtle Populations: Report Reveals The Most Threatened Regions
From Huffington Post
Sea turtles be warned: A new report has found nesting sites in India, Sri Lanka and Bangladesh are some of the most dangerous places in the world for you to be.
---
Endangered Species Act: New Protections Possible For Hundreds Of Animals
From Huffington Post
The Obama administration is taking steps to extend new federal protections to a list of imperiled animals and plants that reads like a manifest for Noah's Ark – from the melodic golden-winged warbler and slow-moving gopher tortoise, to the slimy American eel and tiny Texas kangaroo rat.
---
Killer Cantaloupe, Scary Sprouts: What To Do?
From Huffington Post
Avoid foreign produce. Wash and peel your fruit. Keep it refrigerated. None of these common tips would have guaranteed your safety from the deadliest food outbreak in a decade, the one involving cantaloupes from Colorado.
---
Casa Diablo, Vegan Strip Club, Fights To Open Second Location In Portland, Oregon
From Huffington Post
The world's first vegan strip club made history by eliminating meat from the menu — but now neighbors have a bone to pick with the soy-serving strip joint.
---
Listeria In Cantaloupes: What You Need To Know
From Huffington Post
Listeria is a hardy bacteria found in soil and water that can be carried by animals. It is often found in processed meats because it can contaminate a processing facility and stay there for a long period of time. It is also common in unpasteurized cheeses and unpasteurized milk. It is less common in produce like cantaloupe, but there have been a couple of other listeria outbreaks in fruits and vegetables in recent years. When a person contracts the disease, it can cause fever, muscle aches, gastrointestinal symptoms and even death. One in five people who have listeria can die.
---
Hurricane Irene Aftermath: How One Farm Plans to Keep Going
From Huffington Post
On August 28th, hundreds of farms in upstate New York were destroyed by massive floods caused by Hurricane Irene. No one predicted the floodwater would come as quickly as it did, nor the amount of water and force that accompanied it. This is one farmer's story: Meet David and Denise Lloyd of Maple Downs Farm, a small dairy farm in Middleburgh, NY.
---
From VegNews
A new vegan cooking show, The Jazzy Vegetarian, will be premiering tomorrow on public broadcast stations nationwide.
---
Weekday Vegetarian: Spicy Pumpkin Hummus
From Treehugger
Spicy Pumpkin Hummus
1 can chickpeas, drained and rinsed well
2 garlic cloves, minced
1/4 cup lemon juice
1/4 cup water
3 tbsp tahini
1/2 cup canned unsweetened pumpkin puree
1 tsp cumin
3/4 tsp salt
1/4 cayenne pepper, or to taste
1/3 cup olive oil
Place chickpeas, garlic, lemon juice, water and tahini in food processor. Whirl until smooth. Add pumpkin and seasonings. Whirl. With motor running drizzle in olive oil until blended. Taste and add more lemon juice or cayenne pepper if needed.
---
Allotment Gardens Have Lessons for All
From Treehugger
This delightful little model allotment garden in the middle of London's busy Kensington Gardens has something to teach all gardeners.
---
From Girlie Girl Army
Rarely in life is anything fast, good and cheap, food included. Usually, you have to pick between two of the three. Food is often fast and good (as in healthy and tasty), but then it's not cheap. Or else it's fast and cheap but not good. Or cheap and good but not fast.
---
Getting Vegucated with Marisa Miller Wolfson
From Mercy for Animals
Vegucated is an incredible new guerrilla-style documentary that follows three meat- and cheese-loving New Yorkers who agree to adopt a vegan diet for six weeks. Lured with true tales of weight lost and health regained, they begin to uncover hidden sides of animal agriculture and soon start to wonder whether solutions offered in films like Food, Inc. go far enough. Before long, they find themselves risking everything to expose an industry they supported just weeks before.
---
Rediscovering America's Forgotten Pawpaw Fruit
From TakePart
The eastern U.S. are home to a native tropical-like fruit called the Pawpaw, which had been a favorite of some of our Founding Fathers. George Washington and Thomas Jefferson are said to have been big fans. Lewis and Clark survived on Pawpaws and nuts when their rations ran low.
---
Recipe: Fregula with Butternut Squash and Sage
From One Green Planet
Like the cuisine of Sardinia itself, the unique tiny pasta known as fregula sarda may be one of the world's best kept culinary secrets. Made from hard durum wheat, fregula (or fregola) is traditional Sardinian pasta that resembles Israeli couscous—but that's where the similarity ends. Think of fregula as the heartier, more flavorful cousin of couscous.
---
Making MOGO (most good) Choices: The True Price of a T-shirt
From One Green Planet
Every day we make myriad choices. We choose what to wear and eat and which products to use. For most people the primary factors that determine these choices are desires and resources. Most of us buy what we buy and do what we do based on what we want and can afford.
---
Guide: Vegan Personal Care Product's for Women
From One Green Planet
There are many supermarket personal care products out there that claim to not use animal ingredients but aren't really vegan because they test their products on animals. These products are laden with toxic chemicals, hence the company's "compulsion" to test their products on animals. Similarly, many companies tout their products as "Cruelty-free" but use animal derived ingredients in them.
---
From The Guardian
The news, earlier this week, that an online dating site aimed at vegetarians had been forced to modify its marketing material after admitting to the Advertising Standards Authority that the majority of its clients weren't averse to the odd bit of flesh astounded me. Not the fact that a matchmaking site had been less than honest about its wares – that's par for the course in my experience – but the fact that the dating market had become so specialized.
---
Why you should care about prairies
From The College Green
"Growing up in Iowa, I've been exposed to my fair share of mocking. I am constantly discrediting claims of boredom, cow tipping and corn children. No, I don't live on a farm. No, I don't really like pork. I've never ridden in a buggy. If one more person argues the "flat" issue with me, I'ma bust a cap. Seriously. Take a walk. Look around you. Those are hills. Come on."
---
From Link
19-year-old Nadia Massoudi has been a vegetarian since age 12 and a vegan since age 16. Her passion for animals led her to create the worldwide event Animal Freedom Day in 2010. Now Nadia strikes again in an upcoming documentary that follows her around the world as she witnesses animal cruelty in its many forms.
---
More Americans neglecting health in sick economy; Skipping medical tests, forgoing drugs to save
From NY Daily News
It's a sign of a sick economy — More Americans are taking dangerous risks with their health.
---
Walnuts may protect against breast cancer; Nuts are powerhouse of antioxidant polyphenols
From NY Daily News
New research suggests women can defend themselves against breast cancer by eating about two small handfuls of walnuts everyday.
---
Are kids becoming addicted to high-calorie, fatty foods? How to teach your kids to eat right
From NY Daily News
"I wasn't fat as a pre-computer age kid," writes Worried Mother, "nor were my friends. But my 11-year-daughter is overweight and so are many of her classmates in school. Is lack of exercise why so many kids are obese these days?" Dave, I've wondered about that myself. So I spoke to Dr. Susan Bartell, nationally recognized parenting psychologist and contributor to WebMD.com, "Can all those sedentary hours lead to an addiction to overeating?"
---
New Yorkers drinking less soda, sugary drinks but rate of obesity same for past three years: report
From NY Daily News
New Yorkers are sipping less soda and eating more fruits, but the obesity rate hasn't budged in three years, according to data released Thursday by the city Health Department.
---
Sesame Stir-fry Vegetables with Hoisin Sauce
From NY Daily News
Sisters Stephanie Mack and Michele Hatchette grew up in a Harlem household where, under strict enforcement from their mother, healthy foods were always on the menu.
---
Fowl play: Bronx neighbors are staging a coop at urban chicken farms
From NY Daily News
"Today is my first day as a chicken farmer!" crows Lily Kesselman, who is cradling a speckled hen in a lush garden where rows of bell peppers, collard greens and string beans are flourishing on a late Indian summer afternoon.
---
Fall tradition gets new spin for charity this Make A Difference Day
From USA Today
One food bank in Henderson County, N.C. — one of the nation's leading apple-producing counties — is putting a new spin on this local tradition thanks to an unexpected donation of harvesting rights to a six-acre apple orchard.
"With this donation, we hope to bring in more than 200,000 pounds of apples this harvest season," says Joshua Stack, communications manager for MANNA FoodBank. "With chronic food insecurity affecting more than 100,000 people in our mountain region, this apple harvest will represent an important bump in our food distribution."
---
From The Thinking Vegan
All sentient beings feel pain. Meat, dairy and eggs come from sentient beings. Meat, dairy and eggs always cause pain. Humans do not have a biological need to eat meat, dairy and eggs. So, if you choose to eat meat, dairy and eggs, you are choosing to cause pain and to participate in exploitation and murder. Participating in pain and murder is always unethical. The ethical choice is vegan.