News for September 29, 2011
News Today includes stories about Mood, Lions, Food Stamp, SeaWorld, Pesticides, Friendship, Chihuahuas, Ferrets, Rhinos, Sharks, Elephants, Mushrooms, Food, SlutWalk, B-12, Contraception, Fish, Milk, Organic Farms, Colors, Beans, Wine, Marketing, teachers, salmon, Monsanto, Mark Zuckerberg, Cows, Animals, eating, Buffalos, Robots, Farm to Table, Cooking classes, Pigs, Volunteer, meatless, Students, Dining Out, Climate Change, Cindy Sheehan, and recipes.
From nutritionfacts.org
The purported role arachidonic acid plays in brain inflammation could explain why eliminating chicken, fish, and eggs may improve symptoms of mood disturbance depression, anxiety and stress within two weeks.
---
From Huffington Post
Jean-Francois Lagrot snapped these incredible shots of a lioness rescuing her struggling cub, who seems to be holding on for dear life. The perilous position of the young lion seems to have it within inches of losing its life, just before its mother comes to the rescue.
---
Should Food Stamp Nutrition Be Mandated?
From Huffington Post
There was a debate in The New York Times yesterday over the "proper" use of SNAP (formerly "food stamp") funds. The basic question is whether use of food assistance dollars should be restricted so as to preclude unhealthful food choices: soda, fast food and so on.
---
Deaths at SeaWorld May Soon Include Its Own
From Huffington Post
SeaWorld got away with it once, using political bullying to force California's Occupational Safety and Health Administration (OSHA) not only to back down from its prediction that it was "only a matter of time" before a trainer would be killed by an orca, but also to grovel and apologize for the inconvenience. That's perhaps why SeaWorld thought it could bully OSHA again last year when trainer Dawn Brancheau was pulled underwater by the orca Tilikum and savaged so badly — her scalp was peeled back, a limb was severed, and more — that her family is fighting to stop the video, the one considered "too disturbing" to show on TV, from being released, ever. Rather than quietly accepting the penalty that it was assessed, SeaWorld has been defiant despite massive public condemnation, and last week it was in court fighting a charge levied by OSHA that it exposed its employees to the risk of death or serious physical harm. Given the ghastly details of Brancheau's final 45 minutes being beaten to death by Tilikum — on top of the 100-plus other incidents that have occurred at SeaWorld parks — SeaWorld is likely to go under itself if it doesn't change the kinds of shows it puts on, meaning, if it doesn't dispense with captive marine mammals and put on the kind of show kids today want to see: electronic.
---
Are Pesticide Residues In Compost Damaging Plants?
From Huffington Post
Since 1999, gardeners have experienced serious problems with herbicides that do not readily break down in compost. Residential lawn trimmings, hay and straw, municipal green waste, and cow and horse manure are all common compost ingredients that have become vectors for delivering unwanted chemicals, causing plant damage in home gardens. The offending active ingredients—the part of an herbicide that actually kills weeds—include clopyralid, aninopyralid, and the newest, aminocyclopyrachlor. This last is now attracting attention as the active ingredient in DuPont's brand-named Imprelis.
---
Great Dane And Deer Make Unusual Friendship
From Huffington Post
Pippin, a young deer, and Kate, a black great dane, have struck up one of the oddest relationships we have seen, and it truly seems to be loving.
---
Animal Shelters Overrun With Chihuahuas And Teacup Breeds
From Huffington Post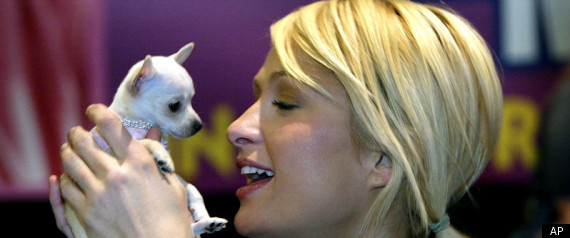 Photo from Associated Press
Rarely leaving home without a tiny pup tucked into their purses, Paris Hilton, Kim Kardashian and Nicole Ritchie helped spearhead the chihuahua and teacup breed trend. But now, a much grimmer reality has taken shape among these pint-size dogs–animal shelters across the country are overrun with them.
---
Zoo Helps Restore Nearly Extinct Ferret In U.S. West
From Huffington Post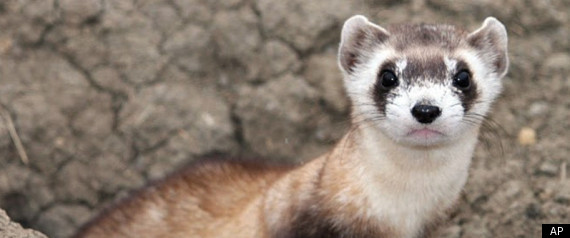 Photo from Associated Press
Animal keepers at the National Zoo's conservation center in Virginia sent 26 black-footed ferrets to "boot camp" Wednesday to prepare the critters for life in the wild as part of an ongoing effort that has fueled the recovery of a species once declared extinct.
---
South Africans, Vietnamese Meet On Rhino Poaching
From Huffington Post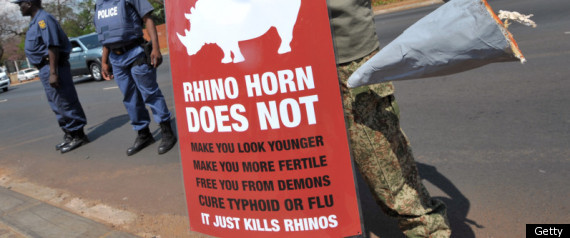 Photo from Getty Images
More needs to be done to dispel the myth among the Vietnamese that rhinoceros horn can cure cancer, Vietnamese officials said Wednesday after meeting with their South African counterparts about curbing rhino poaching.
---
Surfers Rescue Baby Great White Shark
From Huffington Post
Over the weekend, beach goers rescued what is thought to be a baby great white shark near the Venice Pier in California.
---
Elephant Calf Born In San Diego Zoo Safari Park Learns To Walk
From Huffington Post
It would be a crime not to capture baby's first steps on video, right? Well, this elephant calf's first stumbles are no exception.
---
D.C.'s Deadly Mushrooms: What Fungi To Avoid
From Huffington Post
Four D.C.-area mushroom-eaters have been hospitalized in recent weeks for eating poisonous fungi. Which leads to the question: Which mushrooms should local mushroom-foragers be avoiding?
---
In Debate About Food, a Monied New Player
From The New York Times
LAST week, a new public-relations campaign about agriculture got off to a splashy start. With full-page ads in newspapers and panel discussions live-streamed on the Internet, the newly formed U.S. Farmers and Ranchers Alliance began what it called a bid to "reshape the dialogue" about the American food supply.
---
From The Nation
"What does one wear to a SlutWalk?" I asked myself as I combed through my closet. A strapless romper? Too dated. A white pleated sundress? Too summer wedding. "What do you think I should wear?" I asked Solomon, my partner of thirteen years, who was becoming as exasperated by my private catwalk as I was. "Whatever you want," he answered. "Isn't that the point?"
---
Brain Abilities Linked to B-12
From VegNews
A recent study has linked vitamin B-12 deficiency to poorer cognitive function and reduced brain mass in older adults.
---
World Contraception Day is for Women's Rights, But it's for the Environment, Too
From Treehugger
The connection between increased access to family planning and greenhouse gas emissions has been covered here before, but since World Contraception Day was this week and we're still so far from where we need to be on both issues, it's worth another look.
---
Another Coral Reef Fish Uses Tool To Help It Eat
From Treehugger
A couple months ago it was revealed that the blackspot tuskfish exhibits basic tool use to help it eat–picking up a clam and using a rock the help open it–and there were photographs to prove it. Now we have video of another species of wrasse, the orange-dotted tuskfish doing something similar.
---
From Treehugger
Whether you dig Emeril's almond milk and dairy yoghurt milk shakes, or you prefer the Vegan Zombie's purist vegan fettuccine alfredo, almond milk has a lot going for it. But what if you can't find it in the stores? It turns out it's pretty easy to make your own.
---
Watermelon and Cilantro Sorbet
From Treehugger
"Call me weird, but I enjoy frozen desserts more in the winter than I do during the summer. And after developing this Watermelon and Tomato Gazpacho recipe, I was excited to mix up watermelon and cilantro again. Enjoy this sorbet with some champagne."
---
Study Debunks Myths on Organic Farms
From Rodale Institute
The hallmark of a truly sustainable system is its ability to regenerate itself. When it comes to farming, the key to sustainable agriculture is healthy soil, since this is the foundation for present and future growth.
---
Best (And Worst) Plate Colors For Serving Food
From Stylist Home
White plates might work with every type of food, but sometimes they are just plain boring! The key to plates is to choose which colors create contrast but still harmonize with the dish. We consulted food stylists Marilinda Hodgdon and Colin Cooke about what color plates will liven a meal up…and which colors will leave you pushing a full serving of food across the table.
---
From The Daily Greeen
Blend all the ingredients together in a food processor fitted with the S blade, stopping to scrape down the sides once or twice. Blend until smooth. Taste and season with salt if desired.
---
10 of the Best Organic Red Wines We've Tried
From The Daily Greeen
There's a lot of confusion over organic wines, and for good reason. Grapes can be certified organic, as can entire vineyards or the wineries themselves. But even wines made from organically grown grapes can't always be labeled as "organic wine" – if sulfites, which can be naturally occurring or added – exceed certain concentrations. By law, 100% organic is as pure as it gets, but a wine can be labeled "organic" even if it is 90% organic – but only if those sulfite concentrations are low. And, a vineyard can't label its grapes organic until it's completed three growing seasons without using chemical pesticides or fertilizers.
---
Industry Could Undermine New Food Marketing Rules for Children
From The Daily Greeen
Junk-food advertisers, in the guise of the Sensible Food Policy Coalition, have attacked the voluntary guidelines as an assault on the First Amendment, a point debunked by top Constitutional experts, and claimed that adopting the voluntary guidelines would result in job losses, based on a flimsy industry "study."
---
From Mother Jones
When Rhena Jasey decided to become a public-school teacher, her friends were appalled: "You went to Harvard!" she recalls them saying. "You should be a doctor or a lawyer." Jasey is one of four teachers profiled by director Vanessa Roth and coproducers Dave Eggers and Nínive Calegari as they address the hottest question in education reform: how to attract and retain great teachers? That, education experts agree, is the single most effective thing a school can do to boost student achievement. Real wages for teachers, the filmmakers argue, have been in a 30-year decline. One subject, a history teacher and coach, makes just $54,000 after 15 years on the job. He supplements that by driving a forklift—indeed, the film reports that 31 percent of US teachers take second jobs to get by. But instead of support, they get the blame for lackluster test scores. With more than half of the nation's 3.2 million public pedagogues coming up for retirement in the next decade, American Teacher succeeds in reframing education's abstract ideological battles in terms of kitchen-table realities.
---
Feds help GMO salmon swim upstream
From Grist
AquaBounty Technology's genetically modified salmon just got a hefty financial boost from the USDA: On Monday, the agency awarded the Massachusetts-based company $494,000 to study technologies that would render the genetically tweaked fish sterile. This would reduce the likelihood they could reproduce with wild salmon, should any escape into the wild — a scenario that has many environmentalists concerned.
---
Busting Monsanto's 'better' broccoli
From Grist
Many of us are familiar with Monsanto the seed giant, but who knew the company was making a new ready-to-eat packaged broccoli? The new product is called Beneforté, and it quietly launched last October. This vegetable is not genetically modified (i.e. no pesticides were engineered into its genes), but rather a hybrid of commercial broccoli with a variety native to southern Italy.
---
Mark Zuckerberg Seems To Have Killed A Bison
From Business Insider
"This year, my personal challenge is around being thankful for the food I have to eat. I think many people forget that a living being has to die for you to eat meat, so my goal revolves around not letting myself forget that and being thankful for what I have. This year I've basically become a vegetarian since the only meat I'm eating is from animals I've killed myself. So far, this has been a good experience. I'm eating a lot healthier foods and I've learned a lot about sustainable farming and raising of animals." – Mark Zuckerberg
---
Lawsuit Blows Lid Off 'Happy Cows' Ads
From PETA
After the Sacramento Superior Court ordered the spin doctors behind the blatantly false "Happy Cows" advertising campaign to hand over to PETA thousands of pages of records they wrongly claimed were "trade secrets," it became obvious why the agencies wanted to keep the documents under wraps.
---
For years, Compassion Over Killing (COK) has led public education, legislative outreach, legal advocacy, and corporate campaigns for animals. In that time, we have helped countless people discover the benefits of choosing vegetarian foods, and supported them with free resources such as starter guides, recipes, meal ideas, and several local veg dining guides.
---
We Are More Likely To Eat What We See First
From Huffington Post
Cornell University researchers found that we are three times more likely to eat the first food item we see in our kitchen cupboards or refrigerators than the fifth one.
---
Cambodia's Festival Of Death: Wrestling, Buffalo Racing, Horse Riding
From Huffington Post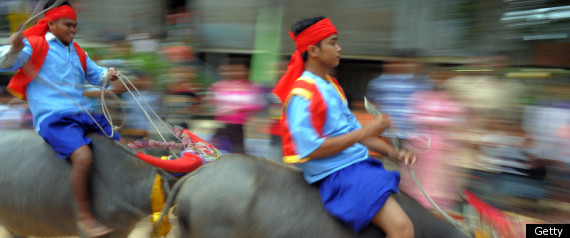 Photo from Getty Images
Tuesday marked the end of the Festival of Death in Cambodia, a 15-day celebration that culminated in water buffalo riding, horse racing and traditional Khmer wrestling in Vihear Suor village about 30 miles from the capital city of Phnom Penh.
---
When Robots Run Our Nation's Farms
From Care 2
A new generation of robot drones is revolutionizing the way we farm in America, with Kinze Manufacturing and Jaybridge Robotics recently announcing the first-ever robot drone tractor capable of farming without the need for a human operator. Video clips are already circulating online of the Kinze tractor, gracefully coordinating its harvest dance with other autonomous machines. Once this robot drone tractor becomes part of the agricultural mainstream, robots will decide where to plant, when to harvest and how to choose the best route for crisscrossing the farmland. Humans, except perhaps as neutral trouble-shooters, will be all but unneeded. So what does it mean when robots run our nation's farms?
---
Farm to Table in the Urban Jungle
From Take Part
Take the Alexandria Center for Life Science in Manhattan. An urban farm is currently occupying the space that will eventually become the research institution's west tower. But not just any urban farm—this is Riverpark Farm, an addendum to Tom Colicchio's upscale Riverpark restaurant, which sits in the east tower overlooking the East River.
---
Cooking classes: Learn not to burn
From Philly.com
In addition to the culinary schools, food bloggers and celeb chefs bring table tutoring to unusual venues and in-home events.
---
Shareholder Resolution Urges Seaboard to Prevent Cruelty to Pigs
From The Humane Society
The Humane Society of the United States submitted a shareholder resolution asking Shawnee Mission, Kan.-based Seaboard Foods to create a plan for phasing out its confinement of breeding pigs in gestation crates.
---
5 Environmental NGOs Where You Can Volunteer
From Green Buzz
If you're tired of listening and reading about what's wrong with the people and the environmental issues, you probably feel that it's time to make your own impact for better planet and better society. People who want to take action usually organize themselves in NGOs. So, here's a list of five environmental NGOs where you can volunteer.
---
Going meatless a rewarding proposition
From Link
New to the concept of meatless? Now's a great time to tune in. Your friends at the North American Vegetarian Society are offering cash prizes for newbies who pledge to make October a meatless month. Sign up at www.navs-online.org to enter.
---
Vegan Student Eating 101: Breakfast Options
From One Green Planet
"Jenn here to show you how to eat vegan on a student's budget. Even though I'm not starting school until January I still feel like I'm in student mode since I'm living on my own in a student house and sharing a kitchen with 7 people. Oh lord. Any way, let's get on with the food!"
---
From One Green Planet
One of the first questions you may ask yourself when you are adopting a plant-based diet is: "What can I order from the menu at my favorite restaurant?" Good question. Here are a few helpful tips.
---
Food and Climate Change: The Forgotten Link
From Common Dreams
Food is a key driver of climate change. How our food gets produced and how it ends up on our tables accounts for around half of all human-generated greenhouse gas emissions. Chemical fertilizers, heavy machinery and other petroleum-dependent farm technologies contribute significantly. The impact of the food industry as a whole is even greater: destroying forests and savannahs to produce animal feed and generating climate-damaging waste through excess packaging, processing, refrigeration and the transport of food over long distances, despite leaving millions of people hungry.
---
Interview with vegan, anti-war activist Cindy Sheehan
From The Thinking Vegan
"Peace Mom" Cindy Sheehan lost her son Casey in Iraq, a tragedy that galvanized her into action against the war, and ultimately against the corporate stranglehold on our political process.