News for September 27, 2011
News Today includes stories about Food mass transit, Bears, East Africa, Gas, Jane Goodall, Pangolins, Hope, Electric Car, Cheese, Self-Checkout, malnutrition, CSAs, Birds, Factory Farming, Yaks, Urban Agriculture, Deadly Jobs, Salmon, Animal ID, Canada, Farmers, Food Sovereignty, Factory Farms, Virus, Smoking, Marketing, sharks, Advertising, Muffins, Soup, Cosmetics, Hunting, and recipes.
From nutritionfacts.org
Most women experience from a four-day intestine transit time, likely too long to meet the target 200 gram (half pound) minimum fecal output for cancer prevention.
---
Bear Cubs Wrestle, Stop Traffic At Yosemite National Park
From Huffington Post
Some lucky visitors to Yosemite National Park were treated to quite the show: Two ridiculously cute bear cubs wrestling with each other in the middle of the road.
---
Food Crisis in East Africa: Exclusive Report From My Oxfam Trip
From Huffington Post
These are victims of political conflict, severe drought and famine, and the population in these camps has now reached roughly 400,000. I tried to wrap my head around what the conditions of that camp must be like, how its occupants were surviving everyday life in the barren, arid landscape with the barest of essentials. How did anyone manage to source food or clean water? And what must the conditions be like in regards to sanitation?
---
The High Price of Gas (in Lives)
From Huffington Post
Business 101 teaches us that failure is valuable to business. The Apple computer and the IBM PC rose out of the ashes of the Osborne computer bankruptcy. The colossal failure of eToys didn't stop Amazon from becoming the most successful retailer on the planet. Dot Coms collapsed in 2000, but Apple is worth $380 billion today. And even as Solyndra solar failed, Sunpower Solar remains a worldwide leader in power output, with sales that are almost double what they were two years ago.
---
Jane Goodall Documentary Commemorates 50 Years Of Pioneer Research
From Huffington Post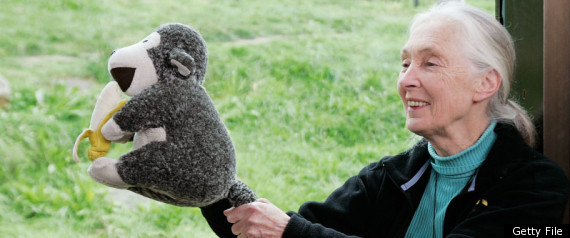 Photo from Getty Images
Half a century has passed since research pioneer Jane Goodall journeyed to Africa and changed the way humans think about their relationship to the animal kingdom.
---
Pangolins Saved In Thai Trafficking Bust
From Huffington Post
Authorities in Thailand have rescued nearly 100 endangered pangolins worth about $32,000 that they say were to be sold and eaten outside the country.
---
Hope, Famous Black Bear, May Have Been Shot By Hunter
From Huffington Post
Researchers fear a hunter may have killed a black bear named Hope who became famous when her birth in northeastern Minnesota was broadcast live to a worldwide audience over the Internet.
---
From Huffington Post
What if you had the solution for the United State's dependence on imported oil parked in your garage? Elected officials and wanna-be-elected presidential candidates lament the dependence on imported oil, the price of gasoline and the alleged costs of subsidizing the clean tech industries, but the solutions they propose remain mid-twentieth century: more oil drilling, maintaining subsidies and other benefits for oil and gas producers, pipelines across irreplaceable farmland and aquifers, and rolling back environmental regulations that protect health and safety to reduce costs. Meanwhile, programs to promote the twenty-first century solutions, such as the electric car and other advanced technology vehicles, have been targeted for dramatic cuts in the latest round of budget fights.
---
Physicians Committee For Responsible Medicine Targets Dairy Lovers
From Huffington Post

Photo from PCRM
By placing the $3,500 Grim Reaper ad near Lambeau Field, the stadium for the Green Bay Packers and the heart of cheese lover territory, the PCRM is definitely trying to turn (cheese) heads. But it doesn't look like dairy diehards are paying much attention. Ad Week says, "Given the importance of the dairy business to the region's economy, the PCRM should grab a scythe and cut the cheese strategy. It's full of holes."
---
Supermarkets Nix Self-Checkout
From Huffington Post
Some grocery store chains nationwide are bagging the do-it-yourself option, once considered the wave of the future, in the name of customer service.
---
Childhood malnutrition has long lasting effects
From Link
Six-year-old Juvens Lewis jumps on the scale, his tiny body lost in a flowing hospital gown. He weighs in at 37.2 pounds, the size of an average 4-year-old. Giggling, he heads back to his examining room as sounds of children filter into the busy hallway. All are getting check-ups at Boston Medical Center's Grow Clinic, which treats underweight and malnourished kids.
---
How CSAs Can Help Disaster-Hit Farmers Survive
From Treehugger
The extreme weather of this summer was both dramatic and devastating here in the US. But the news cycle being what it is, our attention has moved on to other issues and other stories. Meanwhile, residents, businesses and especially farmers are left still trying to pick up the pieces. And it is a problem that is only likely to get worse as our climate gets more unstable.
---
Birds Caught in Fishing Lines Dying by the Thousands
From Treehugger
Photo from Versageek
While it's no secret that keeping up with the world's demand for seafood puts terrible strain on ocean ecosystems, it turns out that fish aren't the only species feeling the pinch from overfishing. On the heels of a recent study, which found that fishing nets and hooks in the U.S. kill around 4,600 sea turtles every year off the U.S. coast alone, a new report suggests that seabirds are fairing even worse. According to researchers, the fishing industry may be responsible for inadvertently killing up to 320 thousand birds annually. And the problem is so bad, it could soon drive some bird species to extinction.
---
Dark, Poignant Short Film Connects Breakfast Food with Factory Farming
From Treehugger
The setting of Kris Hofmann's short film Breakfast is a child's bedroom, with a bookshelf of stuffed animals beside a desk with a set of wooden blocks that depict a bucolic farm scene. The narrator begins by describing the life of a chicken named Harriet, who "would have been more than happy if she was not crammed into a windowless shed with 50,000 of her friends."
---
Repulsive Or Recycled? Dress of 3,000 Yak Nipples Sparks Outrage
From Treehugger
Photo from Rachel Friere
If Lady Gaga's infamous meat dress wasn't enough to faze you, then Rachel Friere's collection of dresses made of yak nipples may do the trick.
---
MacArthur Genius Will Allen Shows Us the Future of Urban Agriculture
From Treehugger
Many people are called geniuses, but few of them actually get a 'genius' prize from the MacArthur Foundation. Will Allen was one of the rare few to be selected, as we wrote about a few years ago, because he's so visionary that he shows us the way to go forward and does it better than anyone else. Spark has made a great short video that gives an overview of Will Allen's work on the urban farm.
---
Vegan Butternut Squash-Chestnut Soup with Balsamic Caramelized Pears
From The Daily Greeen
Recipe courtesy of Candle 79. You can find more vegetarian recipes from Candle 79 in The Candle Cafe Cookbook: More Than 150 Enlightened Recipes from New York's Renowned Vegan Restaurant.
---
Deadly Jobs: Working With Water
From Mother Jones
Some of the most dangerous techniques are adopted by the Pa'aling divers who inhabit the Palawan province. Diving down to 40 meters, these 100 strong crews take their lives in their hands on every trip. Supplied only with thin makeshift tubes of compressed air fed from a rusty generator on the surface, there is the potential for air supplies to become tangled and to become trapped. Not only this, but also decompression sickness, commonly known as 'the bends', a serious condition caused by the men ascending to the surface too quickly is also a serious concern. Sadly the benefits do not outweigh the risks with each fisherman reportedly earning an average of $25 for a week's work.
---
Some Sea Lice with that Farmed Salmon?
From Mother Jones
Consider the salmon, that noble family of fish, which have evolved over the millennia alongside an ignoble parasite: the sea louse.
---
Going Without Animal ID Will Be Costly, Study Says
From Food Safety News
If rural America kicks the lite version of animal identification (ID) to the curb just as it did the National Animal Identification System (NAIS), an economic study says export markets for U.S. beef and pork will be much smaller.
---
Canadian Courts Impose Fines for Meat Act Violations
From Food Safety News
Canada's steady stream of court convictions against companies for violations of its basic food safety laws, such as the Meat Inspection Act, continued during September with two more firms facing fines.
---
Who's behind the U.S. Farmers & Ranchers Alliance and why it matters
From Grist
On Thursday, Sept. 22, the U.S. Farmers & Ranchers Alliance (USFRA), a new trade association made up of some of the biggest players in the food industry — including the National Cattlemen's Beef Association, Dupont, and Monsanto — hosted what they called "Food Dialogues" in Washington D.C., New York City, U.C. Davis, and Fair Oaks, Ind.
---
From Nourish
How do international food policies shape our food system at home and abroad? Food activist Raj Patel describes how organizing for local change can help improve the health of communities around the world.
---
Obama's Proposed Subsidy Cuts Could Impact Factory Farms
From Mercy for Animals
Last week, President Obama proposed cutting "direct payment" farm subsidies by $5 billion a year, according to a recent article in Reuters. While helping to reduce the federal budget deficit, this plan would also help put a stop to the overproduction of farmed animal feed crops like soy and corn that artificially lower the cost of meat and other animal products at the expense of American taxpayers. The subsidy cut could also create a more level playing field for farmers who grow healthier food crops for direct human consumption.
---
Why Does A Virus Jump From One Species To Another?
From NPR
Earlier this year we heard about a curious case of leprosy that jumped from armadillos to humans. We also know that a certain nefarious flu came to us via water fowl, and HIV likely affected chimpanzees before humans.
---
How Quitting Smoking Can Save More Than Your Life
From Huffington Post
Most smokers have probably calculated how much they would save after cutting out a weekly pack (easily $300 a year). Imagine that on a larger scale. Currently, about one in every five American adults is a smoker. If the rate dropped to 4.9 percent, the U.S. could save $70 billion in medical costs.
---
President Urged Not to Retreat on Kids' Food Marketing
From Center for Science in the Public Interest
The Obama Administration should resist the food and advertising industries' pressure to torpedo voluntary nutrition guidelines for foods marketed to kids, according to academic experts. In a letter today to President Barack Obama, 75 physicians, psychologists, nutritionists, and marketing experts from universities around the country urged the President to ensure that the Interagency Working Group (IWG) on Food Marketed to Children completes its work and finalizes the congressionally requested marketing guidelines.
---
Illegal net kills up to 3,000 sharks on Texas coast
From MSNBC
Game wardens have discovered as many as 3,000 dead adult and juvenile sharks tangled in a long stretch of illegal fishing netting off the Texas coast, the state's Parks and Wildlife Department said.
---
Label Whore: The Animals Deserve Truth in Advertising
From One Green Planet
"On my way to the frozen food section of Whole Foods looking for Candle 79?s new line of vegan entrées, I found myself walking across the frozen meat aisle with my eyes closed. I felt like I was walking through a morgue. And in fact, I was. I thought to myself as I watched mothers pushing their strollers, lovers holding hands and bodybuilders choosing the leanest slice of packaged flesh I thought, "how can they not see what I see??" Then, I stuck my hand in my vegan Eeenamaria handbag, grabbed a few of PETA's "I'm not a nugget" stickers and went to town on Purdue."
---
From One Green Planet
"I often have those mornings where I wake up with a hankering for a sweet, but healthy, breakfast treat to accompany my green smoothie! I love sneaking things like carrots and summer squash into sweet muffins! It's a great way to add an extra serving of veggies to your diet!"
---
From One Green Planet
This is a beautiful and creamy soup that I love making all year long. It's full of fresh, nutritious vegetables that are good for your heart and soul. During the fall holidays, I make the "variation" recipe (noted below) by adding the coriander and pumpkin spice – a "must-make." Delicious!
---
100,000 Say No to Cruel Cosmetics
From Care 2
The European Union (EU) was on track to ban all animal tested cosmetics by March 2013, but some in the cosmetics industry want to push the date back.
---
Students Can Earn A Vocational Degree In Hunting
From Care 2
Students enrolled in the vocational Animal Care program in England can earn a new government-approved specialized diploma in hunting, even though the sport was officially banned in 2004.