News for September 26, 2011
News Today includes stories about Stool, Lucky Charms, Meatless Monday, Greyhounds, Bullfighting, Bears, Animals, potatoes, Menu, Foods, Milk, cancer, poverty, hunger, Vietnam, Rich, Meat, Cosmetics, Paris, Mario Batali, drugs, Violent Food, Osteoporosis, Ryan Reynolds, Older Vegans, Wine, Junk Food, and Real Food.
From nutritionfacts.org
Larger bowel movements are associated with lower risk of appendicitis, colon cancer, constipation, and diverticulitis.
---
General Mills Releases New Lucky Charms With 15 Percent Less Leprechaun Meat
From The Onion
Saying that Lucky Charms is "as magically delicious as ever but now lower in magically saturated fats," General Mills announced Friday it would begin making the cereal with 15 percent less leprechaun meat.
---
Meatless Monday: The Earth Is An Apple
From Huffington Post
Have an apple. Have two. Because this week, we get not one, but two holiday opportunities to make the world a better place. Rosh Hashana, the Jewish new year, starts at sundown on Wednesday and World Vegetarian Day, on Saturday, kicks off Vegetarian Awareness Month all October long.
---
Dennis and Claire Tyler Find Homes For 7,000 Greyhounds
From Huffington Post
With Florida's high number of active dog tracks, come thousands of greyhounds desperate for homes once they finish racing. But, thanks to one Central Florida couple, 7,000 of these pups have been adopted, CNN reports.
---
Spain's Catalonia Bids Farewell To 'Cruel' Bullfighting
From Huffington Post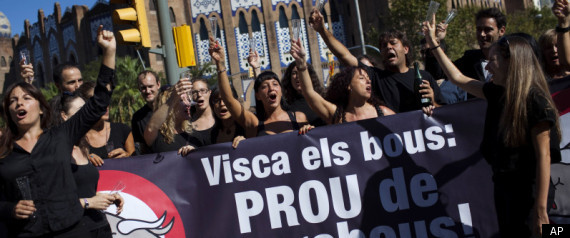 Photo from Associated Press
Matadors drove the killing sword into bulls for the last time Sunday in Spain's powerful northeastern region of Catalonia in an emotive farewell fight before a polemical regional ban on the country's emblematic tradition takes effect.
---
Bronx Zoo Brown Bears Play With Pumpkins
From Huffington Post
Here is a video of brown bears playing with pumpkins at the Bronx Zoo.
---
From Huffington Post
As you recall, the last book, Signspotting 3, ended in a bit of a cliffhanger. Well, the funny signs are back — there's over 250 of them in this new edition.
---
USDA Jettisons Potatoes From School Lunches
From Huffington Post
New guidelines from the U.S. Department of Agriculture would eliminate potatoes altogether from school breakfasts and drastically reduce the amount of potatoes served in lunches.
---
Menu Design In America Book Released
From Huffington Post
Up until the 1800s, neither restaurants nor menus were encountered everyday, but rather were saved for special occasions. Part advertisement and part relic, the menu became a rare symbol of the dining experience as well as a historical glimpse into the era's trends in design.
---
From Huffington Post
Food can be physically suggestive, have arousing aromas, be sensuously supple and entice all sorts of sexual urges to the surface. Serve up these succulent aphrodisiacs with a dinner menu that will amp up your (and your partner's) sex drive. By the end of the meal, you'll be begging for seconds, and I don't mean of the food…
---
Bolivia's Beer Tax Aims To Encourage Milk Drinking
From Huffington Post
The South American country's productive development minister complains that beer consumption is rising 10 percent a year while milk consumption is stable. And Teresa Morales says "Bolivians consume more beer than milk." Officials say Bolivians drink 30 liters of milk a year and 35 liters of beer.
---
Cancer cost "becoming unsustainable" in rich nations
From Reuters
An explosion of new technologies and treatments for cancer coupled with a rapid rise in cases of the disease worldwide mean cancer care is rapidly becoming unaffordable in many developed countries, oncology experts said on Monday.
---
From Eatocracy
That is the reality for the more than 40 million Americans who rely on food stamps. According to the Food Research and Action Center the average food stamp allotment is just $30 per week.
---
Witnesses to Hunger: A portrait of food insecurity in America
From Eatocracy
If you want to know what hunger looks like, look through the eyes of Tianna Gaines. The 31 year old Philadelphia native lives with her husband and three young kids in a simple, sparsely furnished row house. The kitchen is worn but very clean. "Roaches like water," Gaines says matter-of-factly as she wipes the counter.
---
How Vietnam Bombs Became Bracelets
From Treehugger
Peace bomb bracelets have a story to tell: each one has been made with repurposed Vietnam War scrap metal. And Article 22 founder and designer Elizabeth Suda has a story to tell about the people of Laos and the Secret War that effects their lives to this day.
---
6 Dumb Arguments Against Taxing the Rich, Explained
From Mother Jones
On Saturday, the Obama administration unveiled the "Buffett Rule," a proposed tax on millionaires and billionaires named after celebrity investor Warren Buffett, who has long argued that the federal government should demand more of the wealthy. The millionaire's tax is certain to become a major point of contention in the 2012 presidential campaign, and Republicans have wasted no time in heaping it with calumnies. Here are the six most popular conservative arguments against a progressive tax code, and why they're wrong:
---
Meat Industry Still Denying Antibiotic Resistance
From Mother Jones
Can you can stuff farm animals together by the thousands and dose them daily with antibiotics, without creating resistant pathogens that affect humans?
---
Why You Should Make Sure Your Cosmetics Are BDIH Natural Cosmetic Certified (Trust Us)
From Girlie Girl Army
Cosmetic additives and ingredients can negatively impact our health, our environment, and the well being of animals. Many products contain a laundry list of potentially dangerous and gross ingredients, some obvious, some insidiously hidden (the Campaign for Safe Cosmetics found lead contamination in 61% of all lipsticks it tested), so what is an eco-chick to do?
---
Vegan Croissants & Wheatgrass Shots at the Parisian Farmers' Market
From The Discerning Brute
This is just a quick, rough video of our trip to the farmers market in Paris where we had some jus d'herbe de orge avec du gingembre (barleygrass with ginger juice), and found croissant végétal (vegan croissant). Haters prenez garde, being vegan in Paris is easy, delicious, and fun.
---
Batali's Meatless Monday Birthday Bash
From Meatless Monday
This has been an exciting month for Mario Batali! The celebrity chef celebrated his 51st birthday last week, just in time for the debut of his new daytime talk show, The Chew. Since his birthday was on a Monday, Batali took to the kitchen to create a Meatless Monday lunch of Pasta alla Norma. He then offered the recipe to his 38,000 Facebook fans, along with the official Meatless Monday video, which highlights the health and environmental reasons for cutting back.
---
For Animals' Sake: Just Say 'No'
From PETA
If you needed another reason not to do drugs, consider that it's causing misery for countless tigers, lions, monkeys, birds, and other exotic animals coveted by Mexican drug cartel kingpins as symbols of power. Mexican authorities have seized thousands of exotic "narco pets" from the estates of busted drug lords, and they're running out of room to place the animals. Many go to zoos, which are operating at capacity, so some animals are turned over to breeding operations.
---
How Violent Food Choices Fuel a Violent World
From Link
A presentation by Gene Bauston. Whenever we sit down to eat, we make choices that have a wide-ranging impact on others and ourselves. Eating with conscience promotes compassion, justice, and good health.
---
10 Foods To Prevent Osteoporosis
From Huffington Post
Although the dairy industry have done a great job in convincing everyone that they need to consume dairy products to avoid osteoporosis, the research doesn't support the claims. Much more important are avoiding sugar, sodas, table salt, coffee and alcohol and consuming an alkalizing diet with foods high in calcium, magnesium, vitamin K and boron. What follows is a list of foods that will do a better job than dairy products at building and maintaining healthy bones.
---
Ryan Reynolds Dishes on "The Whale"
From The Humane Society
Hollywood superstar Ryan Reynolds talks exclusively to The Humane Society of the United States about his behind-the-scenes role in the poignant and thought-provoking new documentary, "The Whale", and what its remarkable story means to him.
---
Protein-Packed Meals for Older Vegans
From One Green Planet
Age-related changes are a fact of life, but a healthy lifestyle can delay their onset or slow their progression. One way in which both diet and exercise may have a big impact is in protecting muscle tissue. Sarcopenia is a reduction in muscle mass and strength that occurs with aging. Although it begins as early as the mid-40s, sarcopenia accelerates as people get older, and chronic muscle loss may affect nearly a third of those over the age of 60.
---
White Wine vs. Red: Finding a Match for Your Vegan Entrée
From One Green Planet
As promised in my earlier article, we're taking a look at a recipe and how it can be paired with wine. This simple, creamy pesto with added arugula and sundried tomato crumbles (recipe below), topped with garlic mushrooms could be a tough one to match. Lots of big flavors, creaminess and that peppery arugula make it hard to narrow the field of choices. To test the thought process of pairing wine with food, we opened two bottles: one white and one red, both from Washington State to keep the playing field fair.
---
From Common Dreams
A small but growing number of Americans have finally realized that much of what the agro-business industry sells them at large food stores is not only not nutritious but, in many cases, a threat to their health. Hence, they have begun to seek out new sources of nutrition.
---
Is Junk Food Cheaper than Real Food?
From Mark Bittman
THE "fact" that junk food is cheaper than real food has become a reflexive part of how we explain why so many Americans are overweight, particularly those with lower incomes. I frequently read confident statements like, "when a bag of chips is cheaper than a head of broccoli…" or "it's more affordable to feed a family of four at McDonald's than to cook a healthy meal for them at home."