News for September 22, 2011
News Today includes stories about multivitamin supplements, pesticides, Green Jobs, Porn, Rice, DEET, Animals, Shark Fin Trade, Carb Diet, Chickpeas, tuna, Violations, herbs, Pollution, Vegetarian, Herbicide, Junk Food, Ethical Vegan, Farmed Animals, brain, Beauty Myths, Garden therapy, Eyes, Organic Food, Seals, food, Vegan, Muffins, Monsanto, Baking, Farm Sanctuary, Peppermint, Food Writing, and recipes.
Multivitamin supplements and breast cancer
From nutritionfacts.org
New research suggests that multivitamin use may significantly increase the risk of breast cancer and prostate cancer.
---
School meal tainted by pesticides kills Peru kids
From MSNBC
Food donated for a nutrition program became contaminated with pesticides in an Andean hamlet, poisoning 89 children and five adults, Peru's health ministry said. Three of the children died.
---
Republicans Decrying 'Job Killing' Green Energy Agenda Have Sought Green Jobs For Their Own Districts
From Huffington Post
The GOP-led House Oversight Committee may be accusing the White House of a "job killing" green energy agenda in a hearing Thursday — but at least ten Republicans on the panel have signed letters seeking to land green energy jobs in their districts.
---
PETA's Porn Website To Promote Vegetarian Message
From Huffington Post
More details about PETA's plans to launch a pornographic website emerged this week. The organization told the Telegraph that the site would be registered under xxx domain and would launch in December. The aim of the site is to promote the organization's animal rights and vegan diet message, and reach a broader audience.
---
Texas Rice Industry Could Be Devastated By Colorado River Change
From Huffington Post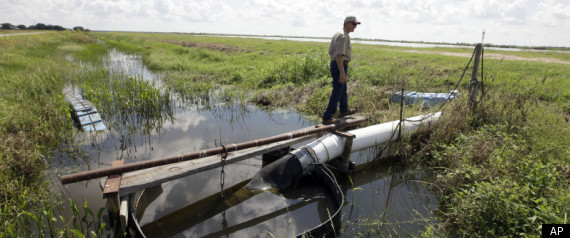 Photo from Associated Press
South Texas rice farmers got some extra time to plan next year's crops – and pray for rain – under a drought response compromise approved Wednesday by the Lower Colorado River Authority.
---
DEET Confuses Insects, Study Says
From Huffington Post
For almost 50 years, people have used insect repellents containing DEET. But scientists still argue about how the stuff works.
---
Cute Inter-Species Animal Families
From Huffington Post
These videos, however, show that unexpected — and often food-chain-defying — filial relationships do exist in the animal world, from mother pigs raising baby tigers to mama tigers nurturing piglets.
---
Yao Ming, Richard Branson Join To Fight Shark Fin Trade
From Huffington Post
Recently retired Chinese NBA star Yao Ming is taking the fight against eating shark fins back to his homeland, where demand for the traditional delicacy is soaring despite efforts to ban their use and trade.
---
Carb Diet Study Lends Support To Healthfulness Of Balanced Eating
From Huffington Post
If you were planning on baking a big pan of lasagna for dinner, you might want to think twice. According to a new study by researchers at the Norwegian University of Science and Technology, eating a diet high in carbohydrates can wreak havoc on gene expression, increasing your risk of inflammation, cardiovascular disease, type 2 diabetes, cancer and dementia. The study indicated that the ideal diet was something like the Zone diet, with a relatively equal balance of carbohydrate, protein and fat.
---
PepsiCo Hopes To Reduce Famine By Investing In Ethiopian Chickpeas
From Huffington Post
PepsiCo, along with the UN World Food Programme and USAID, has launched Enterprise EthioPEA, a program aimed to increase chickpea production in Ethiopia. If project goes well, according to the company, it "has the potential to reduce famine in Africa over the long term." The press release states:
---
From Huffington Post
Many readers will remember 1988, when biologist Sam LaBudde went to work as a cook on a Panamanian tuna boat and secretly shot film that showed dolphins dying in nets and being crushed in winches, as many as 20 for every tuna. The video was shown to a Senate subcommittee and sparked a consumer boycott of canned tuna. Two years later, Starkist — then owned by Heinz — announced it would no longer buy any tuna caught by methods that threatened dolphins. Bumble Bee and Chicken of the Sea quickly followed suit, and "dolphin-safe tuna" was born. (Strangely enough, the World Trade Organization just ruled against dolphin-safe tuna labels, but that's another story.)
---
From VegNews
The Physicians Committee for Responsible Medicine has found disturbing Animal Welfare Act violations at Ivy League universities.
---
From Eatocracy
Excess herbs – there are worse problems to have. But when you've gone to the trouble of growing them in boxes on a rooftop in the middle of a busy city, you want to make sure you use them to their fullest potential.
---
Pollution From Cars Can Trigger a Heart Attack
From Treehugger
While the sight of a hazy, smog filled cloud looming over the cityscape is certainly enough to break the heart of any would-be outdoorsman, it turns out that breathing in that pollution just might do so — quite literally. According to a recently published study from the British Medical Journal, the inhalation of vehicle emissions can actually increase the likelihood of a heart attack, even up to six hours after exposure.
---
Is There an Ethical Dilemma In Graham Hill's Weekday Vegetarian Plan?
From Treehugger
Zoe Weil at Care 2 just watched it, and summarizes it as " someone who is vegetarian during the week and chooses whatever he or she wants on the weekend. Such a plan, if adopted widely, would dramatically reduce meat consumption and thereby diminish the abuse and death of billions of animals, the environmental harm caused by their production and the number of heart attacks, strokes, cancers and incidences of diabetes."
---
Technical Announcement: Widely Used Herbicide Commonly Found in Rain and Streams in the Mississippi River Basin
From The Corniucopia Institute
Glyphosate, also known by its tradename Roundup, is commonly found in rain and rivers in agricultural areas in the Mississippi River watershed, according to two new USGS studies released this month.
---
Ag Subsidies Fund Junk Food, Report Says
From Food Safety News
Each year when Americans pay their taxes, part of that money feeds into subsidies for junk food ingredients; and hardly any of it goes toward fresh produce, according to a new report.
---
Confessions of an Ethical Vegan
From Your Daily Vegan
"I was making lunch, something healthy after my over-snacking from the day before, and I opened the cupboard to grab something. The box of goodness, ripped and crumpled from use, had been thrown in there from the night before and now rested on its side. As I reached passed it, something caught my eye. What was that, why do they print words so small on boxes? I looked and did a double take. I grabbed the box, looked at it with regret, and dumped it straight into the trash."
---
Chow-to: corn, green bean, pepper salad with harissa
From Grist
The requirement: a vegan side dish for a potluck full of sustainable foodies.
---
A Day of Action for Farmed Animals
From Link
Every year on October 2nd, in honor of Mohandas Gandhi's birthday, animal advocates from across the globe gather to celebrate World Farm Animals Day and to raise awareness about the suffering of animals raised and killed for food. This year, the goal is to expose the dirty practices of the meat, dairy and egg industries to as many people as possible.
---
Blueberries, Avocados … and What Else to Eat for a Razor Sharp Brain
From Huffington Post
Make sure to include these top 5 brain foods to your daily diet for their strong mental and memory protective benefits.
---
10 Common Nutrition And Beauty Myths — Busted
From Huffington Post
Can America "eat pretty?" Our barrier series identifies and breaks down the obstacles that are keeping you from eating for your best beauty and health. Check back at our Eat Pretty homepage for tips on how to overcome your eating issues, and take our Eat Pretty Quiz to find out how you're doing.
---
Garden therapy could bear fruit for dementia care
From BBC
Now growing numbers of experts say access to the outdoors, and physical activity such as gardening, could transform life for patients with conditions such as Alzheimer's or dementia.
---
From Huffington Post
Building and maintaining excellent vision isn't something that happens without effort. Even if you believe nothing can be done to help your vision, taking steps to improve nutrition can go a long way toward preserving, or even improving, the health of your eyes.
---
Can Slaughter-Free Milk Deliver What it Promises?
From Care2
U.K.-based Ahimsa Milk is the first and only company that sells "slaughter-free" milk — milk that is produced without killing any cows, calves or bulls. But what exactly is slaughter-free milk and is it even feasible on a larger scale?
---
Inside China's Secret Organic Food Industry
From TakePart
Photo from Getty Images
Courtesy of the Los Angeles Times, we learned this weekend about the Beijing Customs Administration Vegetable Base and Country Club, a bucolic fenced-in island of vegetable gardening just outside of Beijing that featured cucumbers so pristine "they could be eaten directly off the vine." That is, if you were the right kind of person.
---
KG – NY Restaurant Group Joins The HSUS to Protect Seals
From The Humane Society
The Humane Society of the United States is pleased to announce that KG-NY Restaurant Group has joined the Protect Seals boycott of Canadian seafood. By encouraging restaurants, chefs and consumers to boycott Canadian seafood, The Humane Society of the United States intends to convince Canada's fishing industry to stop participating in and supporting the commercial seal slaughter each spring off the East Coast.
---
Excuse me! Foods with freaky side effects
From MSNBC
It's likely happened to you — an unexplained gas attack, smelly or discolored pee during a routine bathroom break, or a sudden urge to "go, now!" Or maybe you've suffered a painful brain freeze after sipping a delicious chocolate milkshake. There's a scientific reason for the surprising and quirky side effects from everyday foods.
---
6 Tips for the Gluten-Free Vegan
From One Green Planet
If you have recently discovered that you need to eliminate gluten from your diet, you may feel overwhelmed when it comes to meal planning. Will your diet be too restrictive? Will you be able to meet your nutritional needs? Will your food choices now be bland and boring? While it may seem overwhelming at first, with a bit of dietary guidance, you can be a successful gluten-free vegan. In fact, you will likely discover a whole new world of abundant and delicious food choices to meet your nutritional needs—and satisfy your taste buds!
---
Recipe: Zucchini Blueberry Muffins
From One Green Planet
If you are looking for a recipe that is a great for transitioning from summer to fall, this is it! You can use the last of your soft-skinned zucchini and sweet blueberries, but also feel comforted by scent of cinnamon and filling whole wheat. These are muffins that even the most stubborn omnivore will love, believe me, I tested them! Feed them to your children to sneak in more vegetables and fruit under a tasty breakfast guise.
---
8 Reasons Not To Trust Monsanto With Your Food
From Care2
Photo from Mean Joe Green Cartoons
What Monsanto doesn't tell you is that their specialty is actually agricultural chemicals. Dangerous, untested chemicals and genetic modification of food crops that's been scientifically proven to be harmful to human health and the environment.
---
Vegan Baking Cheaply and Easily as Humanly Possible
From Savvy Vegan
As a child, nothing mystified me more than watching my mother mix together a baffling concoction of powders and liquids in a giant bowl, pop gobs of the resulting batter in the oven, and reveal fresh chocolate-chip cookies in just a few minutes. Baking never gets stale, and making cookies, cakes, and brownies at home is beyond satisfying. Even better, it's often less expensive—and tastier—than going store-bought, as vegan pastries are often attached to unsavory price tags. Working from scratch doesn't have to mean bank-busting trips to the grocery store, and many traditional baking mixes can be veganized as well. A tray of fresh-from-the-oven muffins, cookies, or cupcakes is guaranteed to result in many pleases and thank-yous from bystanders, and doesn't require loads of time or moolah. Filling your kitchen with the irresistible aroma of impending sweets alone warrants the effort.
---
From Veggie Girl
Watkins Glen, NY is an interesting place. It's a blue-collar town whose main industry is salt mining, but it's also a hot spot for tourists. People from all walks of life visit Watkins Glen for a wide variety of reasons: to do winery tours, to hike the gorge in Watkins Glen State Park, to watch NASCAR races at the race track, and to visit the rescued animals at Farm Sanctuary. Even though I did hike the gorge and visit some wineries, my reason for visiting was really the latter. I was there to visit Farm Sanctuary.
---
This recipe contains one of my favorite sources of healthy fats, avocados. Avocados are an amazing source of Vitamin E and a great source of glutathione. Glutathione is a small protein that is one of the most potent molecules in detoxification, anti-aging, and antioxidant activity. Glutathione works by 'grabbing' and removing fat soluble toxins from the body such as pesticides and heavy metals. The more toxins you are exposed to the faster your body will use glutathione. Adding more to your diet helps you get rid of nasty toxins! Also, without glutathione protecting them cells die at a faster rate, aka aging faster. (Ladies, toss our your $50 a bottle skin cream. It's what's inside that counts!)
---
Food Writing: A Quick Recipe for Whiplash
From Eating Plants
" I've been insistent (maybe stubbornly so) in pushing the idea that small-scale, free-range animal husbandry–while certainly better for the animals–is still a system that's fundamentally flawed. Central to my claim is the fact that these farms, although they traffic in non-human animal life, are ultimately reduced to the profit imperative. No matter how thick the cloak of sustainability and welfare may be, the fact remains that these systems ultimately bow to the hard logic of mammon. Farmers might care for their animals, but the bottom line always remains the bottom line–meat for money. Which, when you cut the core of the matter, makes the "humane" farm essentially no different than the factory farm."