News for September 21, 2011
News Today includes stories about Breast Cancer, Ferrets, Steer, Biofuels, Horses, Penguins, Monsanto, Thailand, Farm Labor, Plant-Based Diet, Famine, Pound Seizure, tuna, Vegan Diet, Arsenic, Sexual Politics, Seals, vegan wine, and recipes.
Breast cancer prevention: which mushroom is best?
From nutritionfacts.org
Woodear, crimini, oyster, Italian brown, enoki, button, stuffing, shiitake, chanterelle, and Portobello mushrooms were compared to see which was best at inhibiting aromatase enzyme activity.
---
PETA Ferrets Investigation: Animal Welfare Group Uncovers Hundreds Of Neglected Animals At Triple F Farms
From Huffington Post
An animal welfare group is calling for an investigation of a large northeastern Pennsylvania ferret breeding facility, saying an undercover worker found hundreds of ill, injured and neglected animals living in inhumane and unsanitary conditions.
---
Runaway Steer Creates Chaos On Arizona Interstate
From Huffington Post
A runaway steer stopped traffic on a major highway, hurtled over a brick wall and damaged two police vehicles during a Tuesday morning chase that had four Arizona law enforcement agencies scrambling.
---
Airlines And Biofuels: Carriers Look To Alternative Fuels For The Future
From Huffington Post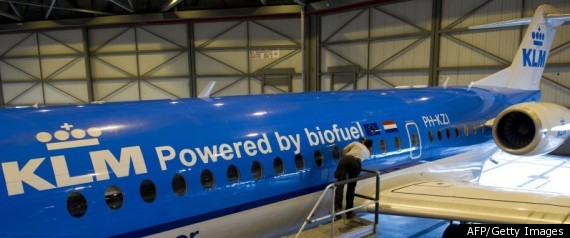 Photo from Getty Images
Aviation is responsible for an estimated 2 percent of human-generated carbon dioxide emissions. The industry's rapid growth is doing nothing to decrease that figure, but airlines are nonetheless working to scale back their emissions. One tactic that's been gaining traction: biofuels.
---
Elizabeth Lecoq-Currier, Crested Butte Interior Designer , Raises Money To Save Horses From The Slaughterhouse
From Huffington Post
In the last week of August, Elizabeth Lecoq-Currier drove past a pasture of 60 horses in Crested Butte that she soon found out were bound for the slaughterhouses of Mexico.
---
Featherless Baby Penguin Abandoned By Parents
From Huffington Post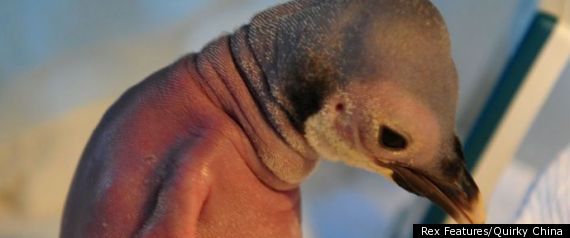 Photo from Rex Features/Quirky China
A featherless baby penguin that was rejected by its parents and left on the icy ground to die has been nursed back to health by keepers.
---
Would You Eat a Monsanto Tomato?
From Huffington Post
It seems that most farmers these days are philosophers too. David Cleverdon of Kinnikinnick farm is no exception. A few weeks back we had the pleasure of spending time with this farmer (the same one who who brought the Arugula craze to Chicago). We celebrated his birthday, met family and friends and then made a dinner in the city with his produce. It was just another day on the real food road trip — but add Chef Paul Kahan, a Chicago Harvest dinner and Monsanto tomatoes into the mix, and you've got yourself something special.
---
Thailand's New Rice Policy Could Lead To International Food Price Crisis, Analysts Warn
From Huffington Post
A program sponsored by the United States Agency for International Development (USAID) is warning of a possible spike in international rice prices, a development that the program's analysts say could have grave implications for countries where access to food is already limited. The analysts are reluctant to make specific predictions about how high the price could rise, but they say they worry that the increase could be significant.
---
Can Educating Consumers Help Make Farm Labor Fair?
From The Nation
This summer in California, as legions of migrants culled America's bounty from sun-scorched fields, Governor Jerry Brown put the right to unionize even further out of their reach. Brown's decision to veto a controversial bill to provide streamlined card-check voting for farmworkers trying to form unions reflected Brown's drift to the right since his first term as governor, when he signed the landmark 1975 Agricultural Labor Relations Act giving farmworkers unprecedented collective-bargaining rights.
<
---
From VegNews
A report from a group of chief physicians suggests that a plant-based diet could reduce the risk of developing most serious diseases.
---
What You Need to Know About the Horn of Africa Famine
From Mother Jones
Eastern Africa's worst drought in 60 years has combined with political violence in Somalia to produce what the United Nations is calling the "worst humanitarian disaster" in the world. But if you haven't heard of the millions across Somalia, Kenya, Ethiopia, and Djibouti who are malnourished, starving, and displaced, it's because practically no one is talking about it. How did the famine start in the first place? Why is it so severe this time? And why are the international media largely ignoring this disaster? Let Mother Jones bring you up to speed on what's happening in the Horn of Africa.
---
Two 8th-Graders Make Documentary About Pound Seizure
From Link
Two thirteen-year-old girls in Ontario, Brittney and Ines, decided to make their school Independent Project a short documentary about pound seizure. Entitled "Pound Seizure: The Ultimate Trust Violation," the informative and moving film has, to date, received over a thousand.
---
Chicken of the Sea: Destructive Fishing and Outsourcing US Jobs
From Greenpeace
Just last week, Greenpeace's ship the Esperanza was in American Samoa for its 2011 Defending the Pacific Tour. The US Congressman and Representative of American Samoa, Eni Faleomavaega, issued a warm welcome to us, highlighting the destruction that has been visited upon these waters and upon local communities by Chicken of the Sea's irresponsible fishing habits and the outsourcing of tuna industry jobs.
---
A Vegan Diet is Unhealthy? Says Who?
From One Green Planet
Anyone who is vegetarian or vegan has heard ridiculous claims from someone who is typically unhealthy. The diabetic, overweight uncle telling you how unhealthy it is to be vegan, the chain smoking neighbor that had a friend who had a daughter that got really sick not eating meat, and so on and on and on it seems. I've said it before that if you wouldn't take investment advice from a homeless man why take health advice from the unhealthy? What happens though when the advice comes from someone sporting a six pack (the ab kind) and energy to go all day?
---
From One Green Planet
This delicious chocolate tart is sweetened with dates and maple syrup. The crust is made of wholesome ingredients including pecans, hemp seeds, and oats. The most surprising ingredient in this tart is the avocado. It adds a rich, creamy texture when combined with the coconut oil and milk to this luscious and smooth filling. I bet you won't even know it's there!
---
Chicken More of an Arsenic Risk than Apple Juice
From One Green Planet
Dr. Oz was right to be concerned about arsenic contamination in our food supply. According to scientists from the Johns Hopkins School of Public Health and the Environmental Protection Organization, "Arsenic is a human carcinogen, and is also associated with increased risks of several noncancer endpoints, including cardiovascular disease, diabetes, neuropathy, and neurocognitive deficits in children."
---
Decoding the Media Decoder: The Sexual Politics of Meat in Mainstream Media
From One Green Planet
A few days ago, Stuart Elliott who writes the "Media Decoder" blog at the New York Times announced a new ad campaign for Fleisher's Grass-Fed and Organic Meats. The headline read "Ads Promote Butcher Shop's 'Sultry Poultry'."
---
Slaughtering Seals As a Precautionary Approach
From Care2
The fishing waters off Newfoundland and Laborador are some of the most closely watched in the world. On every community's mind is the question: When will the fish come back? They watch the seals grow fat, their bank accounts grow lean and they want action. They want the seals to go.
---
From Veggie Girl
"I know nothing of the science behind it, but apparently the soil in Watkins Glen and the Finger Lakes area is perfect for growing grapes, so wineries abound. But not all wine is vegan. You would think it would be, because wine is a just fermented grape, right? But no, sometimes things like fish scales and gelatin is used in the filtering process. Fortunately there are websites devoted to letting us know if wine is vegan and Farm Sanctuary provides a list of vegan friendly wineries on Lake Seneca on their website, and most of the wineries are well versed in veganism because of Farm Sanctaury."