News for SEPTEMBER 20, 2011
News Today includes stories about breast cancer, Vegetable Garden, Goats, Alligators, cat, cows, Zimbabwe, Wolves, SeaWorld, kitty, Heinz, Onion, Jamie Oliver, bird flu, Fighting Poverty, farm to table, Farmers, Chickens, Gasland, war, Climate Action, Prius, Animal Disease, Eventfull, Food Politics, Speed Eating, Hunger, Junk Food, Vegetarian, Farming, Milk, Pepsi, obese, fruits, Class War, Animals, Deadstock, animal rights, and recipes.
Vegetables Versus Breast Cancer
From nutritionfacts.org
Mushrooms may help prevent breast cancer by acting as an aromatase inhibitor to block breast tumor estrogen production.
---
O'Hare Airport Debuts Aeroponic Vegetable Garden
From Huffington Post
No more complaining about the poor quality of airport food–at least not in Chicago's biggest travel hub. The opening of the first in-airport vertical garden at O'Hare will supply the international airport's restaurants with swiss chard, red habanero peppers and 42 other types of herbs and vegetables grown right between terminals 2 and 3.
---
Goats Found Mutilated At California High School
From Huffington Post
Investigators are scrambling for clues after mysterious attacks mutilated two pregnant goats at a California high school in separate incidents last week, CBS Sacramento reported.
---
Robert Duval, Christopher Scroggins, Arrested For Stealing Baby Alligators
From Huffington Post
Robert "Bo" Duval, 32, and Christopher Scroggins, 22, both of Bushnell, were arrested early Thursday morning on the shores of Lake Apopka, near Orlando, with a bag of 260 alligator hatchlings on their boat.
---
From Huffington Post
You'll laugh at kitty's doomed attempt to leap across the bathtub. You'll cry when the cat tries desperately to escape its water-filled prison and you'll cheer the furry hero's eventual escape.
---
Cows vs RC Truck Is Surprisingly Fascinating
From Huffington Post
A cow might not be the first thing that comes to mind when you hear the words "intelligent animal," but if we've learned one thing from the Internet these past few weeks it's that our bovine companions might have a little more personality than we give them credit for.
---
Zimbabwe Poachers Turn To Poisoning Water Holes
From Huffington Post
Zimbabwe's wildlife authority says poachers have begun poisoning watering holes, killing nine elephants and at least five lions in recent weeks.
---
Wolves Face Uncertain Future in Western U.S.
From Huffington Post
Should wolves really be hunted? The fate of the wolf population in several western U.S. states remains uncertain.
---
Dawn Brancheau's SeaWorld Death Leads To Fight Over Safety Citation
From Huffington Post
SeaWorld Orlando's policy of relying on trainers to recognize when a killer whale poses a safety threat leaves gaps that can lead to injury or death, a government attorney said Monday in support of safety citations issued to the theme park after a trainer's death.
---
Kitty In A Dixie Cup: Cute/Ridiculous Animal Thing Of The Day
From Huffington Post
Heeeeey there, little buddy. We know you probably didn't get yourself into that cup on your own, but that's not stopping you from being the most tragically, heart-breakingly adorable thing we've seen all morning.
---
From Huffington Post
Video
Copy
---
From Huffington Post
Say goodbye to the unattractive teeth-ripping. The old Heinz ketchup packets will soon be a thing of the past.
---
World's Biggest Onion, Grown By Peter Glazebrook, UK Man, Weighs Almost 18 Pounds
From Huffington Post
On Friday, UK man Peter Glazebrook, 67, set a new world record for the world's biggest onion by entering a 17 pound, 15 ounce monster in the Harrowgate Autumn Flower Show's annual World Onion Championship. His gigantic onion trounced 2005's record holder for the world's biggest onion, which weighed in at a mere 16 pounds, 8 ounces.
---
Jamie Oliver Pens Open Letter About Obesity Crisis To UN Secretary General Ban Ki-Moon
From Huffington Post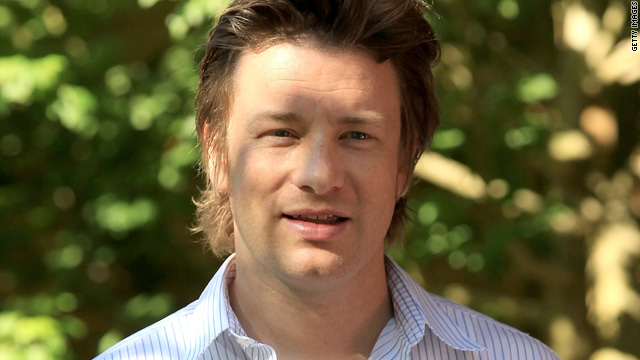 Photo from Getty Images
Jamie Oliver has found a new target for his healthy food crusade. He has written an open letter to UN Secretary General Ban Ki-Moon about the staggering global obesity rates and the resulting health crisis. He makes a strong case, citing the fact that one in 10 people in the world is obese and that "in the few minutes that it takes you to read this letter, more than 25 of our fellow human beings will have died from obesity and diet-related diseases."
---
New bird flu outbreak reported in India
From Reuters
Authorities in eastern India will start culling chickens and destroying eggs to contain a new outbreak of H5 bird flu, the government said in a statement on Tuesday, as a mutant strain of the virus is spreading elsewhere in Asia.
---
From The Nation
Last week the US Census Bureau released new data on poverty in 2010. The damaging impact of the Great Recession and weak labor market is stark: 46.2 million Americans lived below the poverty line—less than $22,314 annually for a family of four—which translates to nearly one in six Americans. This is the highest number on record in fifty-two years of poverty estimates. More than every fifth child in this country is now mired in poverty, and a record 20 million people are living in deep poverty—less than about $11,000 for a family of four—including an astonishing 9.9 percent of children.
---
From Eatocracy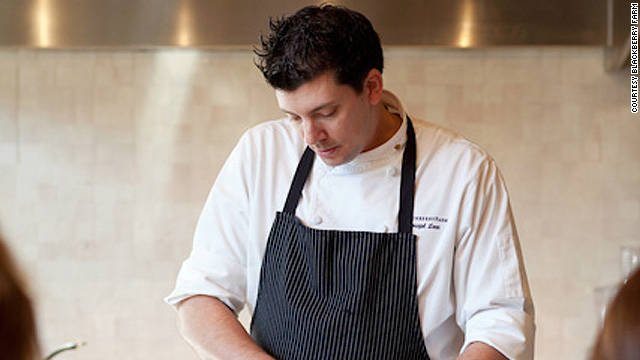 Photo from Blackberry Farm's
Around these parts, we talk a heck of a lot about the notion of "scorpacciata" – a term that means consuming large amounts of a particular local ingredient while it's in season. We do our best to eat that way as often as we can, but Blackberry Farm's executive chef Joseph Lenn really puts his money where his guests' mouths are, serving multi-course meals, made from seasonal, farm-fresh products and produce, grown just a few feet away from his kitchen.
---
The Future of Food: Why Farmers Are Being Driven Off The Land
From Treehugger
Chris Turner, author of the Geography of Hope and The Leap, (which I will be reviewing shortly), writes a wonderful article in the Walrus about how "The growing gap between what they produce and what they earn is driving many farmers off the land." One farmer describes the fundamental problem in the business:
---
Clever Tunnel System Makes Chickens Do The Gardening
From Treehugger
We've already seen how one farmer trains her chickens to eat slugs, and the internet is full of examples of chicken tractors—portable coops that can be moved to allow hens to till, fertilize, and weed a plot while providing pest control in the process. (see also this overview of chicken tractors at Planet Green.) But one Australian permaculturist has taken this idea to the next level—designing an intricate system of "chook tunnels" that let him funnel his ladies into any part of his garden. The amount of work that these creatures can do is actually quite amazing.
---
Josh Fox Earns An Emmy For 'Gasland'
From Treehugger
The Emmys passed again on Steve Carrell, now for the fifth time, for his service on "The Office," but the voters didn't miss when they awarded Josh Fox one of those little statues for Outstanding Direction for Nonfiction Programming for Gasland. The film was nominated for a Best Documentary Oscar earlier this year, but lost out to Inside Job.
---
How Climate Change is Causing War
From Treehugger
You've probably heard the ominous assertion that climate change will become a major driver of conflict around the world, especially in already volatile regions. It's why our military takes climate change seriously (see US Navy Vice Admiral: Climate Change is a Threat Multiplier) even when its staunchest right-wing supporters don't. But, the above stated 'will become' is misleading: Climate change is already causing violence, conflict, and wars around the globe.
---
We Need a Left-Wing Media Machine to Fight for Climate Action: Mark Hertsgaard
From Treehugger
Author of Hot: Living Through the Next 50 Years on Earth Talks Climate Action
Plumbing our archives, I couldn't believe that TreeHugger hasn't reviewed Mark Hertsgaard's fine book Hot: Living Through the Next 50 Years on Earth. We'll have to change that. Asap. The book adeptly examines the next half-century through the lens of our already-changing climate: The impacts of global warming are being felt nearly everywhere, and it won't be long before they get a lot worse. Droughts, rising sea levels, and more extreme storms will dramatically reshape a hotter world over the coming decades. Hertsgaard was moved to write about that not-so-distant place because his very young daughter will have to live in it.
---
Toyota Unveils 2012 Prius Plug-in (87 MPGe, $32k)
From Treehugger
Photo from Toyota
We've known it was coming for a while, but until now we didn't have official numbers on pricing and fuel economy for the 2012 Toyota Prius plug-in hybrid. Well, the wait is over! Toyota has released lots of info, and while I've been saying for a long time that I wished Toyota would put a bigger lithium-ion battery pack in the PHEV Prius (surprise! They didn't listen to me), there are some benefits to the configuration they settled on. Read on for more details.
---
Watermelon and Tomato Gazpacho
From Treehugger
Photo from Company
It's been quite the popular year for watermelon. Chefs allover have been using the fruit in many new and interesting ways, for example, it's even being grilled! But, when it's all said and done, this recipe is still my favorite use of the quasi-melon. Enjoy this gazpacho with an off-dry Viognier or any white with floral and honey-type notes.
---
Second Go at Animal Disease Traceability Hits Bumps
From Food Safety News
USDA's Animal and Plant Health Inspection Service is experiencing a hailstorm of opposition to its new animal disease traceability system as the proposal reaches the halfway point in the comment period that ends November 9.
---
Eventfull: Party For These Causes
From Girlie Girl Army
We can't wait for Fall, if only to attend these tremendous events! Join us, please, let's make our partying for good a group effort.
---
Perspective: Marion Nestle on Food Politics
From Link
What's the relationship between food and politics? In this new Nourish Perspective, author Marion Nestle describes the politics of our food choices and inspires us to create a healthier future.
---
How To Put The Brakes On Speed Eating
From Huffington Post
In today's fast-paced world, many of us struggle with an overly packed schedule and little time to actually sit down to eat. As a result, busy people gulp and go, while others — not necessarily under a time crunch — have the habit of eating too fast. The result? They take in too many calories before they realize they've eaten enough. After all, it takes approximately 20 minutes from the time you start eating for your brain to send out signals of fullness.
---
From Huffington Post
Ever wondered why you find it hard to keep your temper under control when you haven't eaten for a while?
---
Are You Being Tricked Into Eating Junk Food?
From Huffington Post
Marketers get paid a lot of money to get you to eat unhealthy food. And they're really good at their jobs.
---
The Magic of Chickens
From Care2
Harvey, a Mother Earth News writer who produces much of his own food on 3 acres, manages chickens holistically, enlisting them as partners for soil improvement, making compost, insect control and more. He's been raising a mixed poultry flock, which he considers a key to greater food independence, for almost 30 years. "I am constantly reaching for new ways to integrate the flock with the work of food production, to make them happy and content, and to provide them more live, natural foods right on the homestead," he says.
---
The Ethical Dilemma Inherent in the Weekday Vegetarian Plan
From Care2
At the recent TEDxDirigo conference, we watched a 4-minute TED talk, Why I'm a Weekday Vegetarian, by Treehugger.org founder Graham Hill. Hill explained why, despite everything he knows about the cruelty, health problems and environmental destruction associated with meat eating, he wasn't a vegetarian. "Why was I stalling?" he asks in the face of the truth that "my common sense and good intentions were in conflict with my taste buds."
---
From Take Part
During 2010 and 2011, Oxfam America and the Farm Labor Organizing Committee (FLOC) interviewed 103 migrant farm workers in North Carolina and representatives from two tobacco companies to learn what conditions are like in an industry dependent on foreign labor. A recently released report (pdf) reveals that what they found was devastating.
---
What's Really in a Glass of Milk?
From Link
If you were a kid (or parent) watching Saturday-morning TV in the late '80s and early '90s, you probably remember being bombarded with the message that milk "does a body good."
---
Pepsi Steps Up Water Commitment with Focus on Chinese Farms
From GreenBiz
It can take a lot of water [PDF] to grow potatoes, as much as 396 gallons to grow about 2.2 pounds. Purchase, N.Y.-based PepsiCo uses a lot of potatoes for its Frito-Lay Snacks. It also grows a lot of oats for its Quaker Food products and fruits and vegetables for its Tropicana and other juice brands.
---
Brain scans show obese less able to stop food cravings
From MSNBC
Brain scans of thin people who looked at pictures of high-calorie foods showed increased activity in a region of the brain used for impulse control, but obese people showed little activity in this region, the researchers found.
---
'White' fruits, veggies take a bite out of stroke risk
From MSNBC
The old adage that "an apple a day keeps the doctor away" is a good one to follow, according to a new Dutch study. The researchers found that eating plenty of fruits and vegetables with white flesh, such as apples and pears, may protect you against stroke.
---
The Truth about 'Class War' in America
From Common Dreams
Republicans and conservatives always fight back against proposals to raise taxes on corporations and rich individuals by making two basic claims. First, such proposals amount to un-American "class warfare", is pitting the working class against corporations and the rich. Second, such proposals would take money for the government that would otherwise have been invested in production and thus created jobs.
---
Exposing the Impact of Our Choices on Nonhuman Animals
From Care2
In 1985, I was fascinated by what I'd read about Sarah, a chimpanzee who could use a symbolic language to communicate, so I contacted Dr. David Premack, the principal researcher working with Sarah and other chimps at the University of Pennsylvania primate research lab, to volunteer. I'll never forget meeting Sarah. When I was brought to her cage, I was warned to stay away from the bars because Sarah was strong enough, and often aggressive enough, to grab me and cause severe injury.
---
The Devil in the Details of Deadstock
From eating Plants
For all the environmental angst being expressed over livestock, we rarely mention its counterpart: deadstock. Most of a slaughtered farm animal cannot be transformed into edible flesh. About 60 percent of it—offal, bones, tendons, blood, and plasma—becomes abattoir waste and, as such, has to be either recycled or disposed of. Despite our earnest efforts to better understand our increasingly complex food system, deadstock reminds us that the highest costs of food production are often hidden in places we rarely venture as we track our food's journeys from farm to fork.
---
'We Support Agriculture' combats animal rights initiatives
From NP Telegraph
A political action group, "We Support Agriculture," has been formed to counteract any potential ballot initiatives put forth by animal rights organizations. It's a joint effort of the Nebraska Cattlemen, Nebraska Farm Bureau, Nebraska Poultry Industries, Nebraska Pork Producers Association and the Nebraska State Dairy Association.