News for September 19, 2011
News Today includes stories about cancer prevention, Poverty, Apples, Fresh Food, Willow, Pumpkin Shortage, Dead Cats, Fines for Diners, Food Movement, Veg Diners, Garden Soil, Garden Soil, Green Fashion, Marine Trash, Food Safety Risks, Pear Galettes, Fall Baggage, illegal fishing, Fin Whales, Bulls, factory farming, Eating Animals, Plant-Based Meals, Overeating, Donkeys, Killer Whales, Meatless Monday, Animals Experiments, Breakfast Poha, cookbook errors, Campfires, Humane Meat, and recipes.
Cancer prevention and treatment may be the same thing
From nutritionfacts.org
Breast cancer can take decades to develop, so early detection via mammogram may be too late.
---
Behind The Poverty Statistics: Real Lives, Real Pain
From Huffington Post
She and her husband have been out of work for nearly two years. Their house and car are gone. So is their foothold in the middle class and, at times, their self-esteem.
---
5 Serious Health Benefits Of Apples
From Huffington Post
Apples have surprising nutritional benefits that justify the "apple a day" adage. Here are some of apples' nutritional boons.
1. Nutrition
2. Weight Loss
3. Heart Helth
4. Protect Against Metabolic Syndrome
5. Exercise Extender
---
From The Nation
On a map of "food deserts" in Chicago, a red bow-tie-shaped splotch covers parts of Englewood, a historically working-class neighborhood on the South Side.
---
Willow, Missing Colorado Cat Found In NYC, Might Have Taken A Plane
From Huffington Post
The mystery of Willow the cat, who escaped her Colorado home five years ago only to be discovered Wednesday 1,600 miles away in Manhattan, looks like it might be solved.
---
Hurricane Irene: Northeast Farmers Warn Of Pumpkin Shortage Induced By Storm
From Huffington Post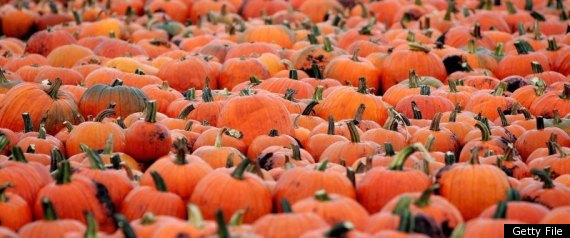 Photo from Getty File
Northeastern states are facing a jack-o'-lantern shortage this Halloween after Hurricane Irene destroyed hundreds of pumpkin patches across the region, farmers say.
---
15 To 20 Dead Cats Found In Man's Freezer
From Huffington Post
Police officers and the New Jersey Society for the Prevention of Cruelty (NJSPCA) arrived at the home of Ian Barlow in Upper Pittsgrove Township, N.J. to find a chilling scene: 15 to 20 dead cats "neatly wrapped" in bags in the freezer, CBS reported.
---
Saudi Restaurant Marmar Fines Diners For Not Finishing Plates
From Huffington Post
If your eyes are bigger than your stomach, you might want to steer clear of Marmar restaurant in Saudi Arabia. The restaurant has started charging diners if they order more than they can eat.
---
Vegan Gluten-Free Tabouli Salad
From Huffington Post
Tabouli Salad is a great way to use colorful antioxidant rich fresh produce. Sunripened tomatoes, cool cukes, sensuous spearmint, and hip hempseed as an alternative to the gluten containing bulgur wheat that is traditionally used. Hemp can provide omega 3's, protein and vitamin E. The hempseed oil adds a lovely richness that might even win over olive oil aficionados. There is no THC in the hempseed or oil. Try this Mediterranean treat that can be a meal in itself!
---
The Food Movement at 40. PLUS: Get 'Up with Chris Hayes'
From The Nation
Forty years ago, Frances Moore Lappé's groundbreaking book, Diet for a Small Planet, was the first serious look at how our diets, food scarcity and ineffective food policy are inexorably intertwined.
---
From VegNews
Online deal site LivingSocial has surveyed which cities have the most diners who identify as vegan or vegetarian.
---
Using Nitrogen-Fixing Plants to Restore Abused Garden Soil
From Treehugger
" By now it's fairly well documented that I am a committed Lazivore. I like homegrown food, but the act of eating it has more appeal to me than laboring to grow it. That's why I am putting my garden to rest for a year, and planning to return with a much smaller, intensively planted plot. It's also why I am doing a lot of reading onlow-work gardening methods. Which brings me to this interesting "experiment" in remediating heavily abused garden soil by Simon Watkins at Permaculture Magazine. What started out as a comparison between applying sheet-mulch compost and growing nitrogen-fixing green manures quickly morphed into a parable about the importance of flexibility. Watkins had intended to plant one half of his newly uncovered garden with alfalfa, the other with sheet mulch, and then wait till next year to compare crop growth. But he forgot about the compost, got excited about planting some crops, and seems very happy with the result:"
---
London Fashion Week: Estethica Shows Green Fashion at it Best
From Treehugger
It's London Fashion Week, where Estethica is the showcase for all that is wonderful in ecological and environmentally-sensitive fashion.
---
The Unbelievable Scale of Marine Trash
From Treehugger
Photo from Project AWARE
What is the impact of our plastic use on the ocean's animal life? A new infographic from Project AWARE sheds a bit of light on the sheer scale of the problem, and the incredible number of animals affected by our plastic problem.
---
Feral in the Fields: Food Safety Risks from Wildlife
From Food Safety News
Last month's announcement by the Oregon Health Authority confirmed that deer droppings were the source of E. coli O157:H7 contamination in strawberry fields linked to 15 human illnesses, including one death. These findings are not unprecedented because undercooked venison is a recognized vehicle of transmission for E. coli O157:H7. Indeed, the first outbreak of deer meat-associated E. coli O157:H7 was described in 1995 among Oregon residents.
---
RECIPE: Pear Galettes with a Belgian Chocolate Sauce
From Girlie Girl Army
These melt-in-the-mouth pear galettes are easy to assemble, and make a stunning dessert, especially when served with rich Belgian chocolate sauce. The cuties at Vegalicious found these beautiful, tasty goodies at Waitrose. They are very easy to veganize by leaving out the honey and using vegan, pure chocolate.
---
Fall Baggage, Style Over Substance & NYC Public Bikes
From The Discerning Brute
These men's bags from Matt & Nat have the perfect combination of rugged utility and handsome luxury. Whether you're going back to school, starting a new job, or going on a trip – these four are certain to get your sack noticed. Made with recycled soda-bottle PET ultrasuede lining.
---
Searching for illegal fishing vessels in the Pacific
From Greenpeace
"Yesterday was the 40th anniversary of the founding of Greenpeace, and as I write this, thirty passionate and dedicated Greenpeace activists are here with me in American Samoa (a territory of the United States in the South Pacific Ocean) on board the Esperanza. We've come to this far-flung tropical port as part of our efforts to convince tuna companies like Chicken of the Sea to adopt sustainable procurement policies and to source tuna responsibly. This means ceasing the use of conventional longlines, ending the industry's reliance on fish aggregating devices, also known as FADs, and shutting down illegal fishing operations in the high seas pockets of the Western and Central Pacific."
---
Another Win for Whales: Endangered Fin Whales get help from President Obama
From Greenpeace
The President imposed diplomatic sanctions on Iceland over their commercial Fin whale hunting as recommended in July by the Secretary of Commerce Gary Locke.
---
Oil Event Disrupted in Behalf of Bulls
From PETA
"I thought living downwind of the reeking refineries in east Houston reflected badly on the oil industry, but that's just a mere annoyance compared to the suffering of bulls at the hands of oil companies in India. That's why one of our friends from PETA India took over the stage at the Oil and Gas Review Summit and International Exhibition in Mumbai to urge India's wealthy oil biz leaders to replace carts drawn by bulls with modern, non-animal forms of transport. The PETA India staffer was dragged out of the conference—chanting "Shame!"
---
From Vivaorg
Ten celebrities including Paul McCartney, Joanna Lumley, Martin Shaw and Chrissie Hynde – speak from the heart to condemn factory farming. Contains powerful undercover footage. Brilliant for persuading cynics and doubters.
---
Eating Well Vs. Being Good: Can We Ethically Eat Animals?
From Huffington Post
The health case is all but irrefutable. It is impractical to cite all of the relevant evidence here. If one goes to the National Library of Medicine website and types "vegetarianism AND health" into the search box, more than 730 peer-reviewed articles pop up. I cite some portion of that evidence in the chapter on vegetarianism (chapter 43 for those who have the book) in my textbook, "Nutrition in Clinical Practice, 2nd Edition" (2008). In this pop culture forum, however, we may reasonably limit ourselves to the view from altitude and noting that relevant citations include intervention studies, nutrient studies, epidemiologic studies, trans-cultural comparison studies and ethnographic studies of cultural transitions.
---
Plant-Based Meals: Easy, Delicious, Healthy
From Huffington Post
If you're leaning in a plant-based direction and would like to try something healthier than a slice of pizza or burger, this is a simple, delicious dish that will make you feel great. And it's super quick to put together.
---
From Huffington Post
It's possible to hang out with friends without packing on the alcohol pounds, navigate buffet tables at parties and handle the holidays painlessly.
1. Eat Enough During The Day
2. Keep "Trigger Foods" Out Of The House
3. Don't Mistake Thirst For Hunger
4. Eat By The Clock
5. Don't Be Too Hard On Yourself
6. Just Don't Start
---
No Jet Lag For 120 Donkeys After Hawaii-LA Flight
From AOL
One hundred and twenty donkeys have arrived at a sanctuary in California on a plane from Hawaii chartered by the Humane Society of the United States.
---
Captivity Is Dangerous to Killer Whales and Their Keepers, Report Shows
From The Humane Society
The Humane Society of the United States and Humane Society International have released a report outlining the arguments and scientific evidence against the public display of killer whales, or orcas, on animal welfare grounds.
---
Meatless Monday: Fire and Rain
From Huffington Post
Twenty-two-acre Kingsbury Farm serves Warren, Vermont, a population of under 2,000. Johnson's Backyard Garden is 200 acres, but as they say, everything's bigger in Texas, including this organic farm, which serves Austin, a population of roughly 800,000. The two farms are 2,000 miles apart, but both farmers use sustainable practices, and unlike Texas governor and Republican presidential candidate Rick Perry, both believe in climate change.
---
It's Time to Replace Animals in Harmful, Painful Experiments
From One Green Planet
"In late August I participated in a 4-day conference in Montreal. The 8th World Congress on Animals and Alternatives in the Life Sciences drew over 800, mostly scientists. The mission of the meeting was to advance "the 3Rs," which aim to Replace, Reduce, or Refine (i.e., lessen the suffering of) animals used in research, testing, and education. "
---
Recipe: Breakfast Poha (Flattened Rice Flakes Cooked with Veggies and Nuts)
From One Green Planet
Poha-Flattened rice (also called beaten rice) is a dehusked rice which is flattened into flat light dry flakes. This easily digestible form of raw rice is very popular across Nepal, India and Bangladesh, and is normally used to prepare snacks or light and easy fast food in a variety of Indian cuisine styles. The thickness of the flakes varies depending on the use. This breakfast preparation uses thick Poha, which can be bought from any Indian Store. Thick rice flakes or brown rice flakes can also be found in some local health stores or online stores.
---
Cookbook errors: recipes for disaster
From The Guardian
It's a memory which occasionally wakes me up with a start in the middle of the night, bathed in a light sheen of abject terror. One crisp Monday in mid-December I received a cheery tweet from a fellow food writer, which filled me with a very unseasonal chill. "Loved your Christmas recipes in G2 today!" she trilled. "Can't wait to try your sugar-free mincemeat, as am trying to cut down my intake. Does it really work?"
---
5 Tips for Perfect Vegan Campfires
From Your Daily Vegan
The brisk autumnal air is coming, can you feel it? The leaves are beginning their journey from the deep greens of summer to the colorful reds, yellows, and oranges of fall. Soon they'll be falling from the trees and swirling around in the wind.
---
More Thoughts on "Humane Meat"
From Eating Plants
Conscientious consumers have known for decades that animals raised in factory farms are animals that have experienced immense suffering. The litany of horrors hardly needs repeating, but most consumers are familiar with the crushing confinement, the disease and manure-ridden stalls, over-breeding, mechanized fertilization, the incessant dosing of antibiotics and vaccines, the cold lack of affection, and the essential reduction of the animal to the equivalent of a heartless machine.