News for September 16, 2011
News Today includes stories about PCB chemical pollutants, Childhood Obesity, abuse, Poorest States, drought, Mexican Zoos, Black Farmers, Orangutans, hunting, Food Issue, Michael Pollan, Food Movement, Eric Schlosser, Antibiotics, Whaling, Vegetarian Travel, Food Safety, Birds, Herb Garden, fur, Pumpkin Bread, Pasture Pharmacy, Hunger, No Pasta Lasagna, Autumn Chill, Food Studies, KFC, Nutrition, BugFest, tofu, Food for Art, Dolphin-Safe, Method, Environment Myths, Vegan Diet, Vegan Wine, Insects, Poverty, Free to Die, farmers market, communities, Slaughtering, and recipes.
Food sources of PCB chemical pollutants
From nutritionfacts.org
The top three sources of industrial toxins in the diet are fish oil, fish, and eggs.
---
Latino Childhood Obesity: Seeking Solutions At Home and at School
From Huffington Post
September is National Childhood Obesity Awareness Month, and organizations such as the National Council of La Raza, the Leadership for Healthy Communities and the Alliance for a Healthier Generation are taking a closer look at the challenges Latino children in particular face.
---
Lost, Abused and Neglected for a Profit
From Huffington Post
Guillermo Gomez-Sanchez is a 50-year-old legal resident with a mental disability. In 2004, Gomez was detained because of a dispute at a grocery store over a bag of tomatoes. His detention led him into a labyrinth of abuse and neglect — in an immigration system that increasingly puts profit over justice by handing the reins to private prison corporations.
---
From Huffington Post
The U.S. Census Bureau released two pieces of widely followed data Tuesday — one on poverty and the other on median income for 2010. The most interesting findings in this release were the state-by-state figures, especially when compared to national averages. A closer look at the statistics shows that a relatively small number of states suffer such widespread levels of low income and poverty that they skew the national numbers downward.
Mississippi
Arkansas
Tennessee
West Virginia
Louisiana
Montana
South Carolina
Kentucky
Alabama
North Carolina
---
Texas Drought: Fish To Be Rescued From River
From Huffington Post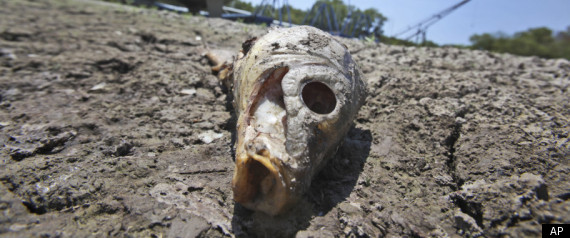 Photo from Associated Press
Wildlife biologists on Friday will evacuate two species of minnows from the shrinking waters of a West Texas river in the first of what could be several rescue operations involving fish affected by the state's worst drought in decades.
---
Jesus 'The King' Zambada's Pets Strain Mexico's Zoos
From Huffington Post
The ranch's owner was Jesus "The King" Zambada, a leader of the powerful Sinaloa drug cartel. He had developed a love for exotic species shared with other kingpins. Just two days before Zambada's arrest, police confiscated two tigers and two lions from a drug gang hideout on the forested outskirts of Mexico City.
---
Black Farmer Movement Gets Support From Group In California
From Huffington Post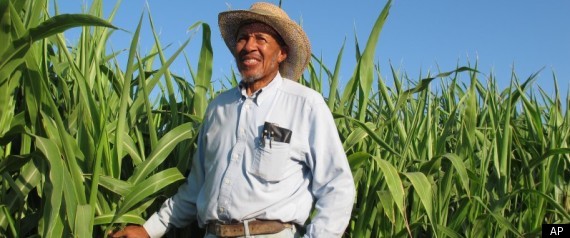 Photo from Associated Press
As the sun rises on tilled soil on the outskirts of Fresno, Calif., Mori Vance bends to pick black eyed peas, then disappears among towering okra bushes. Vance, who is African-American, is harvesting her first crop with several other novice black farmers, all hoping to make it their life's work.
---
Activist Say Orangutans Permitted To Smoke In Indonesian Zoo
From Huffington Post
A wildlife activist says that zoo officials in Indonesia are taking no steps to stop orangutans from smoking cigarettes, unlike in Malaysia.
---
Virginia's Sunday Hunting Debate Pits Gun Rights Against Sabbath
From Huffington Post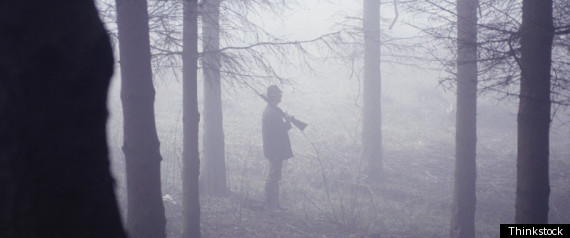 Photo from Associated Press
As you start loading your guns for the start of Virginia's deer-hunting season, you might wonder why it isn't legal to hunt on Sunday. Not too long ago, Mark Keam, a progressive Democrat who has represented part of suburban Fairfax County in Virginia's House of Delegates since 2009, was wondering the same thing.
---
The Nation Releases 2011 Food Issue with Michael Pollan, Frances Moore Lappé, Raj Patel
From Huffington Post
Politics and culture magazine The Nation releases its October 3 Food Issue with an A-list group of food politics celebrities. Diet for a Small Planet author Frances Moore Lappé lays out somewhat of a State of the Food Union in her piece "The Food Movement: Its Power and Possibilities," in which she describes the changes that have happened since her blockbuster book came out in 1971. She discusses negative changes such as the staggering number of almost 1 billion hungry people. Lappé counterbalances these facts with more progressive moves like how small farmers are protecting seed varieties. In response, food movement heavyweights Raj Patel, Vandana Shiva, Eric Schlosser and Michael Pollan chime in. For those already involved in food activism, the arguments are familiar (albeit well-written). For those just learning about the global food movement, The Nation offers a great jumping off point to learn how to save our food systems.
---
How Change Is Going to Come in the Food System
From The Nation
In the forty years since the publication of Frances Moore Lappé's Diet for a Small Planet, a movement dedicated to the reform of the food system has taken root in America. Lappé's groundbreaking book connected the dots between something as ordinary and all-American as a hamburger and the environmental crisis, as well as world hunger. Along with Wendell Berry and Barry Commoner, Lappé taught us how to think ecologically about the implications of our everyday food choices. You can now find that way of thinking, so radical at the time, just about everywhere—from the pages of Time magazine to the menu at any number of local restaurants.
---
The Food Movement: Its Power and Possibilities
From The Nation
The number of hungry people has soared to nearly 1 billion, despite strong global harvests. And for even more people, sustenance has become a health hazard—with the US diet implicated in four out of our top ten deadly diseases. Power over soil, seeds and food sales is ever more tightly held, and farmland in the global South is being snatched away from indigenous people by speculators set to profit on climbing food prices. Just four companies control at least three-quarters of international grain trade; and in the United States, by 2000, just ten corporations—with boards totaling only 138 people—had come to account for half of US food and beverage sales. Conditions for American farmworkers remain so horrific that seven Florida growers have been convicted of slavery involving more than 1,000 workers. Life expectancy of US farmworkers is forty-nine years.
---
From The Nation
Forty years after the publication of Diet for a Small Planet, thousands of farmers' markets are thriving across the United States, countless young and well-educated people want to become farmers, community gardens are being planted in inner cities, Walmart is championing local foods, the White House boasts an organic garden—and the poorest workers in the United States are earning about $1.50 less for every hour they work. That decline of almost 20 percent in the federal minimum wage since 1971, adjusted for inflation, suggests the limits of the food movement—and the necessity for it to have the sort of broad view that Frances Moore Lappé has always embraced. Any movement that focuses too narrowly on food is bound to fail when 46 million Americans live below the poverty line. Without a fundamental commitment to social justice, the estimated 1–2 percent of Americans who eat organic food will be indistinguishable from the 1–2 percent who control almost all of this country's wealth and power.
---
GAO Urges Improved Federal Efforts To Address Antibiotic-Resistance Stemming From Farms
From Huffington Post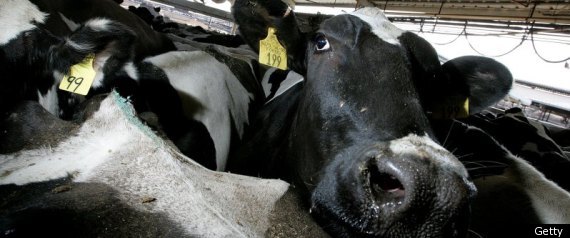 Photo from Getty Images
Just days after Cargill announced its second major recall in the last two months of ground turkey linked to antibiotic-resistant salmonella, a new report suggests the federal government has stumbled in addressing the use of antibiotics in farm animals.
---
Japan Whaling: Country Says It Caught 195 Whales In Pacific Ocean Under Research Program
From Huffington Post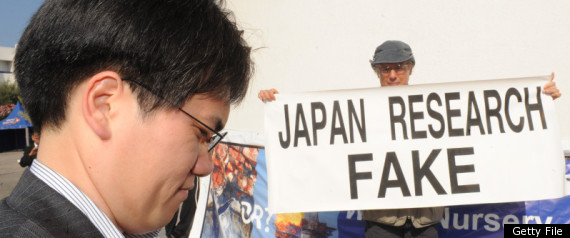 Photo from Getty Images
Japan says it has caught 195 whales in the Pacific Ocean this season under a research program opposed by activists who call it commercial whaling in disguise.
---
Vegetarian Travel: 7 Countries With Veg-Friendly Cuisines
From Huffington Post
Just because someone enjoys a meat-free diet, doesn't mean they can't indulge in local delicacies while on the road. In some countries vegetarian or veg-friendly eating has been historically en vogue. Thus, a delicious tradition of meat-free cuisine exists around the globe for vegetarian foodies to enjoy.
India
Israel
Thailand
Ethiopia
Greece
Egypt
Mexico
---
From Veg News

A new poll has found that people are less concerned about food safety than they were last year.
---
Escaped Pet Birds Are Teaching Wild Birds to Speak English
From Treehugger
Across parts of Australia, reports have been pouring in of strange voices chattering high in the treetops — mysterious, non-sensical conversations in English. But while this phenomenon is certainly quite odd, its explanation isn't paranormal. It turns out that escaped pet birds, namely parrots and cockatoos, have begun teaching their wild bird counterparts a bit of the language they picked up from their time in captivity — and, according to witnesses, that includes more than a few expletives.
---
From Treehugger
Photo from Jaymi Heimbuch
"It's no secret. I ? the combination of berries and chili peppers, much like the salsa I made earlier this week using just that. And after receiving some jalapeño-raspberry jam from Ann's Raspberry Farm, I was inspired to make an encore. Also, it's worth noting that Ann won a Good Food Award this year for their commitment to naturally grown food. But they could have won just on taste alone. It's that good."
---
Build An Easy-Watering Vertical Herb Garden
From Treehugger
Mike (aka the Urban Organic Gardener) reveals his latest creation—an easy-watering vertical herb garden built using old plastic bottles and a shipping pallet.
---
Alicia Silverstone Gives Her Thoughts on Fur
From Kind Life
"Through the years, I've struggled to find the right reaction whenever I've come into contact with people who wear fur. I have so many strong feelings about this issue that I've often become tongue-tied and have not known what to say."
---
From Kind Life
You don't have to wait for Halloween to enjoy a pumpkin-y treat. This recipe for pumpkin bread comes from vegan baker and author, Isa Chandra. I haven't tried it, but it looks yummy, especially for all you flirts and vegans! Superheroes, you can make this for your friends, and try a few bites once in a blue moon – but I don't recommend it if you're following a strict superhero diet.
---
USU Research Professor Studies 'Pasture Pharmacy'
A research professor at Utah State University is conducting experiments that may help farm animals live a more healthy life, which is something the agriculture industry is keeping a close eye on.
---
How Wall Street Fuels Global Hunger
From Mother Jones
According to the UN FAO's most recent report, global food prices are hovering at all-time highs, and have risen dramatically over the past year. The FAO's Cereal Price Index is up 36 percent from last year; overall food prices are up 26 percent. The most recent spike is part of a multi-year trend, FAO reports. Inflation-adjusted food prices have tripled since 2004.
---
No Pasta Lasagna—It's What's for Dinner!
From From Here Now
Whether you are trying to cut down on carbs, eat more veggies, change up the standard lasagna or are simply out of lasagna noodles, this recipe is for you! In a lighter twist on hearty classic lasagna, I substituted zucchini and eggplant slices for noodles and layered them with a fresh tomato sauce. It's a rich taste of summer. I am pretty sure this would hold up in a slow cooker, too!
---
Autumn Chill, Cooking Lessons & Sweet Chips
From The Discerning Brute
The Autumn is upon us (almost) and I felt the chill in the air today. Time to get out your cardigans, sweaters and fall jackets. After you've perused the thrift and vintage stores for warm things of all sorts, consider supporting some rad sustainable and vegan designers by investing in a coat from Vaute Couture, or an deadstock cotton check jacket, waxed canvas jacket, or organic cotton jacket from Turk + Taylor:
---
Food Studies: Biting off more than he can chew?
From Link
"I am a lucky guy. It's an exciting time to be studying food — public interest in food issues is burgeoning, farmers' markets are proliferating like never before (or, at least, since the introduction of the supermarket), and more people are engaging in conversations about why good food matters. And here at school, where my main job is to study, I not only get to engage with these ideas and issues every day, I am required to. It's a tough life."
---
From PETA
KFC had touted that chickens raised for the brand were "free to roam" on farms. But cramming chickens so tightly inside filthy, windowless sheds that they can barely take a step or lift a wing doesn't exactly qualify as "free roaming." When the Australian Competition and Consumer Commission launched legal action against a KFC supplier for false claims on the supplier's website, KFC backpedaled.
---
The Secret To Nutrition Is No Secret
From Huffington Post
Deep within the jungle of Papua New Guinea I gripped a milk-white larvae as its black pinchers pulsed back and forth — it was dinner. My host Samuel assured me, "take a bite, tastes like chicken!" I was completing the final phase of "Last One Standing," a BBC series that followed six Westerners on a journey to live and eat with 12 tribes around the world. The meal of grubs interested me a bit more than the others — this journey was my mission to get to the bottom of nutrition.
---
North Carolina Museum Of Natural History Hosts BugFest Critter Cook-Off
From Huffington Post
The North Carolina Museum of Natural Sciences is hosting its annual BugFest Critter Cook-off on Friday. It's the official kickoff to BugFest 2011.
---
Tennessee Says 'F-U' To Tofu-Loving PETA Member Over 'Obscene' License Plate
From Huffington Post
The Tennessee Department of Revenue, Taxpayer and Vehicle Services Division rejected a PETA employee's proposed personalized license plate — "ILVTOFU" — citing "vulgarity."
---
From Wall Street Journal
The relationship between food and art stretches back more than 30,000 years, when paintings of wild, edible animals were crafted on cave-wall canvases. It has evolved considerably since then.
---
Groups Urge U.S. Government to Appeal Ruling on "Dolphin-Safe" Tuna Labeling
From The Humane Society
The Humane Society of the United States, and its global arm Humane Society International, are disappointed in a World Trade Organization ruling that finds the Dolphin-Safe Label for tuna sold in the United States does not comply with certain WTO rules. The finding by the organization's dispute panel could result in weakened dolphin protection and consumer confidence in tuna products that are eligible for the label, therefore The HSUS and HSI urged the U.S. Government to appeal.
---
Method Debuts New Wave Bottle Made from Plastic Ocean Trash
From Green Biz
Method, the company that used green chemistry to turn age-old concepts for making and marketing soap on their head, has come up with another innovation that explodes a long-held idea — that the trash trapped in the North Pacific Gyre is unredeemable.
---
6 Myths and Facts About Environment
From Green Buzz
Many Myths about the environment have been created throughout the discussions between environmentalists and their opposition, mostly from the big corporations. Unfortunately, they leave people confused about environmental issues, making them think that it might be just a big hoax. In this article we try to confront some of these Myths with the actual facts.
---
10 Tips for the Heart-Healthiest Vegan Diet
From One Green Planet
If you're already vegan, then your diet is more heart-healthy than average. Replacing animal foods and highly refined carbs with whole plants and healthy fats is the proven way to lower cholesterol and reduce risk of heart disease. But a few simple tweaks can make your vegan diet even more protective.
---
Interview: The Vegan Wine (The First Openly Vegan Wine Company)
From One Green Planet
The big question "Is this wine vegan?" can leave your server or salesperson looking like you just stomped on their foot. We've all heard people say "I'm vegan, except for the (fill in the blank)." As a vegan wine drinker, some of us should maybe say "I'm vegan, except for the isinglass, egg albumen, casein and gelatin in my wine." It's true, those animal products may surprise even the most committed vegans among us. We're not even bringing up the issue of animal products sometimes used in biodyamics. Some winemakers use these ingredients to make up for what might have been lacking in the vineyard or to bring clarity to their wines, among other reasons. But it doesn't have to be that way. There are cruelty-free and viable alternatives for winemakers to use. Just this year, the first wine company to dedicate themselves to vegan wines came into being. Clos LaChance, a well-respected California winery, launched the Vegan Vine. This company is breaking new ground by declaring their wines to be vegan every year. Besides making vegan wine more available, they are dedicated to increasing awareness about the vegan winemaking process. To discuss vegan wine further, I had a chance to chat with Cheryl Durzy, Vice President/Proprietor of Clos LaChance.
---
From Guardian
Back in 1885, the same year that the first issue of Good Housekeeping appeared and the Statue of Liberty arrived in New York, British entomologist Vincent M Holt published a pamphlet entitled Why Not Eat Insects? Alongside a recipe for wood-lice sauce (excellent with fish, apparently) and some example menus (curried cockchafers, anyone?), Holt spends much time agonizing over the Western abhorrence for meals made from our scuttling insect cousins.
---
Rising Poverty Reflects Diminishing American Dream
From Common Dreams
Even Americans who have become numbed by the monthly release of perpetually pessimistic unemployment numbers – a "jobless recovery" is the ultimate oxymoron – should be jolted by the release of the latest Census Bureau figures on the economic state of the nation's households.
---
From Common Dreams
Back in 1980, just as America was making its political turn to the right, Milton Friedman lent his voice to the change with the famous TV series "Free to Choose." In episode after episode, the genial economist identified laissez-faire economics with personal choice and empowerment, an upbeat vision that would be echoed and amplified by Ronald Reagan.
---
Market Watch: A new tack in farmers market regulation
From LA Times
Photo from David Karp
A plan earlier this year to ensure the integrity of farmers markets went nowhere, but now the California Department of Food and Agriculture is forming an advisory group to consider a variety of topics related to the direct marketing of fruits and vegetables — not only farmers markets but also farm stands and community-supported agriculture (CSA) programs.
---
Nourishing New York's low-income communities
From CNN
When Gina Keatley first moved to New York to attend culinary school, she noticed that many of her neighbors were missing limbs.
---
"No Christmas Ham Has Ever Tasted So Sweet": The Dehumanizing Impact of Slaughtering an Animal
From Eating Plants
"The more I read, learn, and think about the ethics of slaughtering a farm animal, the more I'm convinced that it 's an experience that dehumanizes and numbs us. Readers of this blog know that I've been on a steady, if emotionally unhealthy, diet of reading blogs by people who, in an effort to be conscientious carnivores, have decided to raise and kill their own meat. The justification for self-slaughter is weirdly complex, but it usually comes down to some amorphous notion about reconnecting with our food. Too often, the act of killing a being that has no interest in dying is cast as a brave and compassionate antidote to factory farming. I've been getting criticism lately about relying on these blogs as accurate representations of the reality of local slaughter. My answer to these criticisms will be to continue to present accounts like this one below, over and over, until my message is clear: there is nothing humane about killing farm animals that do not have to be killed. Yet another example:"