News for September 15, 2011
News Today includes stories about chickens, cats, hunger, food, sea level, fashion week, jet ski, goats, animal shelters, organics, Listeria, chocolate, body odor, 7-eleven, restaurants, PeePoo, bicycles, sausage, employment, dolphins, urban farming, turtles, poverty, green, farm bill, rhinos, wool, fur, kickstart, b corps, healthy plate, Charlotte Ross, jellyfish, beans, animal rights, fair trade, poor, happiness, broccoli, and recipes.
Chicken consumption and the feminization of male genitalia
From nutritionfacts.org
Eating chicken during pregnancy may affect the size and development of one's son's penis and scrotum due to phthalate contamination of the meat.
---
Willow, Missing Colorado Cat, Found In New York City Streets
From Huffington Post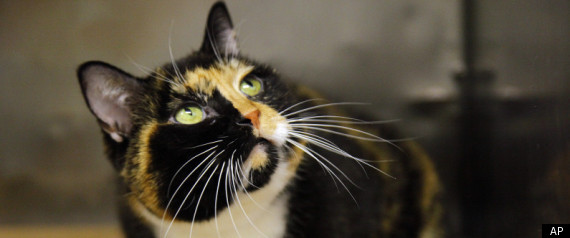 Photo from Associated Press
A calico cat named Willow, who disappeared from a home near the Rocky Mountains five years ago, was found Wednesday on a Manhattan street and will soon be returned to a family in which two of the three kids and one of the two dogs may remember her.
---
How Banks Cause World Hunger
From Huffington Post

Here is the infographic from the World Development Movement
Banks are among some of the most hated companies in America, largely for their role in causing a global financial crisis. That reputation could only get worse thanks to one of their more controversial practices: Food Speculation..
---
Regulators' rules 'too weak' to tackle speculation on food
From World Development Movement
International financial regulators have called today for tighter controls on financial speculation in commodity markets, but anti-poverty campaigners the World Development Movement have branded the regulators' rules as 'too weak', saying they will not tackle the growing hunger and poverty caused by speculation on food prices.
---
Sea Level Rise Would Be Costly In California, Economists Say
From Huffington Post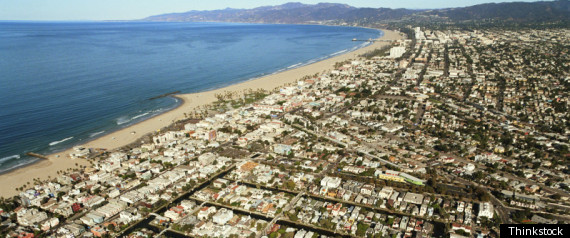 Photo from Thinkstock
Economists predict erosion from rising sea levels could cost California hundreds of millions of dollars in lost tourism and tax revenues as beaches shrink and buildings would have to be protected, according to a new report.
---
D.C. Mobile Market Bus To Bring Fresh Produce To City's Food Deserts
From Huffington Post
With awareness growing about "food desert" communities locally, one area restaurant consortium is launching a new program aiming to bring quality produce to Washington neighborhoods that lack easy access to full-service grocery stores. By late October, Neighborhood Restaurant Group, which counts 9 local restaurants in its arsenal, plans to launch a Mobile Market, a decommissioned school bus retrofitted as a farmers market on wheels that can accept federal food assistance benefits, commonly known as food stamps.
---
24 Hours Of Reality: Al Gore's Climate Reality Project Hosts Worldwide Event
From Huffington Post
It's time for the world to face the realities of climate change.
That is the message expressed by Al Gore's Climate Reality Project, which launched "24 Hours of Reality," an event which began at 7pm CT on September 14, and is running for 24 hours straight. It is a global event featuring 24 presenters in 24 time zones, who "will connect the dots between recent extreme weather events — including floods, droughts and storms — and the manmade pollution that is changing our climate."
---
Fashion Week Goes Green With Ecouterre
From Huffington Post
It's that time of year again when fashionistas from around the globe walk the streets and catwalks of the Big Apple in their highest heels and spirits – New York Fashion Week. For Spring/Summer 2012, Ecouterre scoured the runways to find the best designers showing environmentally conscious collections. From John Patrick Organic to M. Patmos to Leanne Marshall, Ecouterre was on the scene at the best green fashion shows – click through the gallery to see looks from them all.
---
World's First Carbon Fiber Electric Jet Ski
From Huffington Post
At five miles to the gallon, jet-skis are some of the most inefficient and loudest motors to hit the world's waterways.
But now a new carbon fiber electric jet-ski unveiled by ExoConcept at this week's Cannes Boat Show 2011 means the fun watersport no longer needs to harm the planet, reports Wired.
---
Goats In Portland, Oregon Get Work Clearing Land
From Huffington Post
Deep in the wilds of Portland, invasive species rule. Blackberries, thistle, English ivy and rhododendron occupy deep pockets of brush, choking off native plants and growing into thick tangles impossible to navigate on foot.
---
D.C.-Area Animal Shelters Still In Tough Spot Due To Rocky Economy
From Huffington Post
One mark of the recession: scores of pets being dropped off at animal shelters. Shelters and rescue groups across the country reported that beginning in 2008, record numbers of pets were surrendered, with their owners citing lost jobs and foreclosed homes as the reason for giving up their furry friends.
---
In Demand: Bright Outlook For Organics
Roger Lansink has no illusions about organic agriculture saving the world. However, he knows the money he makes growing organic crops is no illusion. He also knows when he manned the Iowa Organic Association's booth at the Iowa State Fair, he couldn't keep enough brochures on the table.
---
US Grocers Embrace Local, Organic to Try to Drive Growth in Tough Times
As the nation continues to list through the economic doldrums of an all-too-slow recovery, people still need to eat. What they're choosing to eat and which grocery retailers they're turning to is the subject of two annual reports from the Food Marketing Institute.
---
Middle-Aged Americans At Greater Risk Of Hunger Because Of Recession
From Huffington Post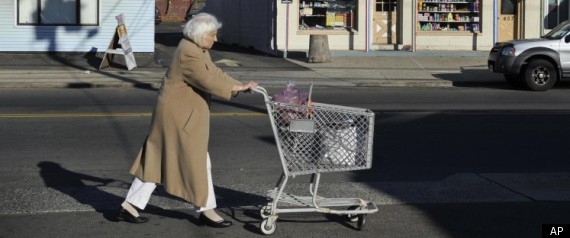 Photo from Associated Press
If further proof were needed of the far-reaching harm caused by the Great Recession, it would seem to have arrived in the form of a study from the University of Kentucky and the University of Illinois, which finds that a much higher number of middle-aged Americans faced the threat of not having enough food during those years.
---
FDA, CDC Investigate Listeriosis Outbreak's Source; Colo. Farm Says Listeria Found In Rocky Ford Cantaloupe
From Huffington Post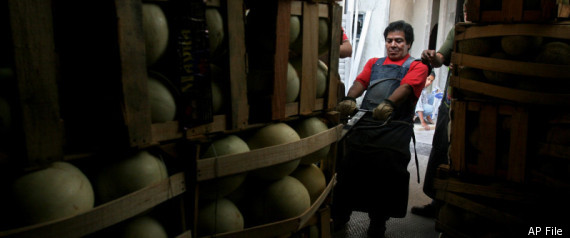 Photo from Associated Press
The Food and Drug Administration is warning people not to eat cantaloupes from a southeastern Colorado farm after investigators found a contaminated melon in a store, the first time Listeria has been linked to cantaloupe in the U.S.
---
5 Chocolate Trends That Are Here to Stay
From Huffington Post
1. Kind Chocolate
2. Savory Chocolate
3. Vegan Chocolate
4. DNA Sequencing (not just for humans anymore!)
5. Custom Chocolate
---
Body odor? Gene disorder may be the culprit
From Reuters
For some people with troublesome, unexplained body odor, an uncommon genetic disorder once known as "fish-odor syndrome" may be to blame, according to a study.
---
7-Eleven Expands Vegan Items
From VegNews
More than 100 7-Eleven locations on the East Coast are now carrying grab 'n' go vegan meals.
---
Michelle Obama and Olive Garden team up for healthier kids meals
From Eatocracy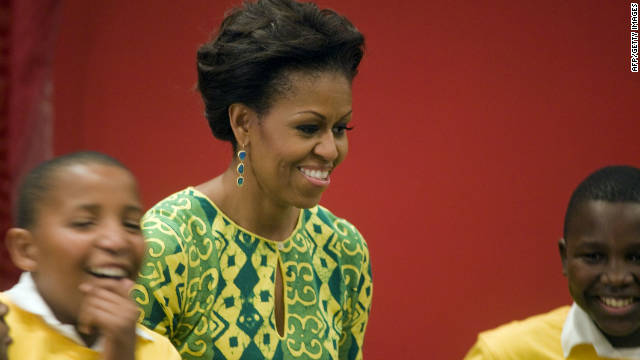 Photo from Getty Images
Darden Restaurants, the world's largest full-service restaurant company and the parent organization behind popular chain eateries including Olive Garden, Red Lobster, LongHorn Steakhouse and Bahama Breeze, announced today that it is committing to reduce the calorie count and salt content of its food and provide more nutritious options on its children's menus.
---
Signs you're in a good restaurant
From Eatocracy
Yesterday, we learned if the restaurant is already out of the snapper special during the first seating and the waiter wants to know your family tree, chances are Sean Elder, editor in chief of the digital food magazine Real Eats, isn't going to be returning to said eating establishment anytime soon.
---
PeePoo Bio Bags: A Cure For The 'Flying' Toilet
From Treehugger
Photo from Peepoople
A Swede named Anders Wilhelmson designed a very simple solution to this problem – a small biodegradable bag called PeePoo with a bacteria-neutralizing urea liner. The problem with PeePoo was that it needed to prove it worked, and affordably. Thus it has taken a few years for PeePoople, PeePoo's social venture company, to get going. Earlier this year, however, the Dutch postal code lottery gave PeePoople nearly $2 million – thereby funding the product's introduction in Nairobi, Kenya through 2013.
---
Weekday Vegetarian: Tomato Zucchini Tart
From Treehugger
Photo from Kelly Rossiter
Kelly's garden is still providing her with a huge bounty of tomatoes and zucchini, in fact, there are still zucchini blossoms on the plants. Here is a recipe that uses both, to great effect. She should have overlapped the tomato and zucchini topping and used up a bit more, but it was a really delicious tart in any case.
---
Unusual Bamboo Bicycle Designed For Ultimate Affordability
From Treehugger
Photo from Yanko Design
Designer Paulus Maringka has come up with an intriguing bamboo bike frame. But this one isn't just for eco-minded urban cyclists — it's aimed specifically for affordable solutions to people in developing nations.
---
Supermarket Sausage Ad Banned as Misleading: Not Shocking Enough
From Treehugger
Often, when we hear of censorship of film, it's because the footage is too shocking or disturbing. Not so in the case of UK supermarket Tesco's sausage ad. It's found itself banned by the country's Advertising Standards Authority because, basically, it wasn't shocking enough. Apparently the pigs that end up in the company's bangers are not raised in quite as happy conditions as the video would suggest.
---
Greek Company Gives Pay Rises to Employees That Protect the Environment and Themselves
From Treehugger
As of the first of this month, the Coco-mat's employees in Greece will earn 5% more in their wages if they start using a bicycle to get to and from work, and a further 3% more if they quit smoking.
---
New Species of Dolphin Discovered in Australia
From Treehugger
Photo from Wikipedia Commons
Researchers in Australia say they've made a remarkable discovery, identifying for one of the first times in over a hundred years a brand new species of dolphin. And, in addition to being the latest of its kind to be uncovered, this new type of dolphin, named Tursiops australis, is also among the rarest. So far, biologists have only found a handfull of places along the coast of Australia where they exist — and there's only thought to be around 150 of them in existence.
---
Growing Cities: A Film About Urban Farming in America
From Treehugger
Photo from Linda N.
Urban farms each have their own identity, their own feel and methodology. But the one thing they have in common is idealism, and the sense that our cities can be so much more than they currently are. They can be centers of growth and nourishment, rather than lot after lot of stores or, in some cases, nothingness.
---
Laptop Becomes A Stovetop with Electrolux Mobile Kitchen Concept
From Treehugger
Photo from Yanko Design
Designer Dragan Trenchevski has come up with a concept any college student would love. Or anyone is living in a tiny apartment, really. It is a laptop that acts not only as a digital cookbook, but as a cooking surface too.
---
Rare Hawksbill Sea Turtles Discovered Living In Mangroves
From Treehugger
Photo from Simone Rossini
This is a Hawksbill turtle swimming in a coral reef, a place it is expected to be found. However, Hawksbill turtles have found a new place to live — mangroves. Previously unknown to live in this type of ecosystem, it seems the sea turtles have come up with a new survival tactic.
---
The Census Bureau's Shocking Poverty Stats
From Mother Jones
It's no secret that the economy is in rough shape—but the latest poverty figures released by the Census Bureau on Tuesday are nonetheless shocking. The overall poverty rate has reached a record high and the number of people living in deep poverty—that is, below 50 percent of the poverty level, or $11,000 for a family of four—is the highest its been since 1975. Experts are predicting that things are only going to get worse in the years to come.
---
Teaching Kids to Go Green, the Musical Way
From Our Hen House
"I recently went gaga about an Australian children's musician and storyteller, Renata (who has just one name, like Madonna, which accounts for part of my fascination). What makes Renata special is the unique and critical message she's focusing on: she's teaching kids ways to be kinder to the planet and all its inhabitants — and she's doing so in fun, accessible, inspiring ways. Renata's new DVD, "Go Green with Renata," which is set to launch on October 9 at a free event in Brisbane, includes songs like "I Love Animals," "2 Fruits 5 Veggies," and a rap song called "Go Green" which would put even new vegan Anne Hathaway's rapping to shame (have you heard Hathaway's paparazzi rap? I'm obsessed)."
---
Girls' Night Gnoshing: Italian Roasted Veggie Dip
From From Here Now
"Each Wednesday a group of my friends and I get together for a night of testosterone-free hanging out. Sometimes we head to Roosevelts (if they are not having an obnoxious DJ) for gravy cheese fries & $4 mixed drinks and sometimes we gather at someone's home for a BYO night. Either way, it's sure to be a night of laughter, booze and good food."
---
Birdfoot's Grandpa
From Save the Kales
"please enjoy this poem titled Birdfoot's Grandpa. I found this poem years ago while living near Ithaca, NY in the very vegan friendly ABC Cafe near Cornell University. A few times a month, me and the Farm Sanctuary staff would go there to feast on giant bowls of the best guacamole and salads covered in a baked tofu called tofu kan."
---
Not Without My Carbs!
From Girlie Girl Army
"Anyone who tells us real women to not eat carbs can bite our juicy round tushy's! We eat bread and we love every bite. Optimal is a fresh, hot, gourmet ciabatta bread from Fairway, but once in a while a pre-packaged bread is a consolation prize when you can't get to the bakery. Though we eat our share of Ezekiel bread, there is nothing that comes close to the delicious, almost cake-like texture and taste of Rudi's Bread. We aren't going to lie to you, the soft divine slices totally contain some brown sugar and molasses, but the rest of the ingredients read like a health food manual, and every bit of it is organic. It's definitely special occasion bread, and it's not something I keep in the house regularly (because it would be gone by noon,) but it's the ultimate replacement for fresh bread when popping in to Whole Foods or the health food store for some basics. And it's certainly a lesser evil for kids over sugary cereals for breakfast or lunch sandwiches."
---
The New Champs & Macadamia Cheesey
From The Discerning Brute
"I wrote about Punk Rawk aged nut-cheese a few weeks ago, and at the time I had only tried the cashew cheese. I recently got my hands on some of the macadamia cheese in the herbed and smoked-salt flavors. The Macadamia cheese has the same satisfying, complexity and lusciousness that artisan cheese-lovers will enjoy, but unlike the ultra-creamy cashew cheese, the mac has a soft, pulpy texture. The rind has more intense sharpness, and the center is fluffy and white. I tried the cheese in three ways. First I added it to a farmer's market salad of kale, heirloom tomatoes, sweet onion, and mandolin-sliced white radishes with a basic vinaigrette. Second I ate the cheese stacked on thick tomato slices with truffle oil and a sprinkle of yeast flakes, and finally I ate it by itself with a table red from Vegan Vine. Yum. The level of innovation in vegan cuisine continually astounds me. One day soon "vegan" won't be a dirty word to mainstream foodies (AKA, ultra-conservative gluttons). I promise."
---
Food fighters: Don't give up on the farm bill
From Grist
When the 2008 Farm Bill passed, Michael Pollan took to the pages of Grist to ask, "why so little change on the key issue? Why didn't we get a food bill, rather than another farm bill?" Then he tasked food reformers to prepare for the next one, when change might really happen:
---
Food Studies: The pen is as mighty as the plow
From Grist
"When I moved to Minneapolis from Brooklyn in August, 2009, I didn't know what to expect. I'd always lived on one of the coasts — I was born and raised in Berkeley, California, followed by seven years on the East Coast for college and work. The Midwest was a relatively foreign concept for me, and as I drove my packed car toward Minnesota, I mostly imagined seas of corn and piles of snow."
---
Cheap date: Take Slow Food's $5 challenge
From Grist
Say you want to eat healthy. You even support the idea of a more sustainable food system. But really embracing either might mean breaking out of an entrenched microwave meal routines, carving a big slice out of your budget, or—gulp—learning to cook.
---
Return of the Toxic Avenger: Rhino Advocate Proposes Poisoning Horns to Protect Them from Poachers
From Scientific American
Last year, the owner of the Rhino & Lion Nature Reserve near Johannesburg, South Africa, proposed a new idea to help save rhinos: poison their horns. By injecting the horns with cyanide—a process that would not harm the rhinos but could sicken or even kill anyone who tried to consume "medicine" made from the horns—Ed Hern theorized that he could disrupt the market for illegal rhino horns.
---
Nobody 'Likes' 'We ? Wool'
From PETA
There's nothing chic about mutilating sheep, and the Australian wool industry's efforts to make the sweater set appeal to the younger set via its Facebook page have hit a snag. After PETA asked its supporters to post photos from our "We ? Sheep" album, which show the unlovely cruelty behind the wool industry's "We ? Wool" page, the page was shut down!
---
O Magazine Tells Fur to F-Off
From Reinvent the Icon
In a brave and bold move, Susan Casey, Editor in Chief of O Magazine, Oprah's top-selling periodical, lets the world know that everyone at O loves fashion and loves the look of fur, but only on its original owners:
---
Lose Weight And Get Healthy With The 21-Day Vegan Kickstart Program
From Huffington Post
There has been an incredible amount of science coming out of late in support of a plant-based diet, and how it helps you to lose weight and turn your health around. It is becoming all the more evident that a nutrient-dense, high-fiber diet can not only tame obesity, but it can prevent and reverse the killer diseases of our time: heart disease, Type 2 diabetes and even some kinds of cancer.
---
B Corps: Why Should I Care?
From Care2
'Greenwashing' has taken hold of American markets. It is difficult to tell good products from just good marketing. B Corp Certification provides something of substance, a certification people can trust. Through a company's B Impact Assessment on bcorporation.net, anyone can access performance data about the social and environmental practices that stand behind their products. This makes it easier to find greener, healthier, more socially responsible companies and contribute to building a better tomorrow.
---
The fight for pure food: Easy-to-swallow government regulation
From Philly.com/food
Visitors patrolling the aisles of the National Archives' best-attended show in years last week may have felt curiously at home, though the images on display – warnings about toxic candy, putrid tins of Chicago-packed meats, and ketchup bottles blowing their tops – were hardly soothing.
---
From Harvard, a Different Take on a Healthy Plate
Photo from Harvard School of Public Health
To address some perceived flaws, experts from the Harvard School of Public Health and Harvard Health Publications have unveiled their own iteration of the new icon, which they're calling the Healthy Eating Plate.
---
Glee Star on Capitol Hill Seeking End to Invasive Research on Chimpanzees
From The Humane Society
Actress Charlotte Ross, The Humane Society of the United States and other animal welfare experts will meet with legislators and participate in a Congressional briefing about the Great Ape Protection and Cost Savings Act (S. 810/H.R. 1513). The legislation, sponsored by Senators Maria Cantwell, D-Wash., Susan Collins, R-Maine, and Bernie Sanders, I-Vt., and Representatives Roscoe Bartlett, R-Md., Steve Israel, D-N.Y., Dave Reichert, R-Wash., James Langevin, D-R.I., and Edolphus Towns, D-N.Y., has strong, bipartisan support in Congress and would phase out invasive research on chimpanzees in laboratories, retire the more than 500 government-owned chimpanzees to sanctuaries and end breeding of chimpanzees for invasive research while saving taxpayers approximately $30 million per year.
---
10 Top Online Green Stores
From Green Buzz
1. National Trust
2. The Green Loop
3. Blue Ridge Eco Shop
4. Oxfam
5. Ecocentrik Apparel
6. Nature's Basin
7. Viva Terra
8. Natural Pod
9. Alternative Outfitters
10.Reuseit
---
FDA to Dr. Oz: Apple juice is safe after all
From MSNBC
Visit msnbc.com for breaking news, world news, and news about the economy
The host of the nationally-syndicated "Dr. Oz Show" is standing by his report on arsenic levels in store-bought apple juice, saying the levels found in some brands made them unsafe for consumption. But the U.S. Food and Drug Administration refutes the show's report, calling it "irresponsible," and says drinking all brands of apple juice is safe.
---
Bigger jellyfish are inheriting the ocean, study finds
From MSNBC
Photo from Jack Guez / AFP – Getty Images
A study released Thursday found that the spineless creatures are becoming the dominant predator in areas where fish species are being reduced by overfishing and habitat destruction.
---
Heirloom Beans: A Taste Of Yesterday, Today
From One Green Planet
"I recently conducted a very unscientific survey. The audience was comprised of a sample of well-educated adults in a major metropolitan area (aka about a dozen of my colleagues at work.) The subject? Beans."
---
When it Comes to Animal Rights, Who is an Abolitionist?
From One Green Planet
An abolitionist is a person who has the sincere intent to abolish something, who has no intention to perpetuate whatever it is they intend to abolish, and who acts, in good faith, consistently according to their beliefs. A person must satisfy all three of these conditions in order to be an abolitionist.
---
Recipe: Vegan Lasagna
From One Green Planet
The beauty of this recipe is that you can truly fool your meat and cheese loving friends. I baked this lasagna once for a potluck and everyone devoured it, declaring it the best lasagna they had ever tasted. I only announced at the end of the evening that "no animals were harmed in the baking of this delicious lasagna!" Mangia!
---
Why I love fair trade
From The College Green
"This summer, my mother and I hopped in the car to visit the quaint city of East Lansing, Michigan, a mere 8 hour drive for us simple Iowa girls. We had our eyes on the prize – a certain Irish band– but before our lifelong dreams of concert wonder were fulfilled, we had some time to kill. We walked around the vibrant downtown, did some shopping at local clothing & music stores and even did a little bit of guerilla weeding (because we're really, really cool)."
---
Serving US Poor a Cold Cup of Bitter Tea
From CommonDreams.org
It seems the only federal monies the right wing in this country likes to see spent is for state-sponsored executions and subsidies for corporations and the wealthy.
---
Can We Increase Gross National Happiness?
From CommonDreams.org
The small Himalayan kingdom of Bhutan is known internationally for two things: high visa fees, which reduce the influx of tourists, and its policy of promoting "gross national happiness" instead of economic growth. The two are related: more tourists might boost the economy, but they would damage Bhutan's environment and culture, and so reduce happiness in the long run.
---
That Was My Brother's Death You Were Cheering, You A$$holes!
From Daily Kos
From his sister Susan, the searing tale of the death of Steve Patience, who made hand-crafted guitars and who died a painful, uninsured death from metastatic cancer. He was 63.
---
Boost broccoli's cancer-fighting power with spices, like mustard, horseradish or wasabi
From Daily News
Broccoli is good for you but there's a trick to make it work even harder. Adding mustard, horseradish or wasabi to your broccoli has been found to significantly boost its cancer-fighting ability in a new study published this week.
---
Unearthing downtown's inner vegan with a new food crawl
From Los Angeles Times
"We're halfway through a bowl of menudo at downtown's cavernous Mas Malo during Urban Food Crawl, a new vegan-food walking tour of downtown's Historic Core, when the lull sets in. That post-Thanksgiving feeling of having been beaten into satiation by a hodgepodge bounty of tastiness that's left us yearning for sweatpants. It's around 4 in the afternoon, and balmy, and the table's gone silent, slack in our chairs from the sheer task of it all. And we're only halfway through this gauntlet."
---
Moral Disengagement and the Psychology of Slaughter
From Eating Plants
"The following quote comes from a fascinating article I'm reading called "Moral Disengagement and Support for Nonhuman Animal Farming," published in the journal Society and Animals (2011):"