News for September 13, 2011
News Today includes stories about Kale, big six, food security, donkeys, tea party, Centenarians, Child Starvation Death, Perennial Plate, elephants, animal abuse, bull fighting, dolphins, crabs, Orangutans, whales, penises, diabetes, vegan diet, Compassionate Fall Fashion, weeds, Bycatch, Vertical Farms, Deer-Resistant Gardens, Pet Products, Cleveland, USDA, fur, fashion, Food Day, Locavore, PETCO, Nestea, University of Texas, Wild Animal Acts, Ryan Gosling, Uninsured, Meditation, Cameron Alborzian, portions, Meditate, Animal Fighting, School Lunches, Food Movement, anteater, Chopsticks, Vegan Boots, food prices, Cows, and recipes.
Produce, not pills to increase physical attractiveness
Kale works better at boosting antioxidant levels in the skin than synthetic beta carotene, lutein, and mixed carotenoid supplements.
---
The Big Six: USDA's Newest Banned Bugs
Ever since the Jack in the Box outbreak of 1993, E. coli O157:H7 has been understood as a major public health threat. It was declared illegal by the U.S. Department of Agriculture the following year, and ground beef is now tested regularly for its presence.
E. coli O26
Strawberries and/or Blueberries (MA)
Colorado Correctional Facility
Ground beef, ME and NY
E. coli O45
New York Correctional Facility
North Carolina – Farm Animals
E. coli O111
Country Cottage Restaurant, OK
Private Wedding Reception, ND
E. coli O103
Washington State, Banquet Hall Punch
E. coli O121
Connecticut Lake Water
Wendy's Restaurant, UT
E. coli O145
Multistate Freshway Lettuce Outbreak
Zilman's Meat Market, WI
---
Securing a food future in cities: a case study in repurposing military bases
The Alameda Point Collaborative Urban Farm is a one-acre farm growing a variety of fruits, vegetables, herbs, eggs, honey, and-with the introduction of new aquaculture ponds-will soon offer fish as well. Olive and stone fruit orchards surround neat rows of plants, but beyond this farm, towering cranes are positioned on the horizon. This farm is in a unique location.
---
Donkey Dumping On The Rise As Drought Hits Texas
Donkey abandonment is on the rise in the Lone Star state, with cash-strapped owners abandoning the animals in droves.
---
GOP Tea Party Debate: Audience Cheers, Says Society Should Let Uninsured Patient Die
What do you tell a guy who is sick, goes into a coma and doesn't have health insurance? Who pays for his coverage? "Are you saying society should just let him die?" Wolf Blitzer asked. "Yeah!" several members of the crowd yelled out.
---
Number Of Centenarians In Japan Tops 47,000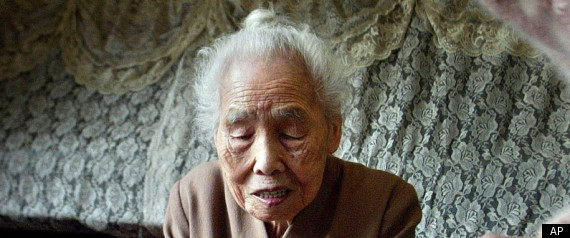 Quickly graying Japan said it has a record 47,756 people aged 100 or older – most of them women.
---
Convictions Upheld Against Vegans Jade Sanders And Lamont Thomas In Child Starvation Death
The Georgia Supreme Court has upheld the murder convictions and life prison sentences given to an Atlanta vegan couple who were charged with allowing their baby to starve to death.
---
Nation's Food Anti-Terror Plans Costly, Unwieldy
One of the deepest fears sweeping a shattered nation following the Sept. 11 attacks was that terrorists might poison the country's food.
---
The Perennial Plate Comes to Visit
It's pretty great having chefs as friends, but when they make house calls, well, that's off the charts. Last week, Daniel and Mirra, the cross-country traveling duo behind my favorite web series The Perennial Plate landed for their first visit to Martha's Vineyard.
---
Myanmar: Pa Hae Po, Thai Elephant, Steps On Land Mine
Thai veterinarians say a 22-year-old elephant was wounded when he wandered into neighboring Myanmar and stepped on a land mine.
---
Animal Abuse Protests In Bogota, Colombia Involve Semi-Clothed Activists Against Horse Drawn Carriages
Animals rights organization AnimaNaturalis is urging the government to comply with a plan to replace all of the 1,709 horse-drawn carriages that are a common sight on the streets by January 31, 2012, Elespectador.com reported.
---
Spain Killer Bull Named 'Mouse' Is 'Proof That The Bull Runs Are Barbaric And Medieval'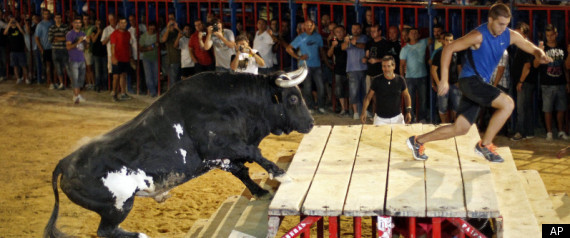 With more than 3,000 fans cheering, a hulking, black-and-white fighting bull named "Mouse" chased one daredevil runner after another, trying to flip them airborne and skewer them as he did a month ago in a fatal goring that enshrined his reputation as Spain's most feared and famous beast.
---
'Dolphin Tale': Art Imitates Life In New Movie Featuring Harry Connick Jr., Morgan Freeman
The little injured dolphin they called Winter couldn't have come along at a better time for the Clearwater Marine Aquarium, a rustic sea life rescue center occupying the city's old sewage treatment plant.
---
Giant Red Crabs Take Over 'Antarctic Abyss,' Climate Change Blamed
Giant animals colonizing the "Antarctic abyss" may sound like a plot out of a blockbuster horror movie. But scientists say this phenomenon is now actually happening. According to a report published in the Proceedings of the Royal Society B, large crabs stretching almost a meter wide have invaded the edge of the Antarctic, destroying ecosystems that took millions of years to build.
---
No More Cigarettes For Shirley The Smoking Orangutan In Malaysia
A captive orangutan often spotted smoking cigarettes given to her by zoo visitors is being forced to kick the habit, a Malaysian wildlife official said Monday.
---
Whale Stranded Off Florida Keys Goes To SeaWorld
The 1,100-pound, 12-foot-long female pilot whale calf arrived at SeaWorld early Monday. The whale was placed in a water-filled transport unit for the 300-mile trip from the Marine Mammal Conservancy in the Keys.
---
Big 6 E. Coli Strains Will Be Banned From Ground Beef In March
The USDA will ban the sale of any ground beef tainted with the notorious "Big Six" strains of E. coli starting this March, the New York Times reports. The half dozen join the most common virulent strain of E. coli, O157:H7, which was banned in 1994 after a deadly outbreak of the disease at Jack in the Box restaurants. Once the ban takes effect, meat producers will be required to test their product for all seven strains, and will not be allowed to sell any meat found to harbor them.
---
10 Penises People Actually Eat
Goat
Ox
Sheep
Cow
Deer
Yak
Dog
Donkey
Seal
Kangaroo
---
Diabetes "massive challenge" as cases hit 366 million
The number of people living with diabetes has soared to 366 million, and the disease kills one person every seven seconds, posing a "massive challenge" to healthcare systems worldwide, experts said on Tuesday.
---
Veg-Heavy Diet Cuts Cancer Risk
A new study has found that women who eat a primarily plant-based diet have a significantly lower risk of developing breast cancer.
---
Spinach-Artichoke Dip
Spinach-artichoke dip is lightened with soy and spiced with green chiles. The flavors blend and intensify after it sits in the fridge for a while, so plan to chill it for an hour or more before using.
---
Compassionate Fall Fashion
The weather may be cooling down, but cruelty-free fashion is only getting hotter with this season's best looks.
---
Unnatural Selection: Why Encouraging Weeds May Be Good Farming
While many old-school gardeners and farmers talk in terms of a never-ending battle with invading hoards, a more interesting, nuanced approach is also possible. What if we could choose our weeds, and even enlist them as allies?
---
150 Kenyans Incinerated While Gathering Gasoline From a Leaking Pipeline
Try, for a minute, to imagine this scenario: You live next to a massive oil pipeline. Rather against your will, but you do. You know it's an oil pipeline, though you usually don't think about it too often. It's just there. One day, a cacophonous crowd alerts you to the fact that this pipeline is leaking copious amounts of refined oil, gasoline. The stuff's just flowing out.
---
Endangered Short-tailed Albatross Killed As Bycatch by Fishing Boat
The Short-tailed Albatross was nearly driven to extinction by the feather trade. The species has been making a slow but steady comeback after years of hard work by conservationists; however, it isn't out of the woods yet and that makes a recent loss keenly felt. In a recently released report, it was revealed that a longline fishing boat off the Oregon coast killed a Short-tailed Albatross this past April. Longline fishing is known to be a significant threat to seabird species, including albatross. The incident has spurred consultations between National Marine Fisheries Service and the U.S. Fish and Wildlife Service under the Endangered Species Act.
---
Summer In A Mason Jar: 3 Simple Recipes and Tips for Getting Started with Preserves
Three recipes, that will inspire you to pick up your tongs and a nice big pot, and put the last of summer in a mason jar.
---
Vertical Farms For London Are Lovely Green Eye Candy
Vertical farms may be pie in the sky, but they are a lot of fun for architects with time on their hands. AWR recently organized a competition to design a vertical farm with a residential use called LOFT 2011.
---
Planting Deer-Resistant Gardens is Possible
Called "50 Beautiful Deer-Resistant Plants", it is a lovely compendium of the fifty prettiest annuals, perennials, bulbs and shrubs that deer don't eat. Even if you don't have deer in your garden, it is a beautifully-photographed guide to some little known, and quite stunning plants.
---
Old TVs, Suitcases and VCRs Upcycled into Vintage Pet Products
Design firm AtomicAttic loves vintage, and vintage plus the urge to create new things is the perfect recipe for upcycling. Their most interesting work is made for pets. In Miles and Aimee's workshop, old television sets, VCRs, suitcases and reclaimed wood become beds and food bowls.
---
Cleveland, Other Cities Could Produce Most of Their Food: Ohio State Study
Cleveland and other post-industrial North American cities have the potential to generate up to 100 percent of their current needs for fresh produce and other food items — retaining millions of dollars in the local economy, creating new jobs, and spurring additional health, social and environmental benefits.
---
It's All Happening at the USDA
If you're going to be anywhere near DC on Wednesday, September 21, the USDA will be the place to be. Yes, you heard me correctly. The USDA will be holding one of its Future Trends in Animal Agriculture Symposia, and this time the topic will be "The Polarization of Animal Welfare and Animal Rights Issues: Good or Bad for the Animals?" I actually have no idea what that title means, but it certainly is an indication that animal agribusiness, and the government agency that so ably represents it, is getting more and more worried.
---
Fur Season Hits Fashion Week (& Pinnacle Hits Them Back)
Fur means animals tortured, anally or vaginally electrocuted, and then skinned and chemically treated to make a coat that is (in this day and age) completely unnecessary. Want to know what arctic explorers wear in the ice cold? Synthetics! That's right, you are more likely to win friends with fleece than fur! With all the fabulous alternatives to fur (um, Vaute Couture coats, anyone?) why on earth would a fashionista with a heart (aka a compassionista!) participate in a trend that is cruel and violent. If you love your dog, then make them earmuffs to match your fur coat – or don't wear fur at all.
---
Fashion's Night Out
MooShoes along with Vaute Couture & Cri De Coeur. The event was hosted by the queen of the glamazons Chloe Jo Davis of Girlie Girl Army, featuring fare from Dun-Well Doughnuts, Blossom Du Jour, The Vegan Vine wine, & Sherry's Short Cakes and had lip-smacking giveaways from the awesome, new vegan cosmetics company, Obsessive Compulsive Cosmetics.
---
Get Ready for Food Day
Join Nourish and thousands of individuals and groups in celebrating Food Day on October 24. Modeled after Earth Day, Food Day is an occasion to teach and learn about local and seasonal food, healthy diets, sustainable agriculture, food access, school and urban gardens, and children's health.
---
The Locavore Movement's Mistake: Deregulating Animal Slaughter
Over the past ten years the United States has undergone a revolution in the way we eat. Communities throughout the country have localized food systems, placed power back in the hands of local farmers, and shortened the distance between farm and fork. The benefits of this trend have been considerable. Consumers have become more critical of overly processed food, better aware of the connection between diet and health, and more appreciative of eating seasonally. I've been critical of this movement from the start, but I admit it has been a cultural achievement of historical significance.
---
Would You Barbecue Your Dog?
Would you get out your grill and start barbecuing a slab of dog ribs? Hope not! That's the point that PETA's "pigs" made at Charlotte's BBQ & Blues Festival—that every slab of meat comes from a thinking, feeling individual who was slaughtered in ways that would be illegal if the victims were dogs.
---
PETCO Leaves Animals to Drown in Flood
PETA is calling for a criminal investigation and appropriate charges after PETCO left hundreds of caged animals to die in its Johnson City, New York, store in massive flooding caused by Tropical Storm Lee.
---
PETA Forced to Get Nasty With Nestea
Copy
---
University of Texas Lab Cited for Animal Abuse
After receiving damning reports from someone working inside the University of Texas Medical Branch (UTMB), PETA filed a complaint with the U.S. Department of Agriculture (USDA) earlier this year. The USDA found, among other abuses, that sheep who had undergone invasive experimental surgeries (including one sheep who could not stand up afterward) apparently received no pain relief at all, that a goat died in surgery without proper monitoring during anesthesia, and that experimenters using ferrets in an infectious-disease study neglected to consult with veterinary experts. The USDA noted that experimenters failed to provide basic post-operative pain relief to animals who had been subjected to invasive surgeries—including allegedly leaving a dog who had tubes implanted during surgery to die without any treatment. The agency has cited UTMB for violating the minimum standards of the Animal Welfare Act. UTMB has "ongoing" problems with oversight, says the agency.
---
Simon Says: No More Wild Animal Acts
The next time you hit a mall owned by Simon Property Group, you'll probably find plenty of shoes, sweaters, and giant pretzels—but what you won't find are whips and chains. That's because after meeting with PETA and hearing from countless concerned shoppers who responded to our action alert, Simon—the largest real estate company in the country—has banned all exotic-animal exhibits at all of its properties. For enacting this lifesaving policy, Simon has been given a PETA Proggy Award ("proggy" stands for "progress") for Best Animal-Friendly Real Estate Company.
---
PETA Investigation: Deadly Horse Trials
PETA investigators have released the following undercover video, showing horses as they were forced to run so fast that they suffered broken bones, burst aortas, and other potentially fatal injuries. This video footage will be used to push thoroughbred auction companies to institute PETA's proposed reforms.
---
Ryan Gosling, Our Hero
Ryan Gosling has certainly earned his cape this month. First, he broke up a street fight in Manhattan. Then, the Academy Award-nominated actor leapt to the defense of chickens and turkeys on factory farms. Gosling wrote a letter to the U.S. Department of Agriculture (USDA) on PETA's behalf calling on the agency to revoke its approval of a foam-based extermination method that kills birds by submerging them in foam to slowly suffocate them. This process can take up to 15 minutes and is as traumatic and panic-inducing as killing birds by choking them, strangling them, smothering them, or burying them alive.
---
The Churn Behind The Stable Rate For The Uninsured
At first glance, today's report from the U.S. Census Bureau on the number of Americans without health insurance in 2010 looks, well, a little dull. About 16.3 percent of people in the country were without health insurance, which "was not statistically different from the rate in 2009," the report points out.
---
Meditation Can Reduce Health Care Costs
Stress can contribute to a wide array of health problems, and finding ways to reduce stress could presumably impact overall health care costs as well. A new study suggests that meditation can do just that.
---
Ellen DeGeneres' Guru on Conscious Living
With Ellen DeGeneres' recent spate of good news — celebrating her third anniversary with wife Portia de Rossi, taking over Oprah's time slot in more than 25 markets, collaborating on a new comedy series with de Rossi — I couldn't help but wonder how DeGeneres is handling her good fortune. My ever-enquiring mind also wanted to know how Ellen's guru, Cameron Alborzian, suggest she view her current embarrassment of riches.
---
5 Mind Tricks To Help You Keep Portions In Check
"Dieting" is a drag. Yes, I talk about losing weight. All. The. Time. So I certainly don't mean to imply that embarking on a effort to shed pounds can't feel empowering and exciting; I'm simply saying that weight-loss tactics that focus on how much you're cutting back — the sort of behavior I'd refer to "dieting"—isn't all that fun. So, while I'm a huge proponent of keeping a food diary to lose weight — research shows that it works — not everyone agrees that it's a worthy use of time. (What else works for weight loss? Discover the 4 Secrets of Skinny People). Even thinking about how to cut calories can, to some, feel like a total waste of brain space. And so, for you, my friends, I offer these simple mind tricks for getting slim:
---
If You Can't Meditate, Chop Vegetables
…Or wash the dishes, or knit, or run the vacuum cleaner. Surprise, surprise, these simple activities feel as wonderful as a session of meditation: I can feel my pulse rate slow down, my blood pressure stabilizes, and my muscles relax. I've even had some 'Eureka' moments (the idea for one of my books came to me while ironing clothes) and at least one 'Aha' moment, when everything suddenly fell into perspective.
---
Tougher Animal Fighting Law Takes Effect as The HSUS Conducts Training at N.Y. State Sheriffs' Association Conference
In New York, anyone who knowingly attends a dogfight or cockfight will now be charged with a misdemeanor crime punishable by up to three months in prison and a $500 fine. A second offense will carry up to a year in prison and a $1,000 fine. The new law will be highlighted this week at the New York State Sheriffs' Association and New York State Sheriffs' Association Institute's 10th annual "Law Enforcement Supervisors' Training Conference" during a workshop conducted by Sgt. Michael Gabrielson of Ohio's Kettering Police Department on behalf of The Humane Society of the United States, the nation's largest animal protection organization.
---
Urge Congress Not to Stand in the Way of Healthier School Lunches
As kids across the country head back to school, some members of Congress want to roll back progress on improving school lunches, despite the sky-high childhood obesity rates.
---
Bringing Color to the Food Movement
Eating local, organic produce and demanding healthier school lunches are decidedly yuppie white pastimes in some circles. But the notion that white folks are single-handedly fighting the good food fight is a misleading one, and a new nonprofit initiative is preparing to prove it.
---
Ugly anteater being wiped out by smugglers
As the 20 cardboard boxes bound for China rolled through the X-ray machine at Jakarta's airport, Indonesian customs officials suspected what was inside didn't match what was declared. Instead of fresh fish, a closer look revealed the meat and scales of the most illegally trafficked mammal in Asia: the pangolin.
---
It All Adds Up: The Case for Carrying Chopsticks
Chopsticks are regular table settings for a billion-plus people; and they have been used in China for more than three thousand years. I enjoy using them myself when I visit my local vegan restaurant, SuTao Café. But I've gone BYO: I keep a set of chopsticks in the glove box, briefcase, and daypack. Ever since I found out, that is, that Chinese factories produce tens of billions of chopstick packets each year—cutting down some 25 million trees in the process.
---
Recipe: Nanaimo Bars
Nanaimo Bars, named for the British Columbia town where they first appeared, have become a ubiquitous Canadian sweet snack. They are so popular that there isn't a single grocery store here that doesn't carry a mass-produced version of them. Homemade is always better, of course, and with this super easy no-bake recipe, you'll be whipping these up in no time – and making a lot of new friends in the process. All these require for sweet perfection is a little chilling time and, before you know it, you'll be enjoying a diabolically sweet treat – and I mean diabolical. If you have a sweet tooth, these are your dream come true.
---
Vegan Fall Boots
Get vegan boots from Jayma Olive, Steve Madden, Wanted Prague, Toms, Vegan Women, and Alternative Outfitters.
---
Financial speculators responsible for rising global food prices, claims report
The activity of financial speculators is overwhelming agricultural commodities markets, fuelling global food price inflation and hunger, according to new analysis from the anti-poverty group the World Development Movement (WDM).
---
Rosie the Elephant Needs Rescuing
Rosie is a 42-year-old retired (Asian) circus elephant currently living at Endangered Ark in Hugo, Oklahoma. Established and run by Carson & Barnes Circus for its own herd of elephants, it functions as a breeding facility and retirement home. It is not a sanctuary or a circus with performing animals.