News for September 12, 2011
News Today includes stories about Bethlehem VegFest, carotenoid rich fruit, Food Labels, Wild Horses, Genetically Engineered Salmon, Meatless Monday, Dog Heroes, Deep-Sea Fishing, Urban Farming, Elephants, Cows, Birds, White Castle, Americans Can't Cook, cats, animals, Happy Feet, Environmental Footprint, Wood Preservatives, Homemade Wine, Dugongs, Turtles, Eat Local, Gordon Ramsay, gnocchi, soda, Veg Kids, New Vegan Restaurant, Unemployed, Monsanto, Paid Sick Leave, 3D-printed foods, Adulterated, Superweeds, Bluefin Tuna, and recipes.
Golden Glow
How to be more attractive by eating carotenoid rich fruit and vegetables rather than tanning for healthy looking skin.
---
Stumped at the Supermarket? Your Food Label Glossary
A recent study by Yale researchers from the Rudd Center for Food Policy and Obesity found that parents often misinterpret health claims on children's cereals, assuming they are more nutritious than they actually are.
---
Wild Horse Policy Scrutinized In Wyoming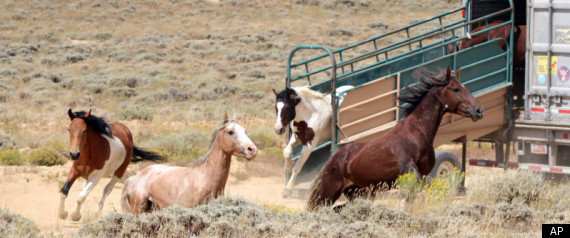 The roundup south of Eden, a tiny town amid a sagebrush sea that stretches to the Wind River Range, marked the start of a new federal policy that puts more emphasis on fertility control and less on horse removal to manage the wild horse population throughout the West. The U.S. Bureau of Land Management policy calls for scaling back its removal of wild horses from Western ranges from 10,000 to 7,600 a year.
---
Genetically Engineered Salmon Waylaid By Congress
Members of Congress are pushing to stop the Food and Drug Administration from approving genetically engineered salmon, saying not enough is known about a fish they say could harm fishery businesses in coastal states.
---
Meatless Monday: Value Added — Slow Food USA Brings Back the Real Value Meal
Long before fast food's so-called value meal, we had real ones. We cooked with the ingredients at hand, with what we could get. For centuries, that which we now call local and seasonal is all anyone knew. The accent was often on beans — cheap, nourishing and filling. How that morphed into fast food in just a couple generations is our loss and corporate food's gain.
---
Dog Heroes: A Look At Heroic Canines Over The Years
While some oppose the use of animals for human purposes, particularly in warfare, most appreciate the heroism of these canines.
---
Rescue Dog Became A Hero On September 11
She may be retired now, but Red was one of the four-legged heroes in the aftermath of the September 11th attacks.
---
Deep-Sea Fishing: Marine Scientists Call For Sustainable Alternatives
An international group of marine scientists are calling for an end to most deep-sea fishing and supportive government subsidies after finding that most deep-sea fisheries are unsustainable.
---
Chicago Urban Farming: City Council Approves New Ordinance
The Chicago City Council approved a zoning code amendment allowing for more widespread urban agriculture Thursday.
---
Kandula, Elephant at Washington, D.C. National Zoo Wows Researchers
Kandula, a nine-year-old Asian elephant at the Smithsonian National Zoological Park in Washington D.C., has wowed researchers by pushing a box to create a perch to reach hanging fruit, showing that elephants have spontaneous problem-solving skills, according to a study published last month in the science journal PLoS One.
---
Bomb-Sniffing Dogs Named After 9/11 Victim
Spencer is among more than 530 police officers who work with bomb-sniffing dogs named after police officers, firefighters and others killed when they responded to the 9/11 terrorist attacks. His job, like that of other officers assigned to train stations, airports and bus terminals, is to prevent another attack.
---
Cambodian Boy Suckles From Cow After Parents Leave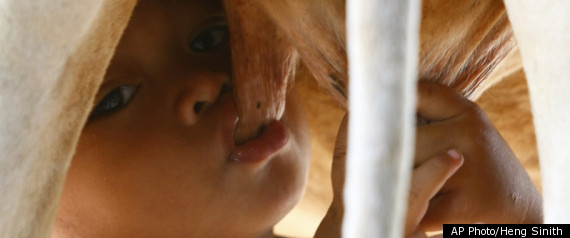 A Cambodian man says his young grandson has lived partly on milk he suckles directly from a cow since the boy's parents left their rural village in search of work.
---
Bird Walking Down an Escalator is a Metaphor for Your Life
This video of a seagull trying to walk down an up escalator in a mall needs to be narrated by Werner Herzog. Stat.
---
Do Women Love Their Dogs More Than Men?
He doesn't talk back. He doesn't interrupt. And he's always up for a cuddle. Your dog is clearly an attentive partner, certainly beating out the cat (who either falls asleep or walks away) and the goldfish (who keeps giving you the cold shoulder). But does your pooch beat out even your human partner or husband?
---
Martin Kessman, Overweight Man, Sues White Castle Because He Can't Fit In Seats
A 290 pound man is suing the White Castle fast food chain because, he claims, their seats aren't built for a person of his size.
---
Cooking Survey Reveals That 28% Of Americans Can't Cook
A new survey of American adults reveals that, despite the tireless efforts of the Food Network, Mark Bittman and KitchenDaily, 28% of Americans — almost a third — don't know how to cook. Said ignorance was the second-most-cited reason for not cooking regularly.
---
Green-glowing cats are new tool in AIDS research
U.S. scientists have developed a strain of green-glowing cats with cells that resist infection from a virus that causes feline AIDS, a finding that may help prevent the disease in cats and advance AIDS research in people.
---
Peter's Blood Orange Quinoa
Here's another recipe from Peter, the amazing chef on the set of Gods Behaving Badly. Enjoy!
---
Humans Are Hardwired to Respond to Animals, Says Study
Whether it be the millions of livestock animals sent to the slaughterhouses every year, or the countless species endangered across the world from poaching or habitat loss, it seems too often that non-human life is a merely a commodity — though a recent study suggests that that is not how our brains see things. In fact, researchers from the California Institute of Technology (Caltech) and UCLA say that the region of the human brain which dictates emotions, both positive and negative, is more responsive to the sight of animals than anyone ever expected — even more than when seeing a human face.
---
Fears Arise That Happy Feet May Have Been Eaten
Just over seven days after biologists from New Zealand's Wellington Zoo released their famous surprise guest, a wayward emperor penguin named Happy Feet, back into the waters of the Southern Ocean to make his way home, experts are fearing the worst. For the better part of a week, the world has been able to track his progress towards Antarctica via a GPS device attached to his leg — but in recent days it appears that something may have gone terribly wrong, raising concerns that the world's most beloved penguin was eaten.
---
Why Fewer Work Hours Means a Smaller Environmental Footprint
Last week I got quite inspired by a rather beautiful video on working less, playing more and reducing our impact on the environment. From simple living in tiny houses to the value of DIY culture, we've already seen plenty of ways that people are thinking beyond the earn-spend-consume economic paradigm and toward a more connected, rich and ultimately sustainable economic model of "plenitude". But here was somebody connecting those dots. The creator of that video, Juliet Schor, has an article explaining the "plenitude economy" in mode detail, and it makes a powerful case for why less work and fewer hours would mean a cleaner environment and a more just, equitable economy too:
---
Roasted Mushrooms with Miso-Ginger Butter
This recipe was created exclusively for Treehugger's Green Wine Guide by The Tomato Tart. I first encountered roasted mushrooms with garlic, white wine, and butter. Of course, I fell in love with them instantly. This side, a variation of that dish, is perfect for when I feel like something rich and savory, yet quick to prepare. I decided to mix things up a bit with a miso-ginger compound butter–the mushrooms took on a very dark, sexy flavor. Enjoy this dish with unfiltered sake or an off-dry Riesling. I had it with a glass of Eco-Love Riesling which really picked up the ginger flavors.
---
Wood Preservatives and the Battle of Big Government
We live in strange times. Amidst flying accusations about how the USA got into the current economic state, and who is responsible for it, many a finger has pointed at the burden of Big Government on the backs of small businessmen. Shockingly, this has even raised more than one call to ban the EPA (known among some republicans as the JKOA, Job Killing Organization of America, never mind that the American majority supports the EPA).
---
Homemade Wine From A Homegrown Vine On A Manhattan Rooftop
Labor Day weekend in New York City, I headed to my friend Elyssa's family's annual grape harvest and wine making day. The harvest was not in the Finger Lakes or the Northfork of Long Island, but a subway ride away on Manhattan's Upper East Side. I was told was not to bring a gift and to come wearing clothing that could get sticky. I was intrigued. I imagined the family must craft their wine from grapes delivered from some upstate farm. However, after I was led up four stories of the brownstone, and then up an additional narrow staircase to the roof, I began to comprehend the vertical wonder that is Latif Jiji's family-run rooftop vineyard and winery.
---
Dugongs, Turtles Face Mass Starvation After Storm
Northeastern Australia may have dried out after devastating floods hit the area early this year, but for dugongs and turtles off the Queensland coast, the natural disaster's effects seem to be just beginning: Hundreds of the animals have been washing up dead onshore near the Great Barrier Reef.
---
New Yorkers Called on to Eat Local to Support Irene Hurt Farmers
In the last few years, New Yorkers have developed quite a taste for locally farmed fruits and vegetables. Much of the thanks go to the efforts of GrowNYC, the non-profit whose Greenmarket program brings fresh, local produce to the city.
---
Hell's Broth: Gordon Ramsay Gets Up Close With Shark Fin Soup
Gordon Ramsay has already been assaulted for documenting the shark fin industry. Daniel Kessler wrote that he was showered with gasoline and held at gunpoint in Costa Rica after making his way onto a tiny fishing vessel and taping the illegal trafficking of shark fins. And now you can see why those close to the industry don't want the disparaging footage seen by the general public.
---
Holy gnocchi! How to make perfect potato pillows
When Marco Canora was the chef de cuisine 10 years ago at Tom Colicchio's now flagship restaurant Craft, his gnocchi were described by then New York Times restaurant critic William Grimes as "eye-rolling pleasure bombs" in his three-star review.
---
Make your own soda syrup at home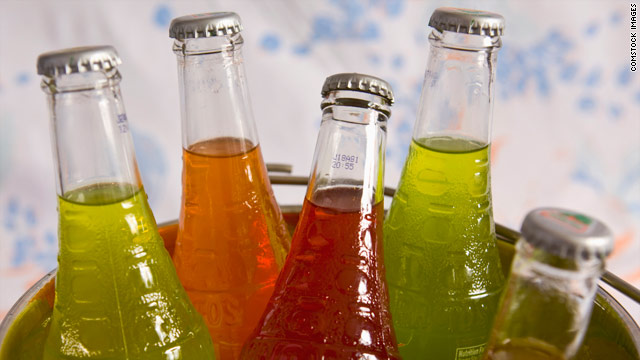 However, there's no need to stick to the store-bought, corn syrup-laden mélange of flavors: Homemade sodas are not only healthier, they allow for experimentation with whatever flavor tickles your fancy.
---
Veg Kids Organizations
From social groups to sanctuaries to summer camps, the opportunities for veg kids to connect with each other are endless.
---
New Vegan Restaurant in NC
Asheville's newest all-vegan restaurant, Plant, opened its doors late last month.
---
The Unemployed "Army" is Now Bigger Than the Actual Army
Not long ago, the city council of Ventura, California, passed an ordinance making it legal for the unemployed and homeless to sleep in their cars. At the height of the Great Recession of 2008, one third of the capital equipment of the American economy lay idle. Of the women and men idled along with that equipment, only 37 percent got a government unemployment check and that check, on average, represented only 35 percent of their weekly wages.
---
Monsanto Denies Superinsect Science
As the summer growing season draws to a close, 2011 is emerging as the year of the superinsect—the year pests officially developed resistance to Monsanto's genetically engineered (ostensibly) bug-killing corn.
---
California's Fruit-and-Veg Behemoth: Too Productive for Our Own Good
In the United States, when people tell you to "eat your veggies," they are essentially urging you to take a bite out of California—or, more to the point, take a a big swig of its increasingly scarce water supply.
---
Seattle Ready to Mandate Paid Sick Leave
In a trend that could help reduce the threat of foodborne disease transmission by food-service workers, Seattle may join San Francisco, Washington D.C. and the state of Connecticut in requiring employers to provide paid sick leave.
---
Bill Would Broaden USDA Definition of 'Adulterated'
The 67-page bill, introduced Thursday in the U.S. Senate with no cosponsors, widens the definition of 'adulterated' meat, poultry, and egg products and adds criminal penalties for food manufacturers that knowingly introduce contaminated food into commerce.
---
Our Three 3's
This past weekend, Mariann and I had the honor of speaking at the first ever Bethlehem VegFest in Bethlehem, PA. Co-organized by activist Jaime Karpovich of the insightful and witty blog, Save the Kales, the VegFest was said to attract over 11,000 veg-curious attendees. We're excited to report that our talk, "Let the Doughnut Do the Talking: Food as Activism," was full to capacity, with a standing-room-only crowd spilling out of the speakers' tent — opting to listen to a lecture about veganism and ways to get involved with "food activism," instead of shopping at the dozens of jewelry and eco-product kiosks, sitting in on a food demo by some of the city's top chefs (many of whom were not vegan but were featuring vegan dishes), or eating at one of the many veg food vendors (including Balasia, where we got a scrumptious quinoa, curry, veggies, and bean bowl for lunch).
---
Day of Reflection on the Little 'Fest That Could
The past 48 hours have been a time of seeking out folks for feedback, constructive criticism, and overall impressions of Bethlehem Vegfest. The responses have been overwhelmingly positive, though I'm excited to continue to improve more aspects next year.
---
Veg Fest & Feast
As I mentioned in yesterday's Weekend Hodgepodge, this Saturday was spent enjoying vegetables, plain and simple. I am an omnivore, and a locavore, no longer vegan or vegetarian, but I love vegetables and was happy to be able to see them in the spotlight this weekend.
---
The Big Enough Company: Creating a business that works for you
We often get asked how we started GirlieGirl Army and what has kept it alive over 15 years, and the answer is always – we do what we love to do. When Amy Abrams and Adelaide Lancaster asked us to elaborate on our journey for their new book; The Big Enough Company: Creating a business that works for you (Portfolio/Penguin, Sept 2011), we were thrilled to be involved. If you've ever considered starting your own business, but didn't want to be weighed down with loans, debt, and formality, this is the book you need to read. We are quoted all over the book, and share many of our secret tips to growing your small business without selling out. If you want our advice, it's in this book. Adelaide and Amy are entrepreneurs, speakers, and authors. They are also Moms and the founders of In Good Company, a first-of-its-kind community, learning center and co-working space for women entrepreneurs in New York City. They have helped thousands of entrepreneurs to successfully create work on their own terms
---
Big Hats & Ravioli; Fashion Week 2012
I attended the Robert Geller Spring 2012 runway yesterday and fell in love with the sports-Noir aesthetic and the big straw hats. Everything was seething in bad-boys-who-could-kick-your-ass-and-look-good-doing-it mystery. I've always been drawn to hats with big brims like these, but they're often too feminine for my taste, or constructed of wool or other animal hairs, so it was nice to see these in a masculine shape made from straw. What's wrong with wool you ask? Think about what wool does as a textile: it's warm and uncomfortable – now apply that to the planet. There are so many wool-producing sheep that they are one of the largest contributors to GHG emissions, especially in Australia and New Zealand. Sorry sustainable fashion folks…. wool is not so eco. Soon after the show, I also realized what this runway reminded me of; Judge Doom from Rodger Rabbit:
---
Could 3D-printed foods make you healthier?
Researchers at Cornell University have developed a 3D printer that can fashion food out of raw ingredients. Potentially, they say, this could mean a new kind of fast food — one that's just as fast, but made out of actual food. "We can make health food more fun, interesting, and appealing with this technology," said one of the scientists at the Cornell lab. "What kid wouldn't eat a space shuttle, even one made of peas?"
---
Superweeds go mainstream
I don't expect that Monsanto takes much notice when articles about superweeds — plants that have developed resistance to its flagship RoundUp herbicide and its active ingredient glyphosate — appear in Grist, Scientific American, Mother Jones or even The New York Times. That's nothing but typical "fearmongering" from the "liberal media" and the biotech behemoth can laugh it off all the way to the bank.
---
Creative Ways to Protect Atlantic Bluefin Tuna
Many people have heard of bluefin tuna, even if they haven't eaten it. Bluefin, which are among the world's most remarkable animals, can reach 1,500 pounds, migrate across the Atlantic, dive to depths of more than 3,000 feet and swim at breakneck speeds. They have also been pursued for centuries for their rich, buttery flesh. Traditional bluefin fisheries used to be sustainable, but loosely regulated industrial-scale fishing changed everything for this amazing fish.
---
Meatless Monday Video Animates the Movement
Meatless Monday have long touted the health and environmental benefits of skipping meat one day a week in favor of fruits, vegetables, beans and whole grains. The reasons to make this simple switch continue to grow: just this week new studies have linked 2.8 million cases of cancer to poor living habits, found that a plant-focused diet can reduce the risk of certain forms of breast cancer, and shown that reducing your meat consumption has a bigger environmental impact than going organic. Given this steady stream of information, it's time to share Meatless Mondays with our friends, family, classmates and coworkers.