News for October 7, 2011
News Today includes stories about avocados, Farming, Hunger, downed animals, Sharks, Immigration, Steve Jobs, Food Waste, Whales, Turtles, dining, Birds, Jean-Claude Van Damme, Walmart, salmon, Cancer, Workers, Perfume, ethanol, Monkeys, ferrets, Theft, Vegan, Documentaries, salmonella, orcas, Crackers, Hope, MindfulEating, Education, Nachos, Factory Farming, Animals, knife, Yoga, Skydiving, and recipes.
From nutritionfacts.org
Persin, a natural toxin found in avocados, appears so effective at killing breast cancer cells that it is being considered as a chemotherapy agent.
---
Hipsters Didn't Invent Urban Farming in Detroit
From Huffington Post
The Perennial Plate Episode 73: Detroit Dirt from Daniel Klein on Vimeo.
There's a lot going on in Detroit. After years of decay, excitement is growing around urban gardens. Previously abandoned lots are being turned into food producing centers. In this video, we follow Greg and Olivia from Detroit Dirt and Brother Nature Produce. They have an acre of empty-lot-land that they've turned into a small farm. On top of that they're developing a compost center in the city for easy access to urban farmers to use. To create this episode we partnered with Food52 who helped coordinate volunteers for the day. Watch the video here and to read more, check out Food52's account of the events.
---
Hunger, Food Insecurity Cost The Country $167 Billion Every Year: Study
From Huffington Post
Nearly one in six Americans are struggling to get enough to eat. And that has placed an ever-growing number of people in the precarious position of being "food insecure," in turn costing the U.S. economy roughly $167 billion annually in a variety of ways, according to a new report from the Center for American Progress.
---
From VegNews
Animal-welfare organizations are urging the Supreme Court to support a law prohibiting the use of downed animals in a case next month.
---
Boy Catches Shark In Fresh Water, 'Today Show' Reports On The Dramatic Capture
From Huffington Post
Todd was at the fishing dock in his hometown when he spotted two bull sharks in the water. What's notable is that these two sharks were spotted in fresh water, close to land.
---
Alabama Workers Leave State As Immigration Law Takes Effect
From Link
Alabama's strict new immigration law may be backfiring. Intended to force illegal workers out of jobs, it is also driving away many construction workers, roofers and field hands in the country legally who do backbreaking jobs that Americans generally won't.
---
Steve Jobs, Innovator And Vegetarian, Praised By PETA
From Huffington Post
Steve Jobs may be remembered most for his innovations in technology, but PETA and other green groups will also remember the Apple co-founder for his kindness to animals and efforts to help the environment.
---
Reduce Food Waste and Save Money
From Huffington Post
Americans spend a lot of money each year on food we don't even eat. The truth is that roughly 30% of the food we buy ends up right in our landfills where it slowly breaks down into methane gas.
---
Shot Whale Found In New Jersey, Reward Offered For Information
From Huffington Post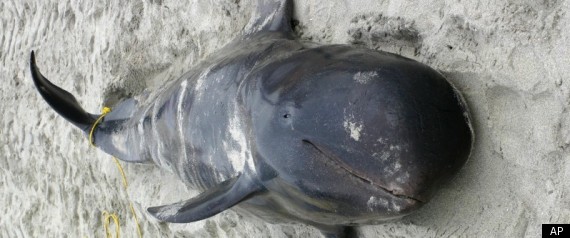 Photo from Associated Press
A $2,500 reward is being offered for information leading to the arrest of whoever shot a whale at sea, leaving it to die slowly until it washed up on a New Jersey beach last month.
---
Crowd Funding Neil Ever Osborne's 'Return Of The Black Turtle'
From Huffington Post
Many photographers are turning towards a new wave of fundraising to get backing for field projects. Crowd funding is a trend that is largely successful and is creating yet one more way to successfully create ground swells around conservation projects. iLCP's own Neil Ever Osborne is one example of someone who is exploring this new funding concept. He is working with Emphas.is to fund his latest project, Return of the Black Turtle.
---
Organic Agriculture Benefits Revealed In New Long-Term Study From Rodale Institute
From Huffington Post
If you ask most people why they buy organic, they say that they think organic produce is healthier and tastes better. But studies have consistently undercut the backing for both of these motivations. Some studies have shown that organic fruits and vegetables have higher antioxidant levels than their conventional counterparts, but others have not. Some say that pesticide residue clinging to conventional produce could be dangerous, but others, including the USDA, have said that it's harmless. Blind taste tests of organic and conventional fruits and vegetables have shown that most people can't reliably tell the two apart. So does it really make sense to buy organic produce — especially given that it often costs so much more than conventional produce?
---
Marijuana Wine: The 'Open Secret' Of Wine Country
From Huffington Post
Pot brownies are so yesterday — who cares about accidentally getting co-workers high or police eating confiscated pot brownies? We're into the next big pot-and-food trend: marijuana wine. Matthew Kronsberg on Gourmet Live writes that pot-infused wines are an open secret in wine country.
---
From Food & Wine
As the blogger behind The Bad Deal, Bloomberg News food critic Ryan Sutton chronicles some of the silliest and most deceptive dining offers on daily deal sites. Here, he reveals the warning signs that accompany bad restaurant deals.
---
Angry Farmer Single-Handedly Slaughters an Entire Colony of Protected Birds in One Afternoon
From Treehugger
When some people get angry they clench their teeth, shake their fists, and raise their voice. Craig Staloch, a farmer from Minnesota, slaughters an entire colony of birds. Earlier this year, Staloch became enraged when thousands of American White Pelicans began nesting on his rented property near Minnesota Lake. He contacted wildlife officials, but when they told him the birds were protected by law, the farmer took matters into his own hands, committing one of the most extreme cases of wildlife destruction officials have ever seen: he killed them all in just one afternoon.
---
Jean-Claude Van Damme's New Bloodsport: The Victims
From The Discerning Brute
Photo from GAIA
Belgium's GAIA has specially trained Jean-Claude Van Damme to kick the fur industry's ass. The new ad campaign that is popping up on billboards throughout Europe takes a dark but serious turn, shedding light on the reality of fur production; Animals have their pelts ripped off. They go mad from confinement, they are deprived of everything they evolved doing in nature. Proper veterinary care is too expensive to be worthwhile and ultimately they experience a brutal and painful death. Even after they die, their bodies and feces and urine pollute waterways and the toxic tanning process damages ecosystems even further.
---
Is Walmart allergic to Pollan?
From Grist
Like or not, Walmart is a force to be reckoned with in the food world. The biggest grocery retailer in the U.S. is now said to control between 20 and 30 percent of the American food market. Reformers looking to improve our food system increasingly understand that — much like China in the climate debate — Walmart is an 800-lb. gorilla that can't be ignored.
---
It's So Easy! 11 Amazing Vegan Recipes
From Huffington Post
"When most people find out that I don't consume animal products, the first question I'm often asked is if it's difficult to get by on such a restrictive diet. I love responding to the question (it beats having to discuss how I get enough protein and calcium!), but I've struggled to come up with a perfect answer that not only captures how easy it is, but also describes the plethora of foods and flavors found in a plant-based diet."
---
Debate-Themed Billboard Warns Las Vegas of Hot Dog-Cancer Link
From PCRM
A huge billboard near the Venetian hotel, host to an upcoming Republican presidential debate, warns Las Vegas residents and visitors that chowing down on hot dogs could seriously damage their health and increase their risk of colorectal cancer. The billboard is sponsored by the nonprofit Physicians Committee for Responsible Medicine.
---
Thousands Freed in San Francisco Bay
From PETA
Forty-thousand young salmon are swimming free in San Francisco Bay this week after someone cut the netting of their cramped holding pens.
---
Salmon Theft On Massive Scale Baffles Marin County Authorities
From Huffington Post
In one of the largest animal thefts in U.S. history, saboteurs released 40,000 juvenile Chinook salmon late Monday night from Tiburon Salmon Institute holding pens at the San Francisco State Romberg Tiburon Center for Environmental Studies.
---
Meet The Child Workers Who Pick Your Food
From Mother Jones
You might think slavery ended after the Civil War, yet it exists to this day in Florida's tomato fields, as Barry Estabrook demonstrates in his brilliant book Tomatoland. Likewise, the practice of subjecting children to hard, hazardous, and low-paid labor seems like a discarded relic of Dickens' London or Gilded Age New York. But here in the United States, hundreds of thousands of kids are doing one of our most dangerous jobs: farm work. They toil under conditions so rough that Human Rights Watch (HRW) has seen fit two issue two damning reports (here and here) on the topic over the past decade.
---
DIY: Make Your Own Custom Perfume
From Girlie Girl Army
Did you know that most perfumes and colognes are manufactured using synthetic chemicals, even petroleum? Many of these ingredients do not need to be listed on the labels, but are known allergens, hormone disruptors, and irritants. This is some scary and dangerous stuff, which is why we switched to all natural fragrances like Tallulah Jane years ago. Making your own custom scent is frankly couture, like with having a unique name, nobody will ever forget you. We are so grateful to Mountain Rose Herbs, which provided these recipes; it's the place to buy all your essential oils online in their purest form. The majority of perfumes have never even been studied for cosmetic use! This is pretty scary, but the good news is that we can easily create our own perfumes and colognes from natural ingredients. Not only are they safer, but many botanicals also have therapeutic properties that are grounding, energizing, relaxing, stimulating, uplifting, and balancing. True, these fragrances will need to be reapplied more often than their chemical counterparts, but they are much better for our minds and bodies. If in need of a little sprucing up during the day, carry a small bottle of your favorite aroma in your purse. You can even make special formulas like a relaxing blend for stressful situations or something energizing for afternoons that drag. The options are endless.
---
Wall Street and ethanol cause starvation, say scientists
From Grist
Today's super villains are so boring. If only they'd wear tights and touch entrapped damsels' hair in a way that made us uncomfortable, we'd be up for patriotically pistol-whipping them, Captain America style. Instead we find out that Wall Street and ethanol — a diffuse network of trading computers and a colorless inebriant, respectively — are the reason billions are going hungry in the developing world. How are we supposed to launch a hideously expensive vendetta-war against that?
---
Monkey Tormentor Thinks More Should Suffer
From PETA
A notorious experimenter and primate supplier wants the U.S.' help tormenting more monkeys in laboratories.
---
University of Washington Continues Cruel Use of Ferrets
From PCRM
At the University of Washington, pediatrics endotracheal intubation training involves residents repeatedly forcing breathing tubes down the throats of ferrets. This causes tracheal bruising, bleeding, scarring, severe pain, and sometimes death. But the anatomical differences between these animals and humans render this type of training ineffective.
---
From Wall Street Journal
Eating a meal at the vegan Peacefood Café says something important about you. It says that you love delicious food. Oh—and that you believe it should be thoughtfully prepared and healthier for the planet and its people.
---
10 Must-Watch Environmental Documentaries
From Green Buzz
Artists have always been among the progressive people in every society, making clear what our real problems are and with what we would have to handle in next period. They speak loudly whenever they can, but their best speeches are their pieces of art. Here's a list of ten documentaries which take a close look on the Environmental emergency, the present world's greatest problem.
---
Flawed State Reporting Leaves Consumers Vulnerable
From Nation of Change
A data analysis of salmonella reports in all 50 states reveals inconsistent reporting requirements among state health departments for foodborne illnesses.
---
Killer whales take wrong turn, now 30 miles upriver
From MSNBC
Three killer whales have made an unprecedented trek into a fresh water river in southwest Alaska, a rare move for the saltwater mammals.
---
Recipe: Herbed Chickpea and Sesame Crackers
From One Green Planet
f you are a parent of school kids, this might sound familiar: what to pack into the lunch box that is healthy, filling, keeps for half a day in a box and will be eaten by your kids.
---
A Beautiful World: Moving From Despair to Hope
From One Green Planet
Waking up to the horror of what is happening to animals can be experienced as a terrible burden. Whenever we reach someone with this message, we are so pleased, and then for a moment it dawns on us that we might be ruining his or her life, at least temporarily. For the few who are willing to take in the full breadth of the pain humans inflict upon animals, the world can sometimes seem like a very, very dark place.
---
From One Green Planet
As more people try to move away from processed foods and focus on eating whole grains and vegetables, there is increased awareness about the importance of what we eat. Where does our food come from? Was it locally or organically grown? Who grew it? There are so many questions about what we are eating nowadays, but very few questions about how we are eating it.
---
The Role of Critical Thinking in the Future of Humane Education
From One Green Planet
" When I first heard two of the largest animal welfare organizations had eliminated their entire humane education departments, my heart sank. Yet I was not surprised. Historically, when times get tough, humane education is the first to go. Lack of funding, lack of research, undefined goals, and difficulties integrating programs into schools are common reasons cited. The fact that schools themselves often fail to prioritize their version of humane education—social and emotional learning or character education—is also not surprising, yet deeply disturbing as educating children to be kind and just citizens, capable of making wise and ethical decisions in a democratic society, was one of the founding principles of compulsory education."
---
From One Green Planet
"I don't know about you, but in our house, every night is not a "cook a lavish family meal" kind of night. A few times a week, we make a nice dinner to enjoy together. Once or twice, we go out. But, there is always that one day that pops up where we don't want to cook, we don't want to go out, we don't even want to order in."
---
Attend Conference to End Factory Farming
From Care 2
Farm Sanctuary will host the first National Conference to End Factory Farming: For Health, Environment and Farm Animals. It will be held Thursday, October 27 through Saturday, October 29, 2011 in Arlington, Virginia, just outside of Washington, D.C. Anyone interested in the topic is encouraged to attend.
---
From Al Gore
A Brown University study examines whether animals will be able to adapt and migrate as the climate warms.
---
Test Kitchen video tips: How to hold a chef's knife
From L.A. Times
Today we're premiering the first of our Test Kitchen video tips series! Every week, we'll roll out a new Test Kitchen video tip, sharing kitchen shortcuts and demonstrating basic culinary techniques. Our first tip? Learning how to properly hold a chef's knife:
---
Yoga helps addicts, homeless find peace
From CNN
When I first met Sylvia Rascon she told me that what drew her into yoga was her own struggle to find balance in her life. When she found out she could treat people overcoming trauma she knew she wanted to become a teacher, and that's what brought her to the Lower East Side Harm Reduction Center.
---
"Better than Skydiving": The Backyard Slaughter IV
From Eating Plants
"As I continue my crusade to make sense of the desire to personally kill the meat one eats, I'm starting to notice patterns, habits, tics, and all manner of rhetorical dodges. Undoubtedly, the most common response to the brutality of hacking dinner to death out back is that "I am getting to know where my food comes from." Sure. But I don't buy it. I don't buy that this desire to know where meat comes from (is it that mysterious?) is as deeply prevalent, or convincing, as the commonality of this rationalization would suggest. We don't feel the same way–or at least act like we do– about the lotions we apply to our bodies, the clothes we wear, the cars we drive, or the pharmaceuticals we take."