News for October 4, 2011
News Today includes stories about Chickens, Wolves, Famine, Work, Chocolate, Water, Whales, Household Hazards, Capes, Monsanto, Greenwashing, Pets, Cheap, Hunger, Chrissie Hynde, Lettuce, Milk, Uggs, KFC, Halloween, Cockfighting, Whale, burger, Forks Over Knives, kids' meals, Delicious, Vegan, and recipes.
From nutritionfacts.org
The egg industry is attempting to improve the fatty acid lipid profile of eggs by feeding blubber from the Canadian harp seal hunt to laying hens.
---
New Low-Calorie Sheep Bred To Combat Wolf Obesity
From The Onion
---
From Huffington Post
Drought, violence and political instability have invited in the grim reaper on a scale we have not seen in 20 years… more than 30,000 children have died in just three months. The pictures from Dadaab look like a nightmare from centuries past. Yet, this is the 21st century and these pictures are real and, on the whole, unseen. The food crisis in the Horn of Africa is nothing short of a humanitarian catastrophe, but it is getting less attention than the latest Hollywood break-ups and make-ups.
---
Not Socializing At Work Could Be Hazardous To Your Health: Survey Says
From Huffington Post
Just reading the latest surveys made me so nervous, I started biting my nails. First, U.S. workers are really worried about losing their jobs. The lucky few who have job security are stressing about not having enough friends at work — and it could be taking a toll on productivity and their own health. Hmmm, maybe I should start selling worry beads? Here's a closer look at some of the latest small-business surveys.
---
Climate Change Could Make Chocolate A Luxury Item, Report Finds
From Huffington Post
Chocolate lovers, embrace those chocoholic fixes now. A recent report from the International Center for Tropical Agriculture predicts it could become a luxury product if West Africa's temperatures rise thanks to climate change.
---
South Pacific Faces Water Shortages, Fouled Reserves Linked To Climate Change
From Huffington Post
Crops are wilting, schools have shut their bathrooms and government officials are bathing in lagoons because of a severe shortage of fresh water in a swath of the South Pacific.
---
Japan To Hold Whale Hunts Despite Activist Threats
From Huffington Post
Japan plans to go ahead with its whaling program in the Antarctic later this year despite threats from activists to disrupt the annual hunt.
---
10 Household Hazards That Could Be Making You Sick
From Huffington Post
Think your home is safe? Think again! More than 80,000 chemicals can be found in the products we eat, spray in the air and use everyday in our homes. How many of these chemicals have been tested for their toxic effects? The answer is shocking: only a fraction.
---
Eco-Friendly Capes, Ponchos And Cloaks For Fall
From Huffington Post
There are plenty of perfectly stylish, on trend and sustainably made choices to pick from – check out Ecouterre's lineup of the best green cloaks capes, ponchos and capelets for the season.
---
Monsanto, World's Largest Genetically Modified Food Producer, To Be Charged With Biopiracy In India
From Huffington Post
Add a new word to your lexicon: Biopiracy. That's what U.S.-based agribusiness giant Monsanto has been accused of in India, where the government is planning to charge the company with violating the country's biodiversity laws over a genetically modified version of eggplant.
---
Corporate Greenwashing And Other Questionable 'Green' Ads
From Huffington Post
Maintaining effective public relations and a positive image with the public are important parts of doing business. But for some companies, this task can prove quite difficult when their products and services clash with public and environmental safety.
---
Does Everyone Have a Right to Keep Pets?
From Huffington Post
The animal rescue shelter I run includes a veterinary hospital for shelter animals and pets of people who can't afford private veterinarians. Almost all the low-income people who use the hospital take excellent care of their pets, though money is often tight. But every once in a while, like any vet office anywhere, we see clients who make us ask, "Why does he even have an animal?"
---
How To Eat And Drink On The Cheap Without Looking Cheap
From Huffington Post
When dining out in a group, is it possible to order cheaply without getting screwed for someone else's indulgence? We've got a few foolproof strategies to ensure that when the check comes you're not just another sucker tossing your card on the pile.
---
New Muppet Hits 'Sesame Street' To Raise Hunger Awareness
From Huffington Post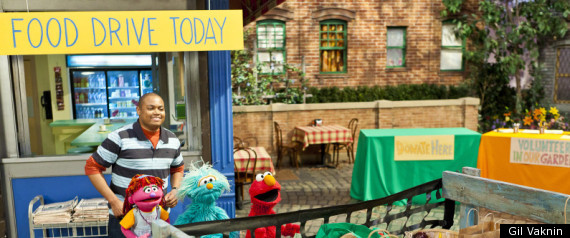 Photo from Gil Vaknin
In the past, "Sesame Street" has tackled HIV-AIDS with the muppet Kami and provoked musings on Bert and Ernie's sexual orientation. Now, the show explores another hot-button topic: hunger.
---
Chrissie Hynde's Restaurant VegiTerranean, In Akron, To Close
From Huffington Post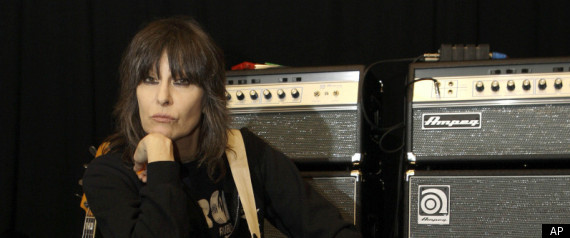 Photo from Associated Press
Chrissie Hynde (HYND') is citing the struggling economy in the closing of her vegetarian restaurant in her hometown of Akron, Ohio.
---
California Lettuce Recall Includes 19 States, Canada In Listeria Scare
From Huffington Post
A California farm that issued a voluntary lettuce recall over listeria contamination concerns says its notice has gone out to 19 states and Canada.
---
From VegNews
Giada De Laurentiis, host of the Emmy Award-winning cooking show Everyday Italian, announced recently that she will be developing more vegetarian recipes for 2012. In a video, De Laurentiis says, "I was shocked at the overwhelming response that most people wanted some really creative, tasty vegetarian dishes." She has already created three meat-free dishes for her Vegetarian Delight Recipes website on foodnetwork.com, including one vegan recipe (Curried White Bean dip), and two other recipes (Whole-Grain Spaghetti with Brussels Sprouts and Mushrooms, and Goat Cheese, Lentil, and Brown Rice Rolls), both easily made dairy-free with vegan substitutions. Her mother, who ditched meat more than a decade ago, and predicts that the big food trend of 2012 will be vegetarian cuisine, inspired De Laurentiis.
---
'Brain Health' My Foot, Milk Class Action Lawsuit Claims
A $5 million class action disputes the link Dean Foods has tried to fasten between Horizon organic DHA-fortified milk and purported improvement to "brain health" in adults and children. The consumer complaint says that Dean and its subsidiary, Whitewave Foods, sell a line of four Horizon organic milk products with DHA Omega-3, a "highly processed fermented algae."
---
From Girlie Girl Army
You probably know by now that it takes up to 8 small sheep to make one traditional pair of Uggs, and that we live for our vegan version of Uggs that have all the warmth and none of the cruelty, but Uggs has recently been outed as using Raccoon Dog Fur in their newest boots. Most Uggs aren't made in Australia. They are currently made in China from imported sheep skins and dog fur.
---
KFC Makes for Really 'Angry Birds'
From PETA
Last weekend, a flock of really "angry birds" showed that green pigs aren't the enemy—the Colonel is. The birds landed at a San Jose, California, KFC to make the point that the fast-food chain's suppliers use a cruel method of slaughter in which chickens have their throats cut while they're still conscious and millions of birds are scalded to death in defeathering tanks. When one passerby heard about this, she vowed never to eat at KFC again.
---
Halloween Is Only 27 Days Away! Meaning It's Now Time To Buy Your Sexy Foodie Costume!
From Village Voice
Oh, Halloween. You're a pretty rad holiday because what's better than celebrating candy? And, as Mean Girls' Cady Heron astutely noted, "Halloween is the one night a year when girls can dress like a total slut and no other girls can say anything about it." But let's get real. The sexy nurse and sexy policewoman costumes are so overplayed. What is really needed are some sexy culinary costumes. And who knew, there's actually a bounty of them out in the world! Here are five of the best/worst ones we could find. Sorry dudes, the slutty sexy costume market seems to be (totally unfairly, we might add) limited to the ladies.
---
Quick Plant-Based Meal: One-Pot Powerhouse Chickpeas! (Wheat- & Gluten-Free)
From Huffington Post
This is one of the yummiest dishes for the amount of time it takes to assemble and cook — a mere 15-20 minutes, max! This meal can be made wheat- and gluten-free just by using brown-rice pasta (or omitting pasta), and the greatest part is that you only need to use (and wash!) one pan. I like adding the small amount of pasta — 1 cup — as I find having the familiar comfort of a little pasta in a dish makes it easier for people transitioning over to a plant-based way of eating, especially teens, and children.
---
Guns, Drugs, Cash, and Cockfighting Equipment
From The Humane Society
Seventy-one birds—and much else—seized at raid in rural New York
---
Whale Shot In New Jersey, Officials Seek Culprit
From Huffington Post
Federal wildlife officials are looking for whoever shot a whale at sea, leaving the animal to wander the ocean in agony for a month or more before it beached itself in New Jersey and died. The culprit could get a year in prison and a hefty fine.
---
From One Green Planet
Baked Eggplant Burgers! These burgers are savory, filling and addictive. They're packed full of protein and vitamins. Above all else, they are delicious! I love to top them with tahini sauce and they are also fantastic when topped with hummus and dill pickles.
---
Science + Vegan Recipes = One Good Healthy Eating Book
From One Green Planet
"I had the opportunity to catch one of the first screenings of Forks Over Knives in New York City last year. Besides loving the film myself, I came away feeling that I could show it, with confidence, to an omnivore of any background and feel confident that veganism was being presented in an accurate and inarguably rational and positive light. Yes! We need more media of this sort."
---
Top 10 worst kids' meals revealed; Cheesecake Factory's children's menu ranked unhealthiest
From NY Daily News
The Cheesecake Factory's children's menu has been singled out for being among the most unhealthy and calorific, according to the writers of a new food guide.
---
"Sick": By the Author of "Heat"
From Eating Plants
For the last two and a half years, I've been able to declare, without hesitation and with only a modest sense of theater, that the most delicious thing I've eaten in a long time was a bowl of warm pig's blood. I had it on a cold day in February 2009, in a gravel-and-straw courtyard, on a farm, in the hills above the Rhone River, in France.
---
From The Feast
If you're like us, you probably spent the weekend eating all sorts of burgers, tacos and meatballs at this year's New York Wine & Food Festival. We're taking the night off from meat and dairy tonight to recover, but that doesn't mean you have to eat poorly. There are countless vegan spots across the city where even non-vegans will be happy.