News for October 3, 2011
News Today includes stories about Chicken, Vietnam, Oryx, Gandhi, Cattle, Meatless Monday, Food, Fishing, salmon, Lions, Animals, Celebrities, PETA, Fast Food, Sprawl, Vegetarian, Fat Tax, recipes, Trifle, GE Foods, Food for thought, Birthday, Happiness, pets, Budget, Tricks, Nutrients, fur, Listeria, Pie, Jack Johnson, New Rules, Agriculture, Strays, meat, Vegan, wolves, and recipes.
Chicken, eggs, and inflammation
From nutritionfacts.org
Chicken and eggs are the top sources of arachidonic acid in the diet, an omega 6 fatty acid involved in our body's inflammatory response.
---
Vietnam Dognapping: Mobs Chase Down Dognappers, Club Them To Death
From Huffington Post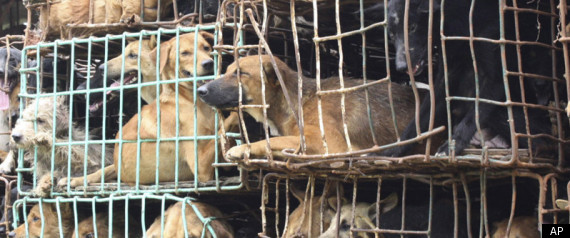 Photo from Getty Images
It was already too late when Nguyen Van Cuong heard a neighbor shout "Thief! Thief!" Two men on a motorbike had snatched up his beloved pet dog "Black" and were whizzing away.
---
Arabian Oryx, Root Of Unicorn Legend, Making Comeback
From Huffington Post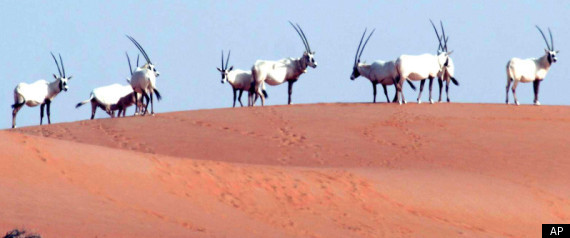 Photo from Associated Press
Growing up in the Middle East, Myyas Ahmed al-Quarqaz only knew the Arabian oryx from postage stamps.
---
Celebrating Gandhi's Birthday by Imagining Nonviolence in the Middle East
From Huffington Post
On October 2, the United Nations observes the International Day of NonViolence on the birthday of Mahatma Gandhi.
---
Bovine High Altitude Disease Studied In New Mexico Cattle
From Huffington Post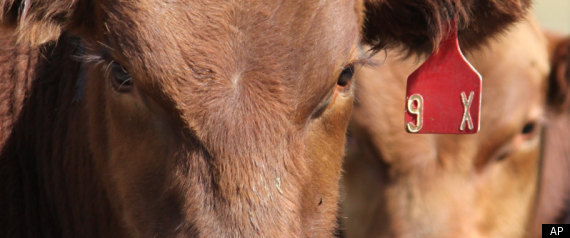 Photo from Associated Press
The lush grass in northern New Mexico provides a strong lure for drought-stricken ranchers looking for a way to feed their animals. But grazing in the mountains brings a risk of bovine high altitude disease, a potentially fatal illness that costs the beef industry some $60 million a year.
---
Meatless Monday: Alice In Expoland
From Huffington Post
Sultry, sexy and awesome for autumn, this dish requires some cooking time, but does so on its own, without you fussing. The recipe doubles easily, so you can make it tonight and enjoy leftovers tomorrow.
---
Long Road From Farm To Plate Worsens Food Outbreaks
From Huffington Post
The recent listeria outbreak from cantaloupe demonstrates one likely cause of large-scale occurrences of serious illnesses linked to tainted food: the long and winding road what we eat takes from farm to fork.
---
Spain Fishing Fleet Fueled By Major Subsidies, Report Finds
From Huffington Post
Decades of overfishing have left Europe's fish stocks in peril and its fishermen in poverty. It's an impasse paid for by EU taxpayers. Yet a proposed revision of the EU's fishing law, hailed as sweeping reform, is rapidly losing momentum.
---
Pebble Mine: Alaska Voters Weigh In On Copper And Gold Mine
From Huffington Post
The battle over a copper and gold mine near one of the world's premier salmon fisheries is headed to the ballot in a vote next week that has turned a normally sleepy local election into a national environmental debate.
---
Santa Monica Mountain's Lions Face Extinction
From Huffington Post
Photo from Associated Press
Morning commuters in Los Angeles were likely startled, if not downright terrified, when a young mountain lion recently strode onto Interstate 405 and was killed by oncoming traffic.
---
'Contagion' Connections: How Links Among Humans, Animals And The Environment May Be Spawning A New Class Of Infectious Diseases
From Huffington Post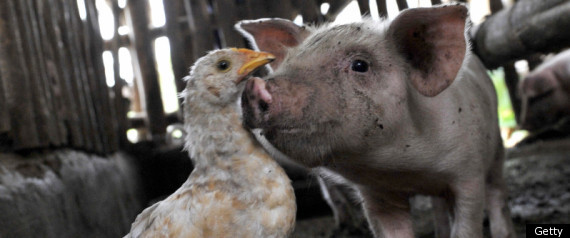 Photo from Getty Images
Bronx Zoo pathologist Tracey McNamara started to see lifeless crows dotting her zoo's grounds in mid-August 1999. After Labor Day weekend that year, she recalls, "All hell broke loose."
---
Vegetarian Celebrities Highlighted On World Vegetarian Day
From Huffington Post
Whether you're a hardcore vegan or a "weekday vegetarian," it's time to celebrate all things animal product-free during Vegetarian Awareness Month, which kicks off with World Vegetarian Day on October 1.
---
PETA Shark Attack Ad Targets Victim C.J. Wickersham With 'Payback Is Hell'
From Huffington Post

Photo from PETA
PETA is at it again. Just days after a man on a spearfishing trip survived a shark attack near the Gulf of Mexico; PETA launched a controversial campaign portraying a shark chomping a man to death with the tagline "Payback Is Hell, Go Vegan."
---
Fast Food Health Improvements Don't Really Work Because People Keep Ordering Burgers
From Huffington Post
No matter that First Lady Michelle Obama has been on a crusade for a year and a half to slim down the country. Never mind that some restaurants have started listing calories on their menus. Forget even that we keep saying we want to eat healthy. When Americans eat out, we order burgers and fries anyway.
---
The Story Of Sprawl: How Cars Ate America
From Treehugger
Tim Halbur, Managing editor of the urban planning website Planetizen channelled his inner Woody Allen and did much the same thing, taking a collection of films about planning from 1939 through 1965 and overdubbing commentary from planners and writers like James Howard Kunstler, Andrés Duany, Elizabeth Plater-Zyberk, and hilarity ensues in The Story of Sprawl.
---
Another Reason to Go Vegetarian: Metal in Your Meat
From Treehugger
If this year's storm of salmonella didn't make a plant-based diet ever the more appealing, than maybe metal in your meat will. That's right, Food Safety News reported last week that a Pennsylvania pork manufacturer had to recall 5,550 pounds of pork after metal fragments were found embedded in the meat. You'll never guess how the suspect pork was contaminated.
---
World's First Fat Tax in Denmark as Food Sin Taxes Become Reality in Europe
From Huffington Post
The statistics prove that people can't control themselves. Delicious, fatty, comfort foods are driving obesity, disease, and medical costs to unacceptable levels. Should the government step in? The once theoretical debate on food sin taxes has entered reality in Europe, where Denmark just implemented the world's first tax on saturated fats.
---
7-Minute (!) Vegan Meal: Classy Canned Lentil Salad
From Treehugger
"Me and beans are becoming good friends. Between juggling a yoga studio, instructing, and fitting in my practice, they're a colorful, nutrient-, protein- rich fix where lackluster granola bars once dominated my diet. Quick n' simple, legumes deliver. They serve up whopping amounts of folate, potassium, iron and magnesium, good fats, soluble and insoluble fiber and don't contain cholesterol."
---
From The Kind Life
"Here is a nice looking recipe adapted from the version by London-based macrobiotic chef James Trevena. I haven't tried this veg take on the classic English dessert, but if you try it, let me know how you like it! It's not superhero, but it looks like a yummy treat!"
---
New Primer on GE Foods from Food & Water Watch
From Food Safety News
A new 25-page background paper from the environmental group Food & Water Watch is long on information supporting its views on the science and politics surrounding genetically engineered food.
---
Food for thought – The Good, The Bad, and The Ugly
From Scientific America
The word 'energy' usually brings to mind barrels of oil, an electrical outlet, or perhaps a wind turbine. But take a look in your fridge; it is full of energy sources! Although our energy source (plant derived biological molecules) has not changed much since… we started eating, there have been revolutionary changes in how we procure food. While human energy was initially what drove the procurement of food (hunting and gathering, early agriculture and husbandry), we are now increasingly dependent on fossil energy sources to do the grueling labor of growing, harvesting, and distributing our food. This shift to more energy intensive agriculture implies a series of tradeoffs, which are best, characterized as The Good, The Bad, and The Ugly. The Good is the many benefits we as a society have reaped from the modern food system including cheaper food in terms of time, economic, and resource inputs. The negative environmental effects of resource intensive food production are represented by The Bad. And The Ugly is the paradox resulting from the good and bad tradeoffs in the food system exemplified here in food waste, which is only one example of the ambiguous outcomes of the modern food system. Through this narrative I hope to show that the food system is a complex web of tradeoffs that must be taken into consideration when proposing sustainable changes to food and agriculture.
---
Gandhi's Best Birthday Present
From PETA
Mahatma Gandhi said, "The greatness of a nation and its moral progress can be judged by the way its animals are treated." What, then, can we surmise about the U.S., where 59 billion animals a year suffer intensive confinement, are deprived of all that is natural to them, have their bodies mutilated by dehorning, castration, ear cropping, and more, all before they are killed for a fleeting taste of flesh? October 2, Gandhi's birthday, marks World Farm Animals Day, a day to honor Gandhi's advocacy of nonviolence and vegetarianism and to remember the animals killed for what he called "the satisfaction of our bodily wants."
---
From Huffington Post
We talk about happiness all the time but do we really understand what it is? We're trying so hard to find it but often, it remains just out of our grasp. It seems that we've gotten off track and that we're looking for happiness where it will never be found.
---
A Dozen Great Reasons to Adopt Your Next Pet
From Huffington Post
One of the best things about adopting a rescued pet is the knowledge you are saving a deserving dog or cat from languishing in a shelter or being put to death. In honor of National Pet Week and all the wonderful shelter animals waiting patiently for new forever homes, here are a dozen more great reasons to adopt an abandoned or rescued cat or dog.
---
On A Budget? 9 Cheap Ways To Eat Healthier
From Huffington Post
Between specialty food stores and going organic, it can get pretty pricey to eat your best. Luckily, there are tons of actions you can take to not fall into this food trap. It all comes down to planning ahead. I've compiled the tips you need to get on your way to a week of eating beautifully for $36. You can check your progress with the eat pretty quiz below. To start eating pretty for cheap, get your shopping list and the day-by-day menu.
---
6 Non-Diet Tricks To Achieve A Healthier Weight
From Huffington Post
When I feel a pound or two creep up on me I can usually keep it in check with some extra exercise and by paying attention to what I eat. After all, paring down calories and ramping up exercise are two keys to weight loss. But as a registered dietitian and associate nutrition editor of EatingWell Magazine, I also know that there are some zero-effort ways to enhance weight loss. Intrigued? I've compiled six top tips for lazy ways to lose pounds.
---
How Quickly Is Your Food Losing Its Nutrients?
From Huffington Post
"I like to keep a stockpile of my favorite foods in my pantry so that when the mood strikes, I have what I'm craving. But it turns out that may not be a good idea for certain foods, because they actually lose their health punch over time, according to a report by Amy Paturel in EatingWell Magazine."
---
West Hollywood nears approval of first fur ban in U.S.
From Reuters
Taking a stand for animal rights over fashion, the tiny, tony municipality of West Hollywood is poised to become the first U.S. city to ban the sale of fur clothing within its boundaries.
---
Cantaloupe and Listeria: An Estimated 85% of Cases are From Deli Meats, Not Melons
From One Green Planet
More than a dozen deaths have been reported in the national outbreak of listeriosis linked to cantaloupes from a farm in Colorado, making it the third deadliest recorded Listeria outbreak in U.S. history, after a 1985 outbreak linked to cheese, and a 1998 outbreak linked to Sara Lee deli meat and hot dogs.
---
Recipe: Coconut Macadamia Blondie Pie
From One Green Planet
This recipe adds a captivating tropical flavor to the basic blondie with the addition of shaved coconut and crushed macadamia nuts. Serve with coconut ice cream for the ultimate island inspired treat!
---
Jack Johnson and Brushfire Records Eco-Friendly Recording Studio
From Ecowizer
With all the strides in making the world more eco-friendly it's nice to know we have people like musician Jack Johnson on our side. Not only does this man take time to help beautify the world through the Kokua Foundation, he has even found a way to make a type of "eco music." Together him and co-owner Emmett Malloy created an eco-friendly recording studio for their record label Brushfire Records.
---
New Rules Will Support Farmers and Jobs
From Common Dreams
The meatpacking industry, giant poultry companies, and largest food processors have forced more than 1 million American farmers and ranchers out of business since 1980.
---
What Does the Occupation of Wall Street Have to Do With Agriculture?
From Common Dreams
Agriculture markets have been especially hard hit by Wall Street's political prowess. Wall Street deregulation has not only made the stock market extremely volatile, it has increased prices and price volatility in agricultural markets. The cost of protecting against price volatility are considerable for the future of agriculture not only in the U.S., but around the world.
---
Stray Dogs and Cats Being Burned Alive in Ukraine
From Care 2
Ukraine and Poland won the bid to host the 2012 UEFA European Football Championship. Government officials knew that major preparations needed to be arranged in the Ukraine in order to accommodate the thousands of people that attend the tournament every year, but citizens were not aware that part of the preparation would include slaughtering stray animals.
---
L.A.-made jewelry, inspired by meat
From L.A. Times
Maybe because of the awesomeness/offensiveness of Lady Gaga's meat dress, one of the top-selling items from Onch Movement, a Los Angeles-based jewelry company that has created a line of food-inspired baubles, is a necklace dubbed the meat-lace.
---
The Vegan Trap?: Plant Sentience Continued
From Eating Plants
"I'm intrigued by the frequency and intensity of the "plants have feelings, too" argument. (Take a moment and check out the generally thoughtful responses to my last post.) The implication behind many of the "plant sentience" arguments seems to be that if plants are sentient then vegans are in trouble because vegans are drawing a false distinction between plants and animals. I see the matter differently. The "plants have feelings, too" argument is, ipso facto, an acknowledgement that animals have feelings as well. That's an excellent start. From this point, assuming the (unlikely) possibility that plants are conscious beings, the vegan can start to ask some verifiable questions about neurological complexity and evolutionary history. Without going into the issue in any depth, it strikes me as safe to say that the sort of consciousness that humans conventionally value as morally relevant is shared by the pig, cow, and even chicken more then the dandelion, pussy willow, or venus flytrap. I would think the vast majority of "plants have feelings, too" advocates would agree with this distinction. Thus, if you believe that a) humans must eat to live, and b) that we should eat in a way that reduces suffering as much as realistically possible, then the plant sentience line of attack against the vegan loses its power. The vegan continues to eat in a way that is healthy, environmentally sound, and minimizes suffering."
---
Science proves that most wolves are lazy jerks
From io9
The wolf pack seems like the perfect example of how unity can provide strength, of how fierce and often vicious hunters can work together for the common good. Unfortunately, that's a big lie. Turns out many wolves are freeloading bums.