News for October 12, 2011
News Today includes stories about heart disease, Breakfast, Food, Agribusinesses, Greece, Homeless, Wine, Fundraising, cafeteria, FoodCorps, Abusers, Adopted, Gorillas, Occupy Wall Street, Mischa Barton, Spiders, and recipes.
Our number one killer can be stopped
From nutritionfacts.org
Dr. Dean Ornish proved decades ago that heart disease could be reversed solely with diet and lifestyle changes.
---
31 Million Americans Skip Breakfast Each Day
From Huffington Post
If you Google the term "skip breakfast," more than 10 million results turn up, often with information about how eating breakfast is crucial to maintain a healthy lifestyle. Everyone may know that breakfast is the most important meal of the day, but that doesn't mean that they're all scrambling eggs and toasting bread. A recent survey by the NPD Group found that 31 million Americans, about 10 percent of the U.S. population, do not eat breakfast.
---
Food Topics That Just Won't Die
From Huffington Post
You've seen the articles, blog posts, and evergreen stories again and again. Food flashpoints, culinary zeitgeists, viral stories about bacon, cupcakes and secret menus run amuck. Where does it stop?
---
Major Agribusinesses Competing with Organics on the Cheap, "Natural" Food Products with Toxic Chemicals and GMOs Deceiving Consumers
A revelatory report released by The Cornucopia Institute, an organic industry watchdog, has stirred controversy in the natural foods marketing arena by highlighting abusive marketing practices by some of the nation's largest breakfast cereal manufacturers. In some cases, companies such as Kellogg's, Quaker Oats (PepsiCo), Barbara's Bakery and Whole Foods Market are selling products contaminated with toxic agrichemicals and Monsanto's genetically engineered organisms while promoting them as "natural."
---
Protecting Endangered Mediterranean Monk Seal Creates Eco-Tourism Haven in Greece
From Treehugger
As mega-resorts continue to sprout along much of the Aegean and Mediterranean coastlines, one North Aegean island in Greece is thriving on lower-key, eco-friendly tourism — thanks to the discovery there nearly 30 years ago of one of the world's most endangered marine mammals.
---
Community Aquaponics Project Gives Free Food to the Homeless
From Treehugger
From edible landscaping in parks to feed the homeless to a locally-funded restaurant that guarantees everyone a meal, we've seen plenty of ways that the local food movement is picking up the issue of social justice and fighting hunger too.
---
Castoro Cellars: Damn Fine Eco-Friendly Wine
From Treehugger
Castoro Cellars, founded by the husband and wife team of Niels and Bimmer Udsen in 1983, is one of Paso Robles' oldest wineries. What started out as just a few barrels in some rented space has grown into a 25,000-case operation. And it's all been under one simple mission: dam fine wine!
---
Why People Participate In Fundraising Events
From Treehugger
While at a wildlife conservation expo recently, a friend and I remarked to one another that while the event was fun, the serious downside is that there were a ton of deserving organizations present and we have only so much money to donate. How do organizations get a competitive edge in fundraising? An infographic by Walk Run Ride reveals some clues. This is great information to study in order to make each nonprofit fundraising event as productive as possible.
---
Blogger 'fed up' with school lunch after year in cafeteria line
From Eatocracy
From bagel dogs, yellowish meatloaf and chicken tenders, which she likened to "squirts of chicken foam," she ate the lumps on her orange school lunch tray. With spork in hand, her mission was to chronicle the $3 school lunches on her blog going by the pseudonym Mrs. Q. For a year, she shared her observations about the food and how it affected students.
---
FoodCorps plants food activism in American schools
From Eatocracy
FoodCorps is sending passionate, dedicated service members to American communities hoping to revolutionize the way we eat.
---
From VegNews
In hopes of curbing cruelty, New York's Suffolk County now requires animal abusers to be entered in an online registry.
---
Are Black Pets Less Likely to Be Adopted?
From Time
According to pet shelter workers, ebony-colored cats and dogs suffer from the "Black Dog Syndrome": they are often the last to be adopted and the first to be euthanized.
---
Black Market Grows for Baby Gorillas in Democratic Republic of the Congo
From Time
The Democratic Republic of the Congo has a baby gorilla problem. But theirs is the kind that has poachers capturing the animals out of the Democratic Republic of the Congo's Virunga National Park at a record rate.
---
What Occupy Wall Street Has To Do With Food
From Huffington Post
Both the New York Times and Good magazine have noted the plethora of decent food available, including Katz's deli sandwiches, Pepperidge Farm goldfish, Wolfgang Puck canned soup and energy bars, not to mention the $15 OccuPie pizza made from nearby Liberatos Pizza. The Times speaks to a protester who has gained five pounds since arriving in Zuccotti Park, and who claims he eats better there than at home.
---
Sinfully Good for Your Waistline: Healthy Chocolate Smoothie Recipe
From Marcus Samuelsson
Keeping with the simple and easy theme, here is another fast recipe that literally takes about 5 minutes to make. This rich, chocolaty shake tastes absolutely sinful but without the guilt!
---
Mischa Barton Eats Raw Meat For Tyler Shields Shoot
From Huffington Post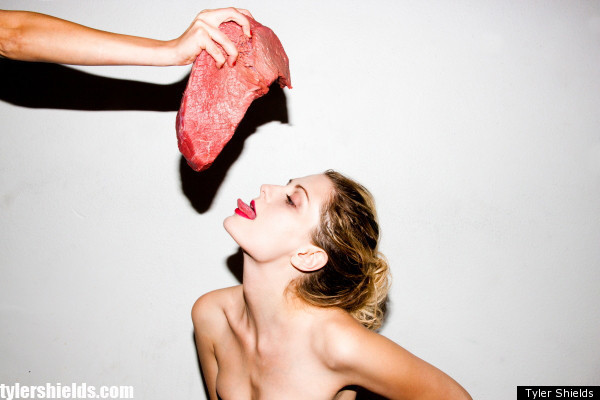 Photo from Tyler Shields
Tyler Shields, most recently in headlines for his controversial "domestic abuse themed" photo shoot with Glee's Heather Morris, hooked up with Mischa Barton (yep, she's still around) for a meaty photo shoot in which a topless Barton gnaws away at raw steak.
---
From Huffington Post
YouTube user Aceblade uploaded this doozy of a video, where a baby spider nest is stimulated, and the critters absolutely go crazy. It's nerve-wracking to watch these little guys freak out, and even more eerie to watch them come back together. You can see the 20 minutes of footage condensed into a little under two, below.