New for September 28, 2011
News Today includes stories about Bowels, Cantaloupes, Technologies, Pandas, Farmers, Food Pantries, vegetables, Chimps, Vegan Dessert, Strawberries, John Bartlett, Happiness, Health, Heart Attack, Cats, Vegan, Workplace, Cafeteria, strip club, Traveling, Superfood, Chocolate, Sentience, Veggies, and recipes.
From nutritionfacts.org
Which country has the largest (and smallest) average stool size?
---
Cantaloupe Listeria Outbreak Is The Deadliest In A Decade; 16 Dead So Far
From Huffington Post
Health officials say as many as 16 people have died from possible listeria illnesses traced to Colorado cantaloupes, the deadliest food outbreak in more than a decade.
---
Simple Technologies Can Improve The Lives Of Millions In Developing World, Say Global Health Leaders
From Huffington Post
Delivering babies in the dark, breathing toxic smoke in the kitchen and walking miles to fetch water — not to mention boiling every drop before its potable. These are the daily realities for many people in developing nations, particularly the poorest of the poor in rural communities.
---
From Huffington Post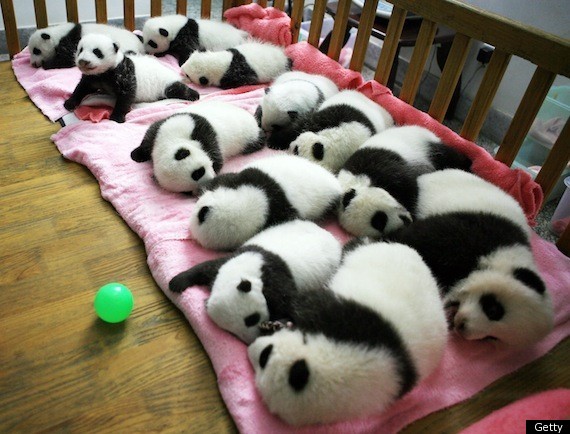 Photo from Getty Images
NPR pointed out that these photos also accompany the news that Tuesday marks the beginning of China's once-in-a-decade census of pandas in the wild. According to the Associated Press, giant pandas are threatened by a loss of habitat, poaching and poor breeding abilities.
---
New York Farmers Need Your Help
From Huffington Post
The flooding that resulted from Hurricane Irene followed a week later by tropical rains that re-flooded farms in New York and Vermont was devastating. Late summer is the most important part of the year for a lot of farmers (its what they've been working for the entire year), and when that gets wiped out, its like losing your entire income.
---
Food Pantries Face Unprecedented Demand They Can't Fill
From Huffington Post
As 49 million Americans struggle to put food on their plates, pantries around the country are grappling with an unprecedented demand—and diversity in clients—that they often can't afford to accommodate.
---
From VegNews
A new report from the American Dietetic Association shows that consumers are cutting back on red meat and eating more vegetables and grains.
---
Retired Lab Chimps Finally Experience Life Outdoors
From Treehugger
For most of their lives, they were kept in tiny enclosures as guiltless prisoners, mere test subjects exploited for having a physiology analogous to our own. But now, after nearly 40 years of captivity, seven retired lab chimpanzees are learning what it means to be alive outdoors. Gone are the cold, metal cages and sterile biomedical equipment, replaced with a playground haven and the golden warmth of sunlight. All of this was made possible thanks to the tireless efforts of volunteers, who, over the last year, worked to build the chimps a new retirement facility. And seeing the animals joyfully exploring their new home, they say, makes it all worth it.
---
Vegan Zombie Proves Good Vegan Dessert is Possible
From Treehugger
From cooking vegan French toast surrounded by undead monsters, to fettuccine Alfredo in a vegan hide-out, the Vegan Zombie has already produced some awesome examples of animal-free extreme cookery. Now the show hits the road, as The Vegan Zombie hits New York in the midst of a zombie apocalypse.
---
Even Organic Strawberries Are Grown With Toxic Fumigants
From Mother Jones
Conventionally grown strawberries are hard orbs, bred to endure long-haul travel and leisurely stints on supermarket shelves, not to taste good.
---
John Bartlett on Cruelty-Free Eco Lux
From The Discerning Brute
Renowned designer John Bartlett is one of my favorite people on the fashion scene. We've been following him for a while here at The Discerning Brute. He's intelligent, fearless, savvy, and recently was chosen as one of three designers to win the prestigious Lexus Hybrid Eco Challenge, which will award him $25,ooo to launch his sustainable collection. The CFDA (Council of Fashion Designers of America) and Lexus partnered for the second year on this competition. Marcia Patmos and Johnson Hartig were the other two winners. I am so excited to see what Bartlett comes up with.
---
The Genetic Reason Some Of Us Are Happier
From Huffington Post
A new study by UCLA life scientists found that the oxytocin receptor gene (OXTR) is a strong predictor of optimism and self-esteem. Apparently, if you're missing certain nucleotides at a specific location on that gene, you're much more likely to see the glass as half full. If you have 'em, the researchers say, you're likely to have "substantially lower levels of optimism, self-esteem and mastery, and significantly higher levels of depressive symptoms" than your more fortunate brethren.
---
The 10 Health Problems You Were too Embarrassed to Ask About (and the Solutions)
From Huffington Post
"Last week, I discussed a few embarrassing health topics such as diarrhea, constipation and gas. Let's face it, we've all been there at least once. After working with the "Biggest Loser" for 12 seasons, I sometimes doubt there's an embarrassing question I haven't been asked! Here are five more:"
---
Heart Attack Myths and the Missing X Factor
From Huffington Post
Some epidemics are hard to treat because medicine has no cure, while others, more insidiously, are hard to treat because people latch on to the wrong cure. Heart disease is a prime example of how a half truth turned into a partial cure, with many people being led down the wrong path, either by themselves or by their doctors.
---
Two-headed Cat 'Frankenlouie' Turns 12 In Worcester, Mass.
From Huffington Post
A two-headed cat in Worcester, Mass., has twice the reasons for celebrating his recent birthday: It got him in the Guinness Book of World Records.
---
Coming Out as a Vegan: Dealing with Parents
From One Green Planet
So you've made the decision to become vegan. You feel enraged about the truths of animal cruelty, inspired to create change, and ready to make a serious commitment to your newfound ethically conscious lifestyle. But in reality it's just a phase, according to your parents anyway. One of the most challenging aspects of embracing veganism at a young age is proving to adults that you should be taken seriously and this change isn't just a trend that will disappear in a few months. While it should not matter what others think of your choices, it can be frustrating living under your parents' roof if they're vocal about their disapproval or simply overbearing. Approaching outing yourself as a vegan in a mature, responsible manner and thriving on your herbivorous ways is the best method to happy, healthy veganism at any age. I wish there was an instruction manual to deal with unreasonable parents on this topic and although everyone's situation is different, there are some basic principles that apply.
---
From One Green Planet
Food plays a huge role in society, and office culture is no exception. Being vegan, however, can throw up some unexpected consequences. Think it can't be that hard? Well, you're right: it's not that hard. But if you are vegan and work in an office, you have to constantly be aware of what you are eating.
---
Recipe: Vegan Green Eggs (and Ham)
From One Green Planet
September 24th of this year marked the 20th anniversary of the death of Theodor Seuss Geisel, better known as Dr. Seuss. Like many of you, I grew up reading the good doctor (who could ever forget cheering on Thing One and Thing Two in The Cat in the Hat?). In honor of one of my favorite children's authors, I thought I'd re-create one of his most famous dishes, Green Eggs & Ham.
---
Vegan Cafeteria Sets a New Standard
From One Green Planet
From freshman fifteen to late night study sessions, college is a Mecca of poor food choices, overindulging, and eating at all hours of the day. I recently volunteered for the computer department at my alma mater for the freshman computer handout. We were stationed in the lower level of the cafeteria. I was curious, have food options progressed in over 5 years to accommodate the multitude of dietary scenarios? While there were a few options such as a gluten-free station and granary, which offers one vegan dish and vegetables, comparatively, still slim pickings.
---
The world's first vegan strip club
From The Guardian
Are you a man who cares about animals but thinks it is fine to treat women like one? Then Caso Diablo is the place for you. The world's first vegan strip club, in Portland, Oregon – a hippyish town in the US that prides itself as the most vegan-friendly in the country – serves up meat- and dairy-free chilli cheese fries, chocolate/strawberry cheesecake and mushroom burgers along with the naked women.
---
From Savvy Vegan
"As I write this, VN Publisher Joseph Connelly and VN Associate Publisher Colleen Holland are traversing thorough Thailand with 20 VegNews readers on VegNews first-ever Food Lover's Tour of Thailand. Now this may sound like bragging—I swear I'm not trying to make you feel bad—but I recently went to Kauai, Hawaii, for vacation with my hubby. It was my first real vacation in a long time, and while it was a celebration of our wedding anniversary, I still hate being too extravagant. A real splurge to me is the vacation itself and seeing as much of the beautiful island as possible. There are times to splurge (massages on the beach!) and times to save, so here are my tips for enjoying your vacation on a budget."
---
From Healthy Herbivore
" I love snacks. Not that meals aren't great but I love to munch! But I don't just eat any snack. It has to contain all my macronutrients and be packed full of nutrition. Recently I got my hands on some antioxidant rich Bioflavia courtesy of amazing biodynamic South Brook Vineyards. (they also produce Vegan wines – yah!) The most common serving method for this powder is to add it to smoothies or dressings. Since I love my snacks I wanted to make a sweet, nutritious, detox approved, superfood snack I could take with me anywhere. Before the recipe, the science. Of course."
---
Mexican Hot Chocolate Choco-chip Rice Pudding
From The Verdant Life
"I like rice pudding. Well, I like some types of rice pudding. I don't like the uber gelatinous tapioca-like stuff they sell in commercial grocery stores. That's for sure. And since I'm looking for dairy-free and egg-free recipes, those are out anyway. But I happened upon Paula Deen's recipe for baked rice pudding and thought, "Now there's something I can work with."
---
Weeping Willow?: The Question of Plant Sentience
From Eating Plants
The environmentalist Derrick Jensen and the philosopher John Sanbonmatsu have been sparring over Lierre Kieth's Vegetarin Myth of late. Sanbonmatsu's arguments are so deeply nuanced and thoughtful that, contrasted with the shaking hysteria of Jensen's outbursts, they make this entire tete-a-tete a bit of an intellectual mismatch. That said, one thing to come out of the battle was the following comment from Sanbonmatsu about the overheated topic of plant sentience. I'll quote it at length and then end with the link to the letter from which it was excerpted.
---
Leonard Lopate Talks Veggies With Blue Hill's Dan Barber and the Franks
From Village Voice
Last night at The Greene Space, Leonard Lopate took a break from hosting his eponymous radio show on WNYC to grill some of New York's biggest locavore icons on the growing popularity of vegetables in restaurant kitchens. If you hadn't noticed, vegetables are hot now as the city recovers from collective heartburn after its decade-long pork belly binge. The night was divided into three parts: a talk with Blue Hill chef Dan Barber and his main farmer Jack Algiere, a cooking demonstration by Frank Castronovo and Frank Falcinelli of the growing Frankies empire (including the new West Village location) and a pickling demonstration from Michaela Hayes of Crock & Jar. The first topic? Heirloom heresy.