New for September 23, 2011
News Today includes stories about estrogen, Chimps, bees, Bob Barker, Hunger, Shoes, Greener Living, Elephants, Health Benefits, Fertilizer, Vegan Oktoberfest, Organic Gardening, Spinach, Tax Dollars, Skin Trade, sharks, Diet, Gluten-Free, Dogs, Eat Healthy, Make Up, Shoes, alcohol, Food Industry, Eating Vegan, Earth Balance, Smoothie, Free-Range, green cleaners, and recipes.
Relieving yourself of excess estrogen
From nutritionfacts.org
Women eating vegetarian may have lower breast cancer rates because they have larger bowel movements.
---
Chimp Turns 50: Ricky The Monkey Celebrates Birthday At Edinburgh Zoo In Scotland
From Huffington Post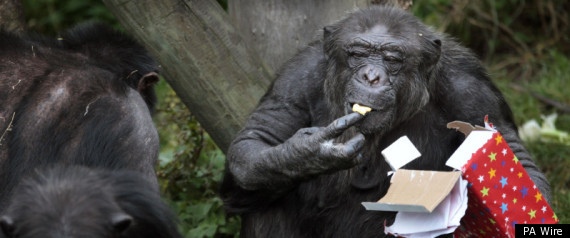 Photo from PA Wire
What do you buy for the chimp that has it all — or at least all of the bananas he wants?
---
From Huffington Post
There have been numerous reports, including on our program, Dan Rather Reports, about the decline of the honeybee. They've been dying off in huge numbers. The cause has been lumped under a title called "Colony Collapse Disorder" or CCD. But now scientists are telling us the danger is worse than they feared.
---
PETA And Bob Barker Call For Spay/Neuter Law To Fight Animal Overpopulation
From Huffington Post
PETA and Bob Barker teamed up to create a petition requesting that all adopted and purchased animals be spay/neutered until the animal overpopulation crisis in the U.S. is solved. The petition states that "because no more animals need to be bred when so many others go without hope of being adopted, PETA is calling for a mandatory spay-and-neuter law until all dogs and cats in the United States have a home to call their own."
---
Hope In The Face Of Hunger: Women, Micronutrients, Conservation Could Fend Off Food Insecurity
From Huffington Post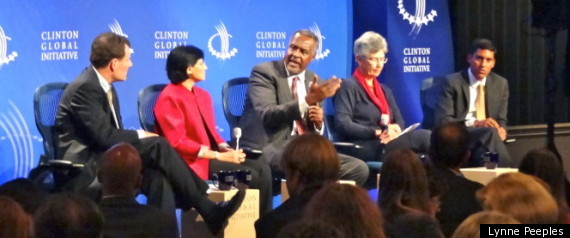 Photo from Lynne Peeples
In the coming months, an estimated 750,000 Somalian people face starvation due to severe drought and famine.
---
From Huffington Post
For consumers, eco-friendly kids' shoes are notoriously tricky. Kids grow out of their shoes quickly, making them almost disposable. But many parents balk at the premium price of sustainable eco-friendly materials. Used or cheap shoes can, however, cause problems (temporary and long-lasting) for growing feet. And since the kids in your life are going to be inheriting the planet you leave behind, it makes sense to look for eco-friendly brands.
---
Greener Living Tour Shows New Yorkers That 'It's Easy Being Green'
From Huffington Post
Last Saturday, LG showed New Yorkers that it's easy being green at the kick off of the LG and Good Housekeeping "Greener Living" tour near the Union Square Greenmarket Farmers Market. New Yorkers were invited to stop by for some good, green, fun as Veronica Schwartz –- raw food chef and founder of Dr. Cow –- whipped up fresh "Rawmazing Recipes" prepared on-site using locally grown seasonal produce and a variety of raw ingredients stored and kept fresh in LG's super-capacity French-door refrigerator. Attendees were also invited to join LG in taking the EPA-sponsored "Change the World, Start with ENERGY STAR®" Pledge to consider behavioral changes that will save them money and help save the planet at the same time, and enter to win an LG super-capacity French door refrigerator.
---
Elephant Appreciation Day Features Animal Artwork
From Huffington Post
There is so much to appreciate about elephants that there has been an entire day dedicated to them: September 22 is Elephant Appreciation Day.
---
From VegNews
Chinese researchers have found that vegetarian men weigh less and experience a decreased risk of cardiovascular disease compared to non-veg men.
---
Fertilizer-Producing Island Cannot Grow Vegetables. It's a Lesson for Us All
From Treehugger
There has been a lot of talk about the difference between resilience and sustainability of late—with the notion of resilience becoming increasingly important as we realize just how fragile our cultural and economic systems may be. But in a world where peak oil looks ever more likely, and where peak fertilizer may not be far behind, could there be anything less resilient than an island economy that is reliant on phosphate mining for fertilizer; imports all of its fresh veggies by plane; and cannot grow veggies in its soil due to a root-eating pest!?
---
From The Kind Life
Traditionally, Oktoberfest is celebrated during the last week of September through the first weekend in October. And although beer is center stage, food is a big part of the fun too! Here are a few ideas for veganizing Oktoberfest for your friends and family.
---
Student-Led Group Launches $85,000 Organic Gardening Program
Student leaders of Grow Dunwoody are creating a broad-based city-wide alliance of schools, businesses and community organizations as part of an $85,000 organic gardening and sustainability program designed to enhance the quality of education at the Dunwoody cluster schools.
---
Spinach: How a Healthy Food Nearly Took a Child's Life
From Food Safety News
In recognition of food safety month, Food Safety News is profiling people whose lives have been altered or ended by a foodborne illness. In this series, we hope to illustrate the devastating effects that food poisoning can have on victims and their families, and the importance of making our food system as safe as possible.
---
Your Tax Dollars Go Towards Murdering Animals?
From Girlie Girl Army
Help the 100 million animals who are tortured and killed in experiments every year by taking a stand. We used to be torn on animal testing (pre-veganism) because we thought it actually had made strides in curing deadly diseases, but that's generally not the case according to numerous Doctors we've spoken to. We are sparing you the visuals here, but they are the most hideously painful things to view, trust us. You'll certainly never buy Windex again. Yep, they (alongside most of the cleaning products under your sink) kill dogs and cats and monkeys in barbaric tests so that you can get cancer and clean your windows. If you want to see inside the truth about animal experimentation we highly recommend a film called "Behind The Mask."
---
From Skin Trade
"Skin Trade" takes the viewer on a journey form the birth of fur used for trading between Native Americans and Europeans, to the exploitation of animals and fur for fashion. The film delves into the corruption and lies perpetrated by fashion designers that claim their fur designs are eco-friendly" as well as those retailers and fur farmers who claim that the animals are killed humanely.
---
leaders launch new shark conservation effort
From PEW Charitable Trust
Leaders from eight countries launched an initiative today to prevent the extinction of sharks, symbolizing the latest development in the growing movement to safeguard the ocean's top predator. Members of the coalition committed to a declaration supporting the development of sanctuaries that end commercial shark fishing in their national waters.
---
For Better Or For Worse? How Your Spouse Impacts Your Diet
From Huffington Post
When you say "I do," you are not just signing up for a lifetime of togetherness — you're also, apparently, signing up for shared eating habits.
---
Adventures In Going Gluten-Free
From Huffington Post
"My most recent ailment has been the addition of an intolerance to gluten. This should've come as no surprise given that the hereditary nature of this autoimmune disease means a sizable portion of my mother's side of the family already deals with this minor inconvenience. The gluten gene affects aunts, uncles, cousins, siblings, young and old, or some form of it. And even though it's shown up at varied stages of our lives, like a coven of vampires who can trace their origins back to a single point of origin, we all agree that our vampire creator is Grandma. Of course, no one blames her — these things can't be controlled — and furthermore, after two colonoscopies, I can attest to the fact that Grandma feels sorry about the whole thing."
---
Chinese Dog Eating Festival Banned After 600 Years Because Of Social Media Outcry
From Huffington Post
A 600-year-old dog eating festival in Qianxi, China was banned this week after a massive social media outcry called for its cancellation. Fifteen thousand dogs are slaughtered annually at the festival, which commemorates a battle fought in the town. Before the battle, an invading army killed all the dogs in the town of Qianxi to prevent being exposed by barking dogs. After capturing the town, the army ate the dog meat to celebrate.
---
Teaching a Nation to Eat Healthy Starts With a Small Seed
From TakePart
While at least one recent study has indicated that, when it comes to eating, children are influenced by a whole host of factors, what their parents eat clearly comes into play.
---
Eco-Friendly Shopping Picks: Vegan Make Up
From One Green Planet
" When I first started EcoPlum, Safe Cosmetics was the last thing I thought I would be selling on my site. Why? Well, when I thought of eco-friendly products, things like composters, low flow showerheads, and stainless steel water bottles came to mind. It wasn't until I became familiar with the Campaign for Safe Cosmetics that I learned about how truly dangerous personal care products can be for our bodies and the planet."
---
Recipe: Lentil Crusted Tofu with Awesome Dipping Sauce
From One Green Planet
Well, here's one dish that has a lot of ingredients you might already have in stock. But if not, it would be worth a quick trip to the store to make this Lentil Crusted Tofu with Awesome Dipping Sauce.
---
Guide: Cruelty-free Shoes for Women
From One Green Planet
You don't have to be a Natalie Portman who can command a high-end label to veganize their shoes for you (and then give up on veganism in a few months!). Cruelty-free shoes are getting so chic and trendy you can get vegan Christian Dior-esque shoes at a Target price. You can be a fab vegan every step of the way! The advantage of being a vegan chick is that you have much more choices compared to the men (sorry guys). Check out what we found for you.
---
From The Colllege Green
For those who like a little kick in their daiquiris, here are a few tips on how you can keep it classy and earth lovin' even at your finest and least sober moments.
---
The 6 Most Horrifying Lies The Food Industry is Feeding You
From Cracked
If there's one thing in the world the food industry is dead set against, it's allowing you to actually maintain some level of control over what you eat. See, they have this whole warehouse full of whatever they bought last week when they were drunk that they need to get rid of — and they will do so by feeding it all to you. And it doesn't matter how many pesky "lists of ingredients" and consumer protections stand between you and them.
---
From Veggie Girl
Usually when we go some place new, I scour the internet looking for vegan friendly restaurants in the area, but eating out in Watkins Glen is pretty easy, as most restaurants have vegan options. With Farm Sanctuary so close by, restaurants know they'd be missing out on too many customers if they weren't vegan friendly. Hurrah for vegan supply and demand! Or is that demand and supply?
---
An Earth Balance® Coconut Spread Review & Gluten-Free Scones!
From Made Just Right
Gluten-Free Blueberry Scones below so that all you out there can give them a try too. We made our scones vegan with an easy egg substitute of 1 Tbs. flaxseed meal mixed with 3 Tbs. of warm water per egg needed. Just let the mixture sit for 10 minutes until it thickens. This works well in most baked goods, including cakes, cookies and muffins.
---
Something Sweet: Banana Date Oat Smoothie
From The Verdant Life
"I don't have much of a sweet tooth (as I've written about before) but I needed something special this afternoon. Something that would give me a bit of a boost, with natural sugars, and keep my belly feeling full for a while. Something rich, decadent and hearty."
---
Free-Range Fallacy: The Myth of Safety
From Eating Plants
"About two years ago, I published a controversial article in the New York Times suggesting that free-range pigs had a higher risk of contracting trichinosis than confined pigs. My primary source was a peer-reviewed article that had received funding from the National Pork Board. Because the study had been published in a widely respected academic journal, I chose not to mention the funding source. My intuitive sense was that highlighting the industry connection would immediately prevent skeptics from reading further."
---
Use kitchen staples as green cleaners
From USA Today
Cleaning the bathroom can be daunting, even if you're armed with traditional cleaners laden with bleach and strong but perhaps environmentally unfriendly ingredients. But what if you want to go green and still get the toilet bowl, sink and tile to sparkle?