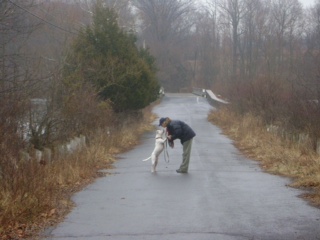 Good-bye, my dear friend.  It will be hard to be here without you.  We both are scraped and scarred from slipping on trails, and the deaths of loyal pets.   When we started volunteering together, we felt the same pull, and offered ourselves to the animals. We promised to keep them safe.  We watched countless dogs and cats take their freedom rides to new homes.
I understand what made you quit.  It was the man who walked into the shelter dropping on the counter a Have-A-Heart trap holding a terrified, long-haired black, feral cat.  "We caught another one!  We're close to finishing them," he said.  His wife and 10-year-old son stood by him beaming.  It was the hoarder who chained four Rottweiler puppies to a bed, then deliberately placed food and water out of their reach.  When the bodies were found, broken and withered, she said she had no choice: the puppies did not listen.
It is the co-worker, who after buying a puppy over the internet from an out-of-state breeder, says, "He's not from a puppy mill."  It is the woman who signs over her 20-year-old cat, which she bottle-fed as a kitten, because he is inconveniently old.  It is the young man who tortures a Bulldog to death after answering a family's Free-To-A-Good-Home-flyer.  It is the barrage of urgent Facebook posts giving you until 6 p.m. to rescue, foster, or adopt, or the animals will be euthanized to make room in the shelter.  It is the photographs of skinny dogs chained to barrels in dirt yards, and cats who survive being set on fire.  It is the endless repetition of, "It's just an animal." It is being invisible to these shameful human beings.
You are not invisible to me.  I see you.  I love you for showing up at the shelter on weekends, and holidays to get all the dogs out for a walk.  You came during your divorce, your son's stay in rehab, your cat's kidney failure, and your mom's Alzheimer's.  You battled ringworm, roundworm, tapeworm, and hookworm while fostering feral kittens.  You most likely have Lyme's Disease.  You wept in the shadows as you watched a man carrying his cancer-ridden Siamese cat to the lobby, and then back to his car by himself.  You wished you could take his grief and loneliness away.
I will miss being at the shelter with you, and our early morning routine.  The silence, before the shelter exploded with volunteers and visitors, was ours.  Coming through the shelter's back door, we woke the sleeping dogs.  We crouched down at each animal's kennel, and reached our fingers through the fencing to scratch shoulders.  We headed to the walking trail with long-term residents first.   The dogs memorized the trail, and we followed their lead as they sniffed and marked their favorite stumps and bushes.
On scorching afternoons, we filled a baby pool with well water for the dogs.  Noah jumped in and out of the pool, soaking you, and your laughter bounced off the buildings.  When we could no longer bear the heat, we sat on the floor in the air conditioned kennel and talked about our lives.  Roman flopped all of his 60-pounds across your legs, and you could not stop smiling as he licked your entire face, including your teeth.
You had endless energy running Maddie through the agility course and Dodger up and down the steep outside steps two at a time.  You tackled Java when she bolted out of her collar spooked by the sound of a motorcycle.  You leapt, both feet in the air, cheering when Mack did Spin-Sit-Down-Over-Up.
You taught me to make time at the end of the day to clean each kennel, put the dog beds down, and whisper to each, "Pick a home".   Many times you stood with me until I swallowed my sadness.  You earned your rest.  It is ok to go back to the life you knew before.  I want you to sleep late on weekends and walk your own dogs.  I want the familiar to stop your panic and to rebuild you.  I want you back.