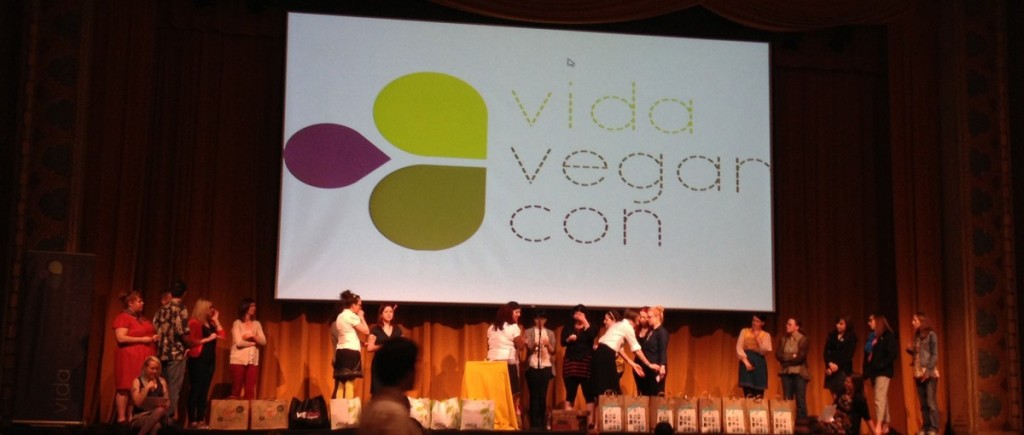 Vida Vegan Con (VVC) is a conference, geared toward vegan bloggers, but you don't have to be vegan or a blogger to attend. Rightfully named "the vegan love fest" (love fest as in spreading the love, not an orgy) after the first one in 2011, which we sadly missed. This year's conference was held from May 24-26 in Portland, OR.
Where Do I Even Begin?
I could go on and on about the sessions, the people, the food and how it all brought back whimsical memories of berry picking in my childhood years (and one of the sessions really did), but I'm just going to stick to the highlights: SO MUCH FUN! So much love! So much delicious vegan food and booze!
Lydia's Top 10 Picks
(in order of experience)
The Love – We kicked off the love fest the day before the conference with a casual meet and greet at the White Owl Social Club. There was so much screaming, jumping, hugging and kissing going on all night. Meeting up with old time friends, meeting online friends for the first time, finally meeting our vegan idols and making new friends. We didn't take pictures of everyone because we were too busy gabbing and stuffing our faces, but here are some of the lovelies we hung out with throughout the three days: Dianne (Veggie Girl), Jenna (Good Good Things), Jen (Starflower Vegan), Sharon (Big City Vegan), Katie (Vegan Noms), Dan (The Gay Vegans), Christy (Blissful Chef), Heather (Healthy Eating Starts Here), Fran Costigan, Julie Hasson, Nava Atlas, Susan Voisin (Fat Free Vegan), Bianca (Vegan Crunk), Bethany (Spotted Devil Cat), Jackie (Vegan Yack Attack), and Jill & Jon (Vegan Cuts). Sorry if I missed anyone.

The Intrepid Herbivores – We went to the screening of the pilot episode of this vegan travel show. Living vicariously through Sadie and Joe's adventures in Thailand put a big smile on my face. I especially liked learning where to find and how to order vegan food in Thailand. We sure hope they make more episodes and have them aired on TV. In the meantime, once they reach 25,000 2,500 likes on their Facebook page they'll post the pilot episode for the whole world to watch. So go on over to their page and like them.
The Ginormous Goodie Bags – It's true, it's a thing of legends. Those suckers were so heavy and had so much stuff in them that they deserve their own post.

Ginormous VVC goodie bag – we got 2 of these

Vegan Cuts snack box sample

Vegan Cuts snack box sample contents

Food coma 3 days into our trip and in the midst of a photo shoot

The Exhibit Hall Stuff-your-face-athon – I don't know what we would do without these self-sacrificing exhibitors. No mater what time of the day, they were there for us, with food —hot soup, pot pies, ooey-gooey melty cheese, ice cream galore and every flavor of peanut butter under the sun schmeered on all sorts of foods. Aside from all that, they still had tons of coupons and full size product samples for us to take home. We even got another goodie bag, a Vegan Cuts snack box sample (review coming soon).
The Food (yes, more food) – We ate. NON. STOP. Read all about it on my Vegan Gastronomy Portland post (coming soon). Aside from all the voluntary overindulgences around town, the VVC crew made sure we were well fed throughout the day (see #4 above), for breakfast and lunch as well. The best meal during the whole trip was, hands down, the breakfast showcase. A.N.D. Café, Back to Eden Bakery, Blackheart Bagels, Cinnamon, Divine Pie, Portland Juice Press, Portobello Vegan Trattoria, Sizzle Pie, and White Owl Social Club cooked up the most phenomenal vegan breakfast EVER.

A.N.D. Cafe & Portobello's breakfast

Sizzle Pie & White Owl Social Club breakfast

Donuts!!!

Cheesecake!

Build-your-own bowl lunch on Saturday

Build-your-own sandswich/salad lunch on Sunday

The Workshops – During the conference there were regular sessions that anyone could attend and limited seating workshops that we had to pre-register for. I was able to get my name on the list for two of these: Hannah Kaminsky's "Food Styling: Keeping It Real" and Isa Chandra Moskowitz's "Writer's Block". Hannah's session was extremely informative and visual. It's great to see a pro in action and pick up some new tricks, even though I may not be as detailed as her in my future shots. The Writer's Block was a hands-on workshop in a smaller, more intimate setting. Isa walked us through a progression of exercises to help get words, and emotions, flowing. This was by far the best session I attended at VVC. I walked away a little more confident about my writing, thanks to everyone's feedback. I'm also already experiencing the positive effects of the session. I was really looking forward to it, because writing isn't my forté, and it delivered.

Hannah Kaminsky

Hannah's food styling demo

Writer's Block workshop – watch Isa sing 🙂

The Sessions – There were dozens of sessions to choose from during the course of the three days covering everything from food reviews, writing and photography, to body image, compassionate parenting and monetizing. Out of all the great sessions I attended these ladies stood out to me the most: Susan Voisin, Nava Atlas, Hannah Kaminsky and Lisa Pitman. It's not just because I'm a big fan already, but they really had their shit together. You could tell they spent a lot of time preparing for their talks and they had so much useful information to share. A big applause to all of them.

Ethics Beyond the Plate Session

Terry Hope Romero

The Galarama & Silent Auction – A fundraising event for Chimpanzee Sanctuary Northwest held at Staver Locomotive. There were tons of prizes to bid on (Mauro and I opted to donate money instead, we couldn't fit anything else in our bags), Myoko Schinner's cheese platters and So Delicious' build-your-own sundae bar to stuff our faces with, tins of spiced popcorn, food carts outside, a photo booth, music and dancing, and lots of laughs. Fun was had by all.

Staver Locomotive

Tandem Treats – Fieldroast sausages and hotdogs with all the fixings

Look at these two trolling me. Just look at them!

I love these silly pants!

The Cheese Platter (more food, yet again) – Oh, Myoko Schinner, you are a vegan cheese goddess! Mauro had to pry me away from it several times throughout the night. Bliss!

Myoko and one of her cheese platters (photo bombed!)

The Whole Experience – Being in Portland and attending VVC was like being in the land of unicorns—mystical, magical, surreal. We've never felt so loved and welcomed at any other event, ever. To everyone who organized VVC, cooked food for us, the vendors and all their goodies, everyone we met and hung out with, and all the friendly Portlandians. Thank you! We love you all! See you next time!
If you want to read about Portland and what we did, read Mauro's post. We'll also be posting a vegan gastronomy on everything we ate and maybe a restaurant review or two.