Guest Post by Karen Page
flavor:  the distinctive taste of a food or drink
compatibility:  a state in which two things are able to exist or occur together without problems or conflict
An essential aspect of great cooking is harnessing compatible flavors — which involves knowing which herbs, spices, and other flavorings best accentuate particular ingredients.
A process of trial and error over centuries resulted in classic cuisines and dishes, some of which feature timeless combinations of beloved flavor pairings — for example, apples with cinnamon, bananas with rum, rice with soy sauce, tomatoes with basil, jícama with lime.
It's fascinating to find that certain combinations of ingredients can fool us into believing we're eating something other than what we're actually eating because of their context. As a child of four or five, I once believed that the slice of pie I was eating with soft, layered sugar-and-cinnamon-scented filling was apple pie — and utterly shocked when I learned it was something called "mock apple pie" made with Ritz crackers standing in for sliced apples!
The experience was so profound that it started me thinking about food more deeply at a very young age, and deconstructing what makes a dish that dish.
Mock apple pie isn't such a far cry from the avant-garde creations of modernist kitchens that turn classic dishes on their heads. Homaro Cantu of Chicago's moto has made the point that classic flavor combinations are what help make experimental dishes work, because they bring a sense of familiarity and comfort to the unfamiliar and novel.
So, too, do they further veg interpretations of classic meat-based dishes, such as veg Reuben sandwiches, a cult dish that appears on countless vegetarian restaurant menus. By the time you put together rye bread, Thousand Island dressing, Swiss cheese, and sauerkraut, the context has the eye so convinced that it is really a Reuben sandwich that the palate is more forgiving to the seasoned seitan, tempeh, or other stand-in for corned beef.
Likewise, I was so enamored with the flavor and texture of Dave Anderson's delicious mock tuna salad sandwich at Maddy's in Los Angeles — with its chopped celery and Vegenaise served on fresh-baked ciabatta bread — that it was a cinch to get me to buy into the slight resemblance of mashed chickpeas to mashed canned tuna.
While I consider myself to be a recovering perfectionist, I am still an idealist:  Why settle for second-best if you can have the best?
And having devoted years of my life to the study of compatible flavors, you can imagine my point of view:  There are good, better, and BEST* pairings for every ingredient under the sun.  My work is to help to guide you toward different options, understanding that there are a multitude of factors affecting every situation – so as for choosing the one that's best for that ingredient, that dish, that day, that moment, that occasion, and that person…Well, that's up to you!
*Note:  This is a reference to the KEY for THE VEGETARIAN FLAVOR BIBLE, in which its A-to-Z listings for ingredients ranging from Apples to Zucchini Blossoms appear in regular, bold, or BOLD CAPS to indicate the strength of the recommendation of various herbs, spices, and other seasonings to enhance its flavor:
About the Author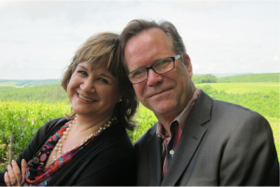 Author Karen Page and photographer Andrew Dornenburg (KarenAndAndrew.com)
Flavor Compatability
by Karen Page, with photographs by Andrew Dornenburg
(adapted from THE VEGETARIAN FLAVOR BIBLE)
Karen Page is a graduate of Northwestern and Harvard who also earned a Certificate in Plant-Based Nutrition from Cornell in conjunction with the T. Colin Campbell Foundation. She is a two-time James Beard Award–winning author whose books include The Flavor Bible. The former Washington Post wine columnist is also the coauthor of What to Drink with What You Eat, which was named the IACP Cookbook of the Year and the Georges Duboeuf Wine Book of the Year and won a Gourmand World Cookbook Award, and the IACP and James Beard Book Award Finalist The Food Lover's Guide to Wine. She lives with her husband, author and photographer Andrew Dornenburg, in New York City.