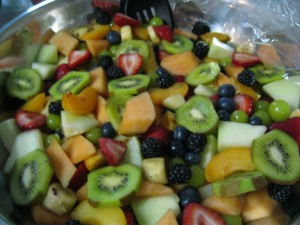 How do I host a vegan barbecue? It is that time of year when Americans start breaking out the barbecue grill. If the guests eat meat, then this can be a nightmare for a vegan. If you are hosting a BBQ and a friend or family member is vegan then you can easily make your barbecue party vegan friendly.
I used to play volleyball on Sundays and after the games the host would have an outdoor barbecue. This was quite disgusting to me. There were so many dead animals on the grill including hot dogs, burgers, and chicken wings and legs. It looked like a barn had exploded. I was tired of starving after the games and decided to bring my own tofu dogs to eat. I found a clean part of the grill and had them barbecued. This made me feel part of the group without having to eat meat.
I know it is a pain to bring your own food to a BBQ; sometimes this is the only way you are going to be able to eat. Bring something to share since most people think they have never had vegan food and we eat bark. I like to put a good barbecue sauce on tofu, seitan, or tempeh. Follow these barbecue tips to make this experience better.
Here are some summertime favorites to bring.
If you can cook:
Or if you don't have the time to make something, you can bring:
Portabello Mushroom Caps with virgin olive oil, salt and pepper
Vegetables to grill
Fruit Salad
I hope these barbecue tips will make your next barbecue a better experience for you or your vegan guest. If you need some vegan friendly recipes try The Post Punk Kitchen, The Blissful Chef, or Vegan Lantina. Are there any dishes you like to bring?