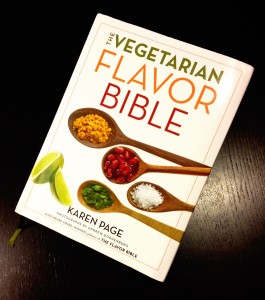 Around the same time Mauro and I were becoming vegan, I was also in the midst of becoming a foodie. We had started eating more local foods, eating seasonally thanks to our CSA shares and I was interested in becoming a better cook and baker. I would hit up my local library on a weekly basis in search of the best vegan cookbooks. On one of my weekly trips I stumbled upon The Flavor Bible by Karen Page and Andrew Dornenburg. It's a thick and heavy reference book on how to pair ingredients, in this case mostly animal-based ingredients. But I was intrigued by it nonetheless and borrowed it  anyway. Needless to say, it wasn't very useful to me and only left me longing for a veg version.
Fast forward 5 plus years, imagine my delight when I received an email asking if I wanted to review The Vegetarian Flavor Bible. I had to read the title 3 times and look it up online to check if it was the book I've been waiting for for years. And it was indeed! Even the cover design is similar to the original. That day Karen Page became my heroine. I love it how things come full circle sometimes. It's a true sign that times are changing for the better.
For those who don't know, "Karen Page is a two-time James Beard Award–winning author revolutionized the way both professional chefs and home cooks think about and create new dishes—based on compatible flavors instead of recipes—with her bestseller The Flavor Bible", and now she will revolutionize it further with The Vegetarian Flavor Bible.
What I Love About The Vegetarian Flavor Bible
As I mentioned above, it's a reference guide (it's not a cookbook that will teach you how to make a specific dish) that will help you better understand which plant-based ingredients work best with each other and increase your knowledge about food in general and flavor combinations.
The book starts out with Karen outlining vegetarianism/veganism, health consciousness, globalism, gastronomy, and flavor; a historical time line of the history of vegetarianism, from antiquity to the present; a list of vegetable-centric menus from restaurants; and then the Flavor Matchmaking Lists (don't forget to read the Matchmaking Flavor Key first to learn how to navigate the book).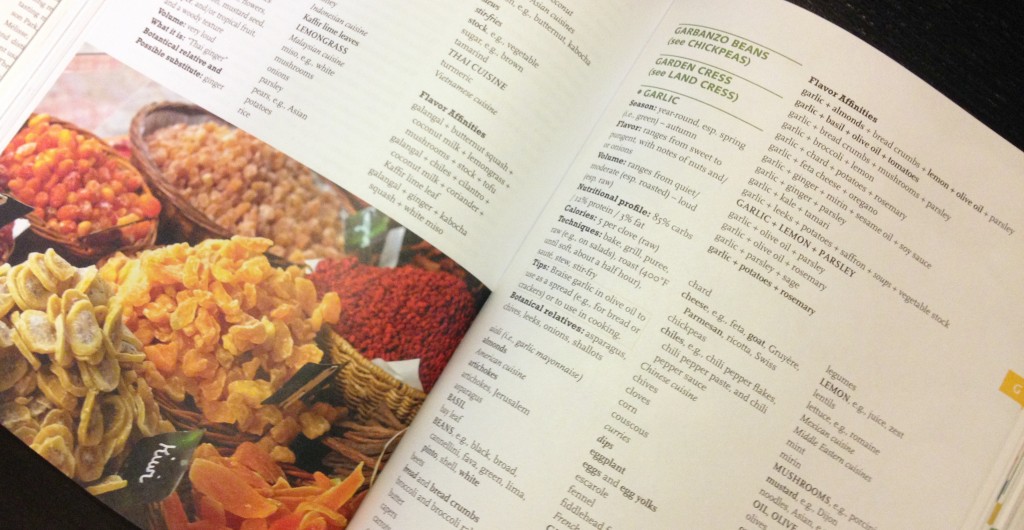 The ingredients (vegetables, legumes, fruit, herb, spices, etc.) are listed in alphabetical order from açaí to zucchini blossoms. Some ingredients have the phonetic spelling below them, the season when they can be found, flavor profile, what they are, nutritional profile (including calories and protein), cooking techniques and flavor affinities. Some items will even have a list of dishes from well-known vegan/vegetarian restaurants that incorporate certain ingredient combinations—a real-life example of how ingredients work together. And there's also a sidebar featuring master sommelier Pascaline Lepeltier's advice for pairing wine with plant-based dishes.
Cons About the book: It's a vegetarian, not vegan, book so there are references to dairy, eggs and honey, but in the book's defense, it also lists the vegan equivalents. Big kudos for balancing things out and making it vegan accessible.
Who Should Buy the Book
Everyone! Vegans, vegetarians and meat-eaters alike. More and more people are taking an interest in eating more vegetables and vegan food is increasing in popularity in restaurants and mainstream supermarkets all over the world. Naturally, knowing how to pair plant-based ingredients and maximizing the flavor experience would interest anyone who enjoys good food.
This is a book to study, ponder, experiment with and savor. I, for one, will be using it A LOT. Thank you, Karen!
Want to hear more about Flavor Compatibility? Karen Page wrote a guest post just for our blog. Read all about it.
Leave us a comment below telling us how you think your cooking would improve if you had a copy of this book.
Giveaway Winner Update
Congrats to Natasha S. for winning a copy of The Vegetarian Flavor Bible!