V Street is the newly opened baby of chefs Rich Landau and Kate Jacoby, owners of the nationally acclaimed Vedge and former Horizon. V Street is a street food bar and its menu is inspired by the great ethnic and street foods of the world. It's 100% vegan, of course. And it's awesome!
Four years ago we had the pleasure of interviewing Rich and Kate before they opened Vedge and, now, for their newly opened V Street. We ended up getting two great interviews, one about V Street and the other about Vedge and Rich's victory on the TV show Chopped. If you missed the Chopped episode with Rich, you can watch it here.
We also filmed a segment with Rich talking about some plates as they were coming out of the kitchen, but the sound didn't come out the best to post it. I think it was my favorite part of our interview. Rich has so much passion about the food he creates, I couldn't help but get caught up in his enthusiasm—man, I'm such a foodie! You can see it in the first pic below, he's so excited about the Singapore Noodles, and all the other dishes he described. It was a great way to start our meal, knowing how much effort he, Kate and their outstanding staff put in the food we were about to eat.
Rich describing the Singapore Noodles. So much passion!
Rich talking about the Harissa Cauliflower
While we were there for the interviews, why not stay and have dinner? And so we did. Mauro and I had been there before with 2 other friends. This was James and Chris's first time there, so we decided to share all the dishes we ordered between the four of us—to order as many dishes possible. This was an excellent startegy that made for the ultimate experience. We probably ate 3/4 of the items on the menu. It felt like a vegan gastronomy tour around the world without leaving our seats.
Menus
Happy Hour
Main menu
Desserts
Food
5:00 Sichuan Soft Pretzels
Hong Cong Steam Buns
Crunchy Tofu Tacos
Jerk Trumpet Mushrooms
Piri Piri Grilled Tofu
Langos
Peruvian Fries
Harissa Cauliflower
Singapore Noodles
Crunchy Papadums
Korean Fried Tempeh
Mmm! We all had this look on our faces
Sesame Caramel Popcorn
Desserts: Halo Halo Parfait, Waffle and Cannoli Soft Serve
V Street's decor is simple, clean and unpretentious. There are three seating areas to choose from: the bar, the main seating area and the chef's counter.
The first time Mauro and I ate there we sat in the main seating area—where the ceiling is painted black and white street festival-style lights are streamed from one side to the other, making you feel like you're sitting outside. I loved sitting there. It was a cozy atmosphere without feeling cramped.
This time we went with Rich's recommendation and sat at the chef's counter. And what an amazing experience it was! Seeing the chefs prepping and plating the food with such expertise and speed gave us an additional level of appreciation for the dishes we ordered. It also gave us a chance to see what the dishes looked like before we ordered them. You'd hear lots of ohs and ahs coming from us and "let's order that one!" We'll definitely sit there again on our next visit.
Another thing we liked is that they don't take reservations. It may sound inconvenient, but if you get there early you can pick where you want to sit and have a great meal on the cheap by ordering everything on the Happy Hour menu.
It's a casual setting, so you can dress up if you'd like, but you don't have to. I like that, 'cause jeans and me are BFFs.
Right before the doors opened
Full house at the bar
Rich at the Chef's counter
Main seating area with festival street lights
What We Think About V Street
Lydia says: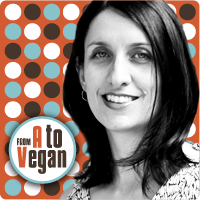 Dare I say, I think this is my new favorite spot. Although I love Vedge—and Sprig & Vine right behind it— and will continue to dine there, I really like the relaxed and cozy atmosphere of V Street. I also looooove that I can get the world street food experience in one sitting. So many flavors, there were rainbows flying off my taste buds 😉
The staff is also friendly, knowledgeable and enthusiastic about the dishes. I'm so jealous they get to dine there every night.
Out of all the dishes we tried, the Jerk Trumpet Mushrooms, the Peruvian Fries and the Crunchy Tofu Tacos were my Favorite. The Dan Dan Noodles (not pictured here, nor eaten on this visit) are also one of my top favorites.
Can't wait to go there again!
Mauro says:
This was my second visit to V-Street and I loved it even more than the first time. I guess it was partially because we sat at the Chef's counter, and could watch the food being prepared. As someone who is not in the food industry, to me it looked like a well-oiled machine — it was fascinating.
Another thing that we did differently this time was sharing everything. The four of us went through at least 3/4 of the menu, splitting every dish in four, so we were able to try many more options from the menu than we could have otherwise. I'd definitely recommend trying this, because the sharing experience was really nice, as we passed the plates around and talked about each one.
The food was excellent, nothing short of what we would expect coming from Rich and Kate. My favorite dishes were the Crunchy Tofu Tacos, the Langos and the Cannoli soft serve (the flavor changes daily).
V Street
126 S 19th Street
Philadelphia, PA
215.278.7943
Parking: Street parking only.
Handicap access: Not wheelchair accessible.
Hours:
Dinner 7 nights/week
Sun-Thurs: 5-10pm
Fri & Sat: 5-11pm
Happy Hour every night: 5-6pm
Lunch Mon-Fri: 11:30am-2pm
Reservations: Not available
Prices: $$
Payment methods: American Express, MasterCard, Visa
Cuisine type: Vegan