There's something so empowering about growing and/or preserving your own food. Since Mauro and I bought our house (eons ago), I've gotten into the habit of prepping and preserving meals to save time during a busy week. When we first moved in, the previous owners had left a bountiful veggie garden and several fruit trees that were at their peak of production. We wanted to keep as much of the fruit and veggies as we could to extend our eating season, so I began canning and freezing large batches of food.
Why use a dehydrator?
I was always curious about dehydrating and finally bought my first dehydrator a little over three years ago. Unfortunately, but fortunately, the deciding factor was having no power for 3.5 days after hurricane Sandy. We had a refrigerator-sized freezer full of food that started to thaw and a good portion of it needed to be eaten somewhat soon. That would've been less of an issue if the food were dehydrated.
Now, I don't only dehydrate food—there are definite advantages to each of the three methods of preserving food (canning, freezing and dehydrating), that's why I still do use them all—, but I'm going to give you the short and sweet list of advantages of dehydrating:
Great for both raw vegans and anyone who wants to prepare food and snacks ahead.
Safely preserve food for long-term. If prepared properly and stored in the right conditions, dehydrated foods outlast canned and frozen goods by years. If the power goes out for days, your dehydrated goodies are safe.
Experience fresh and intensified flavors with different textures, chew and crunch.
Saves space compared to canning and freezing, since liquid from foods is evaporated.
Easy to reconstitute and enjoy the bounties of the growing season in your winter soup/chili/stews
Make tasty and low calorie snacks, as well as compact and light meals for dry camping.
Sedona Express by Tribest
Glass door opened
Back of unit
LED light goes on when the door opens
Digital timer and temp control
Crispy coconut bacon
Apple chips
Crispy apple chips
Why the Sedona Express Dehydrator?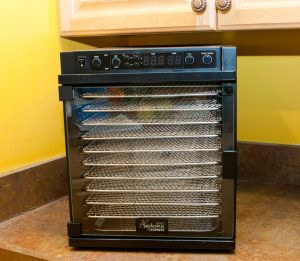 When I was asked to review the Sedona Express* dehydrator by Tribest, I was ecstatic. It is the Cadillac of dehydrators with many useful features, some that are at least a convenience compared to the first one I bought, and it's so sharp.
Let's start with the obvious. The Sedona Express has a compact, modern and sleek design that looks sharp on any kitchen counter. It has slots for 11 shelves, the bottom slot can be a shelf or a drip pan, depending on what you're making. The stainless steel shelves are dishwasher safe and they actually fit in the dishwasher or on a counter top dish rack. There's an air filter at the back of the unit—no dust or pet hair on my apple chips! The lovely glass door allows you to look at the items inside without disturbing the process. If you need to open the door to manually check your batch, the fan pauses once you open the door and a nifty light goes on (yes, this is useful—yes, I've checked batches in the dark). You can also turn the light on or pause the cycle anytime by pressing the appropriate buttons on the front dash/control panel. It  also have a digital timer and temperature control. Best of all, you can set 2 different temperatures for 2 different durations—say you want the temperature to be higher for the first couple of hours, to quickly start the dehydration, and then you want it at a lower temperature for the next 8 or 12 hours. It can also run 90 hours straight.
What I liked best: It's so much quieter than my former unit, it freed up some counter space, it looks fab on my counter, and my apple chips came out crispier than with my former unit. The coconut bacon came out super crispy and stayed crispy until the very last morsel. I also love that the shelves are so much easier to wash and fit in the dishwasher. I find myself using the dehydrator much more often because it's not an issue to clean things up when I'm done.
If I had had a chance to try and compare brands before buying my first one, I would have bought this one instead. Some of the features may seem trivial when you're comparing the bullet points on websites, but they make life easier. Who doesn't want that?
Cons: Although there are slots for 11 shelves, it is narrower than my former unit, but it hasn't been that big of an impact. I just have to plan for the space available. Fruit and veggie chips can sometimes be hard to peel off the stainless steel grid of the shelves and need a little more care when flipping them half way through. And lastly, the instruction manual (yes, I read manuals for all my gadgets) lacks a few basic explanations, while not crucial still expected. One of them is where does the air filter go and how do you change it. I figured you have to unscrew the back panel from the outside/back of the unit, but there's no mention of it anywhere. The other item is a little ivory-colored port in the upper left portion at the back of the unit. What the heck is that for? Perhaps diagnostics and maintenance, but who knows.
Giveaway Winner Update
Meridith O. is the winner of Tribest Sedona Express Dehydrator. Congrats!