The PlantPure Nation Cookbook is a new book by Kim Campbell. It's been launched as a companion cookbook to the new documentary directed by her husband, Nelson Campbell, the oldest son of T. Collin Campbell's (a name most vegans would recognize).
The movie and book are part of a campaign to create more awareness in the general public of the benefits of a plant-based diet. You can read about the reasoning and motivation behind the making of the movie on their website.
PlantPure Nation Cookbook is a beautiful cookbook, with gorgeous pictures for pretty much all of the recipes, plus guidance for those interested in adopting a vegan diet for the first time. The recipes are simple and easy to follow, even the ones for the most "fancy-looking" dishes. I included one of their recipes below so you can try it.
While I have some issues with T. Collin Campbell — especially since his book "Whole" — I agree wholeheartedly with the message that we should all adopt a plant-based diet, and would recommend anyone interested to check out the PlantPure Nation's screening tour (they'll be in Philly on 5/7, details to come) and their Kickstarter campaign.
Also, don't miss the book giveaway at the bottom of this post.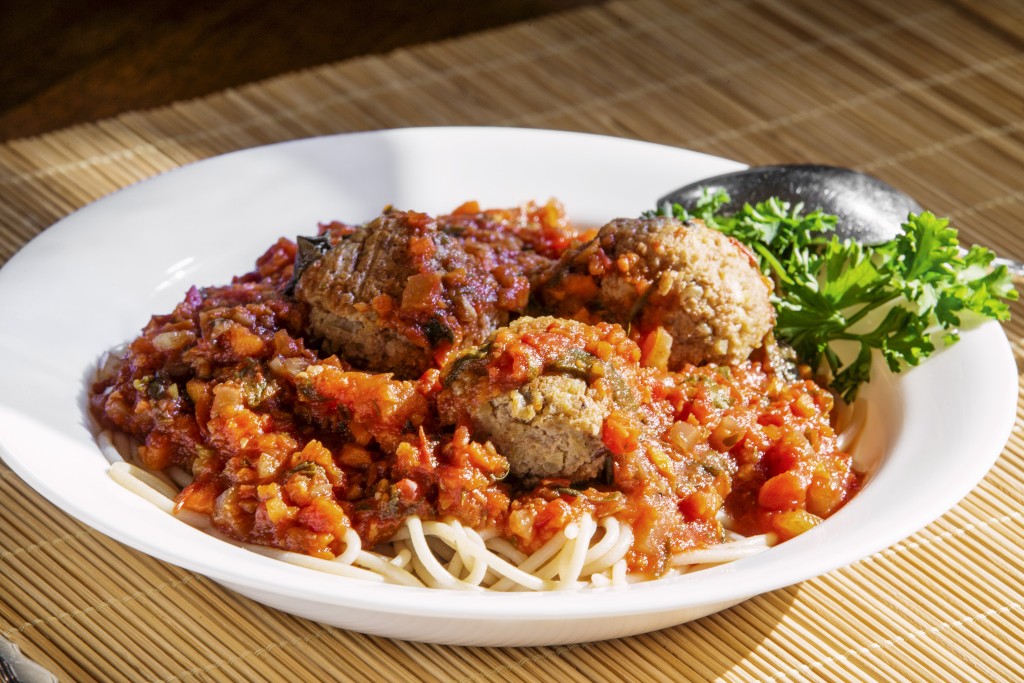 Veggie Balls Recipe
Yields: 6 servings
Prep Time: 20 minutes Cook Time: 45 minutes
These meatless veggie balls are perfect with marinara sauce or spaghetti sauce on hot sub sandwiches. The Campbell mothers (Karen, LeAnne, Lisa, and Erin) all have their own special version. Grandmom probably wins for the most popular veggie balls!
½ cup bulgur wheat
1 cup water
1 onion, diced
1 celery stalk, finely diced
½ cup finely chopped walnuts
One 14-ounce block extra firm tofu, drained
1 tablespoon tamari
1½ cups fresh whole wheat bread crumbs
3 garlic cloves, minced
1 teaspoon dried thyme
¼ cup vital wheat gluten (optional)
¼ teaspoon ground nutmeg
¼ teaspoon sea salt
¼ teaspoon black pepper
Preheat oven to 375°F. Line a baking sheet with parchment paper and set aside.
Place the bulgur in a medium saucepan. Add the water, cover, and bring to a boil over medium-high heat. Reduce the heat and simmer for 10–15 minutes, or until all the water has been absorbed.
Sauté the onion and celery in a small amount of water until tender.
Meanwhile, coarsely grind the walnuts in a food processor and place them in a medium-size bowl.
Place the tofu and tamari in a blender or food processor and blend until smooth and creamy. Use a rubber spatula to push the tofu down onto the blades to ensure it is well blended.
In a large bowl, combine the cooked bulgur, sautéed veggies, blended tofu, bread crumbs, ground walnuts, garlic, thyme, wheat gluten (if using), nutmeg, salt, and pepper.
Shape the mixture into balls (any size you prefer) and place on the prepared baking sheet.
Bake for 30 minutes, or until the veggie balls are browned.
Kim's Hints: If you are gluten sensitive, you can omit the wheat gluten, but the veggie balls will be more fragile. The veggie balls will keep in the refrigerator for about a week. They can also be frozen, but this will affect the texture slightly.
Giveaway Winner Update
Holly E. is the winner of a copy of PlantPure Nation cookbook. Congrats!