Ethiopian food is one our favorites here at From A to Vegan, right  along with Indian, Moroccan and Kenyan. The flavors are so wonderful and complex due to the variety of spices used to make their flavored oils, berbere and sauces. And it's extremely vegan friendly.
In Kittee Berns's new cookbook, Teff Love, we get the all exclusive vegan experience of Ethiopian cuisine, and it's quite a treat.
What I Liked About Teff Love
Kittee gives us a brief description on Ethiopian food and the history, how to serve Ethiopian food, common ingredients and spices, tips on how to best prepare certain dishes and ingredients and how to cook for a crowd.
The highlight of the book, other than it being all vegan, is her recipes for Injera, Berbere paste and ye'qimem zeyet (seasoned oil). These are the basics to many dishes and meals and they are what makes Ethiopian food so distinct, in my opinion.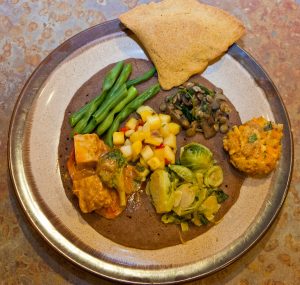 Ethiopian food is an art and requires prep work that may have to be done days ahead of time. Don't cut corners. Prepare ahead of time and you'll enjoy an amazing meal.
Mauro and I made the super delicious meal (pictured on the right), which includes the following recipes form the book: Quick Teff Crêpes (great if you're pressed for time) , ye'difin misser sambusas (the triangular pastry pocket filled with lentils), lentil sambusa filling, ye'abesha gomen (stewed collards, but used Brussels sprouts instead—delish), and the ye'tofu kwas (the dumpling to the right of the plate). Other items served on the injera are some leftovers we had in the fridge (sacrilege!): massaman curry, stemmed green beans, mango salsa and lentil sambusa filling.
I won't lie to you, this meal was a lot of work for just the two of us, but we enjoyed leftovers for many days—emphasis on enjoyed. We did have fun doing it, though. I would considered doing this again as a potluck meal and have each person contribute a dish to lessen the workload and still have an amazing meal.
We also made the Injera recipe from the book (pictured below in the photos supplied by the publisher) and enjoyed them another day. It takes a long fermentation process but is well worth investing the time and effort. We also made our own berbere paste and ye'qimem zeyet (seasoned oil) to use in the recipes and were blown away by them. We've used the leftover oil and spices in tofu scrambles since and have been doing happy dances when we eat breakfast 🙂
Keeping reading on for information about what inspired this book, some great tips from Kittee on our Q&A with her below, and a delicious recipe for ye'denich be'kaysir atakilt. Enjoy!

Q&A with Kittee Bee Berns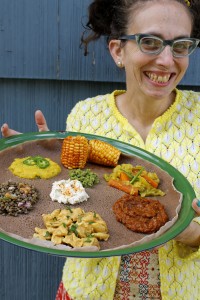 1- Why did you decide to author a Vegan Ethiopian cook book?
Back in 2011, I began writing and testing recipes for a vegan 'zine that was full of some of my favorite recipes from all over the world. As I was writing the chapter on Ethiopian food, it kept getting bigger, bigger and BIGGER, until I realized it had outgrown its chapter and needed to be its own thing. It was dubbed Papa Tofu Loves Ethiopian Food, and I sold about 1000 copies through my blog. A year or so later, a friend of mine wrote a book with Book Publishing Company and put me in touch with them, because they wanted to publish a vegan Ethiopian book. Ta da! Teff Love was born.
2- What are the biggest challenges in cooking Ethiopian food?
Sharing. Ha ha. :(((
I'm lucky and live in Portland, OR where there are many shops and places to source Ethiopian specialty ingredients like berbere, a red chile spice blend, and injera, a fermented spongy bread that's a staple in the cuisine. For others, the biggest challenge to making Ethiopian would probably be making a few foundation recipes before getting started on other things. Once the foundation recipes are made or sourced, the recipes themselves are really simple and easy to make.
3- What is your favorite dish to cook and why?
I really enjoy cooking Ethiopian food, so my favorite things to make are probably those I most enjoy eating. I really think making injera is fun, because I enjoy the process and the resulting stack of crepes that reward my time, but I also really like making Ye'shimbra Asa Wot, because it's fun to use cookie cutters and I think it's a really tasty dish.
4- What are your 5 favorite dishes from your book?
Too hard, because I love so many! But in no particular order, the following might top my list:
Shahan Ful with cheesy berbere covered grits and scramble
Ye'souf Fitfit
Butecha
Ye'shimbra Asa Wot or Ye'shimbra Asa Alicha
Any of the beet and potato dishes
5- Any advice for someone who has never cooked Ethiopian dishes before?
Sure! Don't get overwhelmed, because once you've got the basics accomplished, the recipes will practically make themselves. Make the seasoned oil and buy some berbere and injera, and then just dig into whatever recipes appeal to you most.
Ye'denich Be'kaysir Atakilt Recipe
Serve this bright-magenta salad at your next Ethiopian picnic party. The soft pickled beets, creamy potatoes, and sweet-tart dressing will dazzle your guests inside and out.
ye'denich be'kaysir atakilt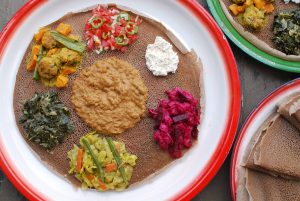 Tender potatoes with pickled beets and onion in a lime vinaigrette
Makes 4 cups
¼ cup extra-virgin olive oil
¼ cup freshly squeezed lime or lemon juice
1 tablespoon whole-grain mustard
1 teaspoon agave nectar
½ teaspoon salt, plus more if desired
8 ounces small red beets, roasted and peeled (see page 14) and cut into sticks (between
¼- and ½-inch thick)
½ cup thinly sliced onion
3 thin-skinned potatoes, boiled and peeled (see page 13 and cooking tip, page 136) and cut into ½-inch cubes (3 cups)
Freshly ground black pepper
Put the oil, lime juice, mustard, agave nectar, and salt in a medium bowl and stir well to combine. Add the beets and onion and stir gently to combine. Cover and let marinate in the refrigerator for 1 to 12 hours.
Put the potatoes in a large bowl and add the beet mixture.
Stir gently to combine. Season to taste with pepper and additional salt if desired. Cover and refrigerate until cold.
Per cup: 300 calories, 4 g protein, 15 g fat (2 g sat), 38 g carbohydrates, 62 mg sodium, 37 mg calcium,
6 g fiber
Recipe and photos shared with permission from Book Publishing Company.