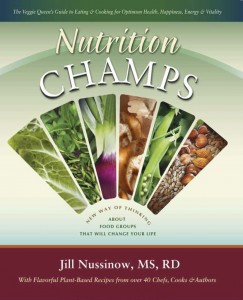 Back in 2013, Jill Nussinow, MS, RD, aka The Veggie Queen™, pressure cooker maven and author of The New Fast Food, contacted me and asked if I'd like to submit three recipes for her upcoming cookbook, Nutrition CHAMPS*. Wow! I was flattered beyond words. Only later did I find out who else was collaborating in this cookbook: Jill Nussinow, of course, Fran Costigan (my dessert idol), Dreena Burton, Victoria Moran, Jason Wyrick, Robin Robertson, Miyoko Schinner, and a big handful of my favorite vegan bloggers and friends. Double wow!
I'm super duper excited to be participating in this Nutrition CHAMPS* blog tour. I'm so excited to be sharing one of my recipes from the book (below) and to be doing an international giveaway of a Nutrition CHAMPS eBook for one lucky reader. Note: Because it's an eBook, you can enter even if you live on the other side of the globe!
What's so special about Nutrition CHAMPS?
CHAMPS is an acronym for six food groups that are antioxidant, anti-inflammatory, and anti-cancer in nature: Cruciferous vegetables (broccoli, cabbage, cauliflower), Herbs and spices, Alliums (onions and garlic), Mushrooms, Pulses (beans, peas and lentils), and Seeds and nuts. The recipes are categorized by each of these 6 groups of food and range from breakfast to desserts, including raw, cooked and pressure cooked. Each chapter includes a list of veggies, health benefits and how to prepare them. They did an especially nice job with the index and cross referencing items so they're easy to find.
What I love About Nutrition CHAMPS
I really like the fact that the book is set up by the 6 categories. Since we have CSA shares all year round, there are certain times of the year when we have a lot of cruciferous, or alliums, etc. It's nice to be able to flip through a whole section of book and get ideas of what to do with that type of food, as opposed to having to go back to the index every time you want to look for another option.
Most of the recipes are pretty no nonsense and easy. I kept my recipes simple and, flipping through the book, I can see that the other contributors did the same. It just proves that cooking fresh and whole foods doesn't have to be hard or time consuming.
I also really love that it's a compilation. Having so many great recipe developers contribute to a single book brings a variety of styles, which makes the book quite a gem. Every time I flip through it I find something else I want to make for dinner. If only I had the time, we'd have such a feast 🙂
Enjoy the recipe below and don't forget to enter the giveaway for a chance to win.
Braised Green Cabbage Recipe
Serves 4-6
This quick and easy-to-make dish intensifies the color and brings out the flavor of the green cabbage. It makes for a hearty addition to the main course and a filling, low calorie substitute for starches. It's a surprisingly delicious way to make this mild flavored cruciferous a super star.
Ingredients
1 medium (serves 4) or large green cabbage (serves 6)
1 tsp extra virgin olive oil
6 medium garlic cloves, thinly sliced
½ tsp salt
1 tsp fresh ground pepper
½  tsp paprika
1 cup of white wine
3 sprigs of fresh or dried thyme
Directions
Sit the cabbage stem side down on a cutting board and cut it in half from top to bottom. Cut each half in 2 or 3 wedges (resulting in 4 or 6 wedges) and set aside. Note: leave the stem on the wedges so they won't fall apart.
Place the olive oil and garlic in a large and deep braising pan or frying pan with a lid. Cook the garlic over medium heat until the edges start to sizzle, but do not let them brown.
Place the cabbage wedges on top of the garlic, sprinkle with salt, pepper and paprika and place the lid on the pan. Braise each cut side of the wedges until golden brown, about 2 minutes per side. Make sure to move the garlic around while turning the wedges over.
Place sprigs of thyme into the pan, pour the wine over the wedges and place the lid back on the pan. Cook until the wine is reduced to a thin layer on the bottom of the pan, about 6-8 minutes, turning each wedge over once mid-way through.
©2105 Jill Nussinow, MS, RD, from Nutrition CHAMPS: The Veggie Queen's Guide to Eating and Cooking for Optimum Health Happiness, Energy and Vitality www.theveggiequeen.com
Giveaway Winner Update
Sheila S. is the winner of the Nutrition CHAMPS eBook. Congrats!