Nut Butter Universe
It seems the virtual book tours are gaining popularity with cookbook authors. I'm glad I could be a part of this one for Robin Robertson's Nut Butter Universe: Easy Vegan Recipes with Out-Of-This-World Flavors*. Who could pass up reviewing a nut butter book?!
I own several of Robin's cookbooks and I love how easy and tasty her recipes are. This one is no exception.
The intro of the book walks us through some background information nuts, the history of nut butter, buy and storage tips and how to make your own nut and seed butter, and some nut creams and cheeses. I highly recommend reading through and doing the extra work of making your own roasted nut butters. It's worth every minute of your time. Your taste buds and whoever is dining with you will also thank you.
Robin wasn't joking around when she picked the tagline for the book "easy vegan recipes with out-of-this-world flavors. When I picked the recipes I wanted to try, I really didn't suspect how rich and flavorful they would be. I should've known better. The surprise of tasting the dishes was priceless, so even better. Here are the recipes I chose: Maple-Pecan Butter Waffles with Pecan Maple Syrup, Cheesy Almond Broccoli Soup, Szechuan Stir-Fry with Fiery Peanut Sauce and Spicy Walnut Green Beans (I'll be making this for dinner tonight).
Cheesy Almond Broccoli Soup
Szechuan Stir Fry
Coming right up!
Maple-Pecan Butter Waffle – Look how beautiful it turned out!
I had a brunch at a non-veg friend's house I chose to make the Maple-Pecan Butter Waffles. I premixed the dry and wet ingredients in separate bowl ahead of time at my house and off I went with my wafflle-maker in tow. I mixed the batter and it was really thick, like much thicker than any other waffle batter I've ever made. Fear struck me. I was afraid the waffle would be too heavy, that they wouldn't turn out right and brunch would be a fizzle. They were PERFECT! These were the most beautiful and most scrumptiously delicious waffles I've EVER made. They were light and fluffy, too. I'll confess that I didn't make the pecan maple syrup. We just used a local PA maple syrup and it was perfect. Not a single bite was left.
The next recipe I tried was the Cheesy Almond Broccoli Soup. We ate this as our dinner and it was so rich and creamy I may consider having it as an appetizer for future meals. Mauro may argue with me, though. He just couldn't get enough of it. I garnished it with some shaved Oregon truffles I got at the farmers market and it was heaven.
If I haven't mentioned it here before, let it be known that I am insanely in love with peanut butter. I have been my entire life. I love it on sweet and savory food alike. So, this wouldn't be a proper review if I didn't make a recipe featuring PB, the Szechuan Stir-Fry with Fiery Peanut Sauce. Easy to make, spicy, peanut buttery savory sauce, veggies and tofu served over in a bowl with rice. Need I say more? Absolutely delish.
I marvel over cookbook authors like Robin who make our lives so much easier and full of delish.
Don't go away yet. We have a recipe for you below and we're giving away one copy of Nut Butter Universe to one lucky reader, so follow on to the end of the post.
West African Vegetable Stew Recipe
Brimming with vegetables, this flavorful stew is especially good served over rice or couscous or with coarse whole grain bread. Like most stews, this one tastes even better the second day, so make it ahead. The crops of peanuts (or groundnuts), sweet potatoes (or yams), and okra can be found throughout western African countries, where stews such as this are often called groundnut stew.
Ingredients:
1 tablespoon neutral vegetable oil or 1/4 cup water
1 large yellow onion, chopped
1 sweet potato, peeled and diced
1 green bell pepper, chopped
1 medium eggplant, diced
1 cup sliced okra (fresh or frozen)
1 clove garlic, minced
1 (14.5-ounce) can diced tomatoes, undrained
1/2 cup peanut butter
1 1/2 cups vegetable broth
1/4 teaspoon cayenne, or to taste
1/2 teaspoon salt
1/8 teaspoon ground black pepper
Directions:
Heat the oil or water in a large saucepan over medium heat. Add the onion, sweet potato, and bell pepper and cook for 5 minutes. Stir in the eggplant, okra, and garlic. Cover and cook 5 minutes longer, then stir in the tomatoes and cook for a few minutes.
In a small bowl, combine the peanut butter and broth, stirring until smooth. Stir the peanut butter mixture into the stew and season with cayenne, salt, and pepper. Simmer until the vegetables are tender, about 30 minutes.
For a thicker consistency, scoop out about 1 cup of the stew and puree it in a blender or food processor, then return it to the pot.
Serves 4
From Nut Butter Universe by Robin Robertson. ©2013 Robin Robertson. Used by permission from Vegan Heritage Press. Photo by Lori Maffei.
Nut Butter Universe Giveaway – Closed
Who doesn't like free stuff? Leave a comment below to enter for a chance to win a copy of Nut Butter Universe. I'll randomly choose one of the comments on Wednesday, September 25th, 2013 at 8:00pm EDT. US residents only, please. Happy commenting and good luck!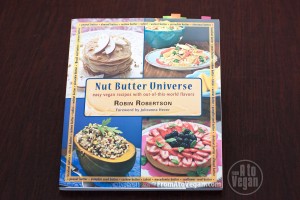 And the winner of Nut Butter Universe is….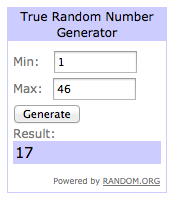 Comment number 17, Sarah. Congrats!