The days for settling for funky, hand-made vegan shoes are over. There are so many companies making quality vegan shoes, at least for women, nowadays that it's easy to find comfortable sporty or dressy shoes that are cruelty-free. Jambu, the makers of the of the lovely Princeton featured in this post, has been making vegan-friendly shoes and boots for women for several years now.
Jambu doesn't make just vegan shoes, but they have their vegan selections clearly marked. The only downside is that they don't have vegan shoes for men. Mauro was so disappointed. It's hard to find cruelty-free, durable and comfortable outdoor shoes for men. Hopefully this review will encourage them to think about a product line for men 🙂
I opted to try their Princeton for this review. It's a sporty, light-weight, low heel shoe with ultimate traction for slick surfaces. In other words, great for the outdoors.

What a Liked About the Jambu Princeton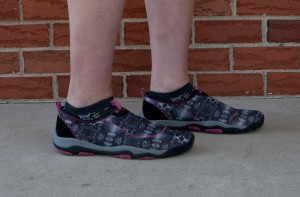 It's an attractive and well made shoe, inside and out. I've only had it for a short period of time and have only worn it about a half dozen times, but it seems to be a durable shoe. It has a snug fit, yet with plenty of room to wiggle my toes in it. It's true to size—mine fit perfectly. The insole is on the firm side, with just a little bit of cushion, and with just enough arch support. I thought the firm insole would tire my feet on long days, but it doesn't. I've worn them for full days, taking them off just to go to bed, and my feet have felt just fine. The outer shell of the shoe is light and breezy, allowing your feet to breath and also dries quickly if they get wet. The only caveat is that they're best worn on days with temperatures above 60º.
I've done a lot of walking in them, some light exercising and light hiking. I didn't get to try them out on slick surfaces yet, but I can feel that they have more grip than my other shoes. I know I'll be wearing them for any outdoors activities this spring and summer.
All in all, I really like the shoe and the comfort level, style and color work well for me and my lifestyle. Plus, they're cruelty-free. Yay!
Don't forget to enter our giveaway, below, for a chance to win a pair of Jambu vegan shoes. Jambu is also offering FREE 2-Day Shipping (US only) on any purchase on their website. Use Promo Code: jambuprinceton — Valid April 15th to 22nd,  2015.
Princeton Specs
The Princeton features Hyper Grip technology, which is designed to provide you with ultimate traction on slick surfaces. Coupled with a quick drying upper with an on-trend pattern, this sneaker is a must have for all of your water-ready adventures this season.
Mesh and seamless rubber mold upper
A Hypergrip outsole with micro-glass filaments provide traction on wet terrains
Partially recycled rubber outsole
EVA antibacterial insole w/ mesh overlay
Vegan synthetic leather/mesh lining
Slip-on
5.7 oz.
$99 on the Jambu website
Giveaway Winner Update
Alli R. is the winner of our Jambu shoe giveaway. Congrats!