Who doesn't like to look stylish while wearing a warm and comfy, vegan winter boot? I certainly do. Luckily, Jambu has a line of women's vegan shoes to fill this gap. Since I reviewed the Jambu Princeton last year, they've expanded the women's line of vegan shoes and boots (yay!), added a vegan tab and labeled all their vegan shoes on their website, and even added a physical "vegan" tag to the shoes (see pic below). There's absolutely no doubt you're getting a lovely vegan shoe.
What I Love about the Jambu Arctic Boot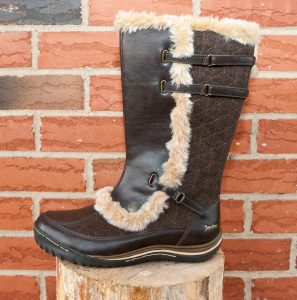 I already have a pair of heavy-duty, sub-zero temp, vegan snow boots, so I was a little reluctant to get another pair. Plus it had been a fairly warm winter up until a couple of weeks ago. Heck, it was 75ºF here in PA on Christmas Eve! But I realized that I didn't have a nice and stylish pair of snow boots that were still functional and warm, that I could wear to go out to dinner but still be able to actually step in snow or slush and not regret it the rest of the night.
As luck would have it, my pair of Arctics arrived a day before the major snowpocalypse we had last week and the plummeting (then rising again) temperatures. I absolutely love these boots for several reasons:
Stylish – they look great with skinny jeans and a big sweater. They'd work just as well with leggings/tights and a dress. I know some vegans don't like faux fur because it may seem to represent, and possibly promote, animal fur, but the same can be argued about faux leather, etc. I'm totally fine with it as long as no animals were hurt/killed/tortured for it. Note: the faux fur is made of 45% terylene and 55% acrylic. The vegan leather is made of polyurethane.
Very Warm – the whole inside of the boot is covered in faux fur, all the way to the toe and the insole too. When the temps fell down into the single digits, my digits (aka toes) were nice and toasty. I actually had to take a lighter pair of shoes to wear around the office, but they were perfect for walking around outside. The thickness of the sole and insole also play a big part in keeping your feet warm. And this boot definitely has that covered.
Comfortable – the insole is made with memory foam and is covered in faux fur, which makes the inside of the boot oh so comfy. The sole is also flexible enough, even though it has a nice thickness to it. I could definitely walk around in them all day if I had to.
Functional – although they're cute and all, they're still functional as a snow boot. You can actually walk around in the snow without getting your feet all wet and frozen, because it's water resistant. That's a huge plus.
Well Made and Durable – these boots are well-made, with attention to detail, and of quality materials—from the different materials used to give the boots texture and style, adjustable strap and other sewn in details, to the insulated faux fur lining and partially recycled compressed rubber soles that give it good traction. One of my biggest pet peeves when looking for winter shoes is finding only flimsy boots with thin foam-like soles. These boots did not disappoint.
I liked them so much that I bought a pair of their Denver boots. I can't wait for them to arrive.
Cons – They still don't have any vegan shoes in the men's line 🙁 It would be great if  our handsome vegan men had a wider variety of durable and comfortable vegan shoes, so they could be even more awesome. Hopefully Jambu will consider their men's line when they plan new collections later this year.
An actual con of the Arctic is that they run small. I had to get a size bigger than I usually get. I attribute it to the cushy fur lining. It wasn't a big deal, but keep that in mind if you decide to buy one.
The Best Part – They're are on sale on the Jambu site right now. If you're looking for well-made, durable, vegan snow boots, give the Arctic a try, but don't wait until they're all gone.










Arctic Boot Specs
Stay warm this season in the Arctic. This tall-shafted boot is lined from top to toe in faux fur and complete with a memory foam footbed for ultimate comfort. Made with vegan leather and a partially recycled rubber outsole, you can feel good about looking great too!
Brushed vegan and boiled synthetic wool upper
Partially recycled rubber outsole
Memory foam footbed with faux fur lining
Water resistant
3-buckle detail
10.6″ shaft; 17″ circumference (measurements based on size 6)
1″ heel