About a year and a half ago, we reviewed the EZ Tofu Press, a simple and very affordable kitchen gadget that helps press excess water out of tofu.
We're happy to report that after all this time, we're still using it every time we use tofu and, despite our original concern, the boards have not really warped. It still looks pretty much like it did when we got it, the bolts haven't rusted, the boards are pretty much straight (just some minimal arching). As we mentioned before, it's easy to clean and is low profile for storage. We really like this product.
If you use tofu in your cooking, you can buy your very own EZ Tofu Press here
. Pressing the tofu makes it hold up better when cooking and gives it a nice, firmer texture.
But wait! There's more!
EZ Tofu Press Giveaway
EZ Tofu Press is giving away one of their presses to one of our readers. To enter for a chance to win, leave a comment below telling us what is your favorite way of eating tofu. US residents only, please.
We'll randomly select one of the comments on Monday, December 16th, 2013 at 8:00 pm EST.
Happy commenting and good luck!
Rolling the internet dice and…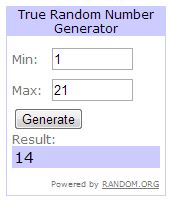 The lucky winner out of 21 comments is comment number 14, by Jenn.
Ok, so something unexpected happened. Jenn, the winner above, won another EZ tofu press on another website giveaway. She was nice enough to give another reader, here on our site, a chance to win. She said she wanted to put a smile on someone else face. And I'll bet she did.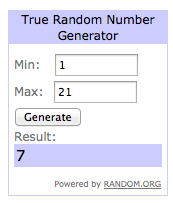 The new lucky winner is comment number 7, by Sarah.
Congratulations!