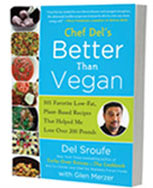 What could be Better Than Vegan* you may ask. Chef Del Sroufe's answer would be, being a healthy vegan. When Chef Del became vegan, he didn't concern himself with what types of food he was eating, as long as they were 100% plant-based. But as the years went by and he started getting heavier and heavier, reaching 475 pounds, it was obvious to him that he needed to make a big change in his life. He started eating a low-fat vegan diet, made with lots fresh fruit and vegetables, and has lost over 200 pounds so far.
I love hearing stories about people who make big positive changes in their lives. Chef Del's story is so inspiring and encouraging to read.
In the book, Chef Del tells us his story, talks about nutrition and what not to eat, gives us tips on substitutions and gives us 101 low-fat vegan recipes that look hearty and tasty. Being on a diet is hard enough, so Chef Del shows us that you don't have to go hungry, eat bland food or skip dessert (mind you, the dessert section is the smallest in the book and understandably so).
Don't miss our Q&A with Che Del, his Breakfast Burritos recipe and the book giveaway below.
Q&A with Chef Del Sroufe
FA2V: Once you decided to switch to a healthy lifestyle, what was your biggest challenge?
DS: I think the biggest problems I had, and have, are the same as a lot of people who try to make a major change in their life. The rest of the world treats you as they always have and you have to educate them about the changes you are making in your life. Food is a very emotional issue for people. So when I tell my mother that I don't want to eat her food anymore (though in much nicer terms), it hurts her feelings, and I don't want to hurt her. When friends want to go for pizza and beer, and I want a salad and water, it brings up questions, and makes people uncomfortable, and I don't want to make people uncomfortable. I used to give in more to the pressures to make other people happy, to make other people feel comfortable—I do that less now.
FA2V: What was/were your biggest breakthrough and motivators to continue on a healthy path?
DS: Feeling good physically is one of the biggest motivators I have. Having the energy to do the things I want to do, not being in pain because of the amount of weight I carry, and not being embarrassed to be in public because of my size, all motivate me to continue on my path.
FA2V: What's the best advice you have for someone seeking to lose a substantial amount of weight as you did?
DS: You have to work at this every day. You have to stay focused and have goals for yourself. Losing weight to lose weight is not good enough. Lose weight for your health, lose weight so you can live the life you want to live. And when you fall, get back up and get back on track.
 FA2V – Didn't I say he was so inspiring?!
Breakfast Burrito Recipe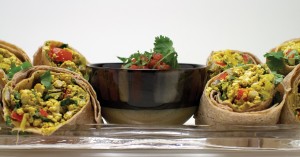 Serves 4
This tofu scramble is made with lite firm tofu and then baked instead of fried, so the fat content is greatly reduced.
2 large leeks, white and light green parts only, diced into 1/2-inch cubes
1 medium red bell pepper, diced into 1/2-inch cubes
11/2 cups shiitake mushrooms, stemmed and sliced
3 cloves garlic, minced
2 teaspoons ground cumin
2 teaspoons ground coriander
Black pepper to taste
2 teaspoons turmeric
2 tablespoons low-sodium soy sauce
3 tablespoons nutritional yeast
1 pound lite firm tofu, pressed and mashed to the consistency of ricotta cheese
1/2 cup chopped cilantro
4 10- or 12-inch whole-wheat tortillas
1 cup salsa (store-bought or your favorite homemade)
Preheat the oven to 350 degrees F. Sauté the leeks, red bell pepper, and mushrooms over medium-high heat for 8 to 10 minutes, until the leeks are translucent and tender. Add the garlic, cumin, coriander, pepper, turmeric, soy sauce, and nutritional yeast, and cook over medium-low heat for 5 minutes. Add the tofu and mix well. Spread the mixture on a large parchment-lined baking sheet and bake for 25 to 30 minutes. Remove the scramble from the oven and stir in the cilantro. To make the burritos, divide the scramble between the four tortillas and spoon some salsa over the filling. Fold the ends of each tortilla over the filling and roll it up.
From Better Than Vegan by Del Sroufe. Used by permission from BenBella Books, Inc.
Better Than Vegan Cookbook Giveaway – Ended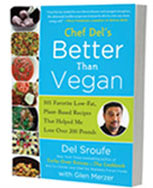 We're giving one lucky reader a chance to win Del Sroufe's Vegan Cookbook. To enter for a chance to win, leave a comment below with the answer to the following question:
"What will you do in 2014 to better yourself?"
US and Canada residents only, please.
I'll randomly select one of the comments on Thursday, January 9th at 8:00 pm EST.
Happy commenting and good luck!
I really love everyone's determination and plans to better themselves in 2014. You've all given me some great ideas and inspired me to improve myself as well.
And the lucky winner for this giveaway is…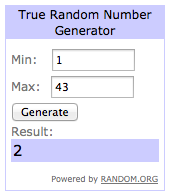 Comment number 2. That's Peggy's comment.
Thanks for commenting, everyone! Good luck with your improvement plans for 2014!